VOX Amplification unintentionally created an icon in its AC30. The 30w guitar amplifier has been used since the late 1950s and has become favoured by musicians including The Beatles, The Rolling Stones and Brian May, to modern groups including Glastonbury headliners Foo Fighters and Florence and The Machine.

Today, Vox's AC30s remain broadly true to their original roots. For a start, they use vacuum valves (or tubes) in the preamp and power amp stages to amplify the signal of the guitar and then drive that signal through two 12" speakers.
The amp uses a quartet of cathode-biased EL-84 output vacuum valves in a push-pull configuration, which creates the high-bias condition that many believe is at the heart of the amplifiers' distinctive sound. So nearly 60 years on, what have designers and engineers done to keep the AC30s' iconic status intact?
"On the outside, if you look at the AC30s we build today, and you compare them to examples from the 60s, you'll be hard pressed to tell the difference," says Dave Clarke, R&D manager at Vox Amplification. "But, a lot of tweaks and changes have happened under the hood.
"The 1960s amps had a tendency to be quite unreliable, set on fire and do fairly dangerous things. Using modern day design techniques, we're able to take the design and circuits, modernise them, replace obsolete components and put those hand-wired components on a PCB. We've sold tens of thousands of the latest generation and the reliability is superb."
Clarke and his team have also set about making subtle changes to the internal layout of the amp, following a design-for-maintenance philosophy. The aim is to allow easier access to key components like vacuum valves for easier servicing of the amp's inner workings. All this helps enable Vox's amps to put up with 'life on the road'.
"We can make the amp run cooler by positioning the valves in different places and by using different materials in the chassis such as one small steel sub-chassis and then one aluminium main chassis on the tubes to dissipate the heat better," Clarke explains. "We don't use fans as the bearings will eventually run dry and that's just another thing that will need to be replaced. Anything I can do to make amps run in a passive way is something I always strive for."
Diversification
While improving the AC30 has no doubt been a priority, so too has been keeping up with technology development. Despite its analogue roots, Vox is increasingly incorporating digital electronic designs into its products.
"We understand that there are always going to be customers that will demand that Vox has that classic line of product such as the AC30," says Clarke. "But equally, we're also aware that not everyone wants to lump around a very heavy tube amplifier. Some people just want a tone that is good enough."
In addition, many modern guitar players are looking for a greater degree of versatility to enable them to develop their own unique sound. This is where digital technology has played a huge part in helping Vox diversify and meet the needs of millennial musicians.
"AC30s are very unforgiving and if you play badly in to them, they will make you sound bad very loudly," says Clarke. "Whereas, modern day amplifiers can be a little bit more forgiving and cover up the mistakes."
Vox has developed modern Digital Signal Processing (DSP) based amplifiers known as its VT (Valvetronix) series, which use a technique known as 'amp modelling' to emulate the sounds of many different amplifiers, digitally. It means a single amp can have over 30 different emulating sounds as well as having built-in effects such as reverb and distortion.
"What we do is effectively suck the soul out of many different amplifiers and emulate them in the digital domain," explains Clarke. "They probably do an 80% job, but nothing is as real as the real thing. But for many people, that's enough.
"We are also able to take DSPs, microprocessors and all the computing power we have nowadays, and marry that with vacuum valves. So, you get that warm tube tone, but it's a lot less expensive and offers a lot more versatility.
As well as digital electronics, further capability is potentially possible for Vox through connectivity. For example, guitarists can develop new amp sounds, upload their settings to a cloud and share them with a community of musicians to download and try. But is this something Vox is interested in?
"I hate the term 'Internet of Things'," says Clarke. "It's a buzz term I flatly refuse to put into anything. I don't want to add unnecessary connectivity, just because we can. If I add wifi to an amplifier, how is that going to benefit the customer? We want to make sure that our customers want what we're producing."
Clarke has managed to subtly develop the iconic all-analogue AC30 while developing newer digital amps for the next generation. It continues to be a tricky balancing act, but seems to be working as Vox has kept a staunch customer base that crosses beginners to pub-playing hobbyists to professionals rocking the stage at Glastonbury.
"A lot of modern-day players, especially if they're youngsters, need to have an instant gratification," says Clarke. "If you've got an amp with tons of versatility and loads of effects, even if you're not a great player, you can very quickly begin to make music. It's really a gateway drug to get you hooked before you become completely obsessed and a tone junky… it's at that point you'll end up buying an AC30."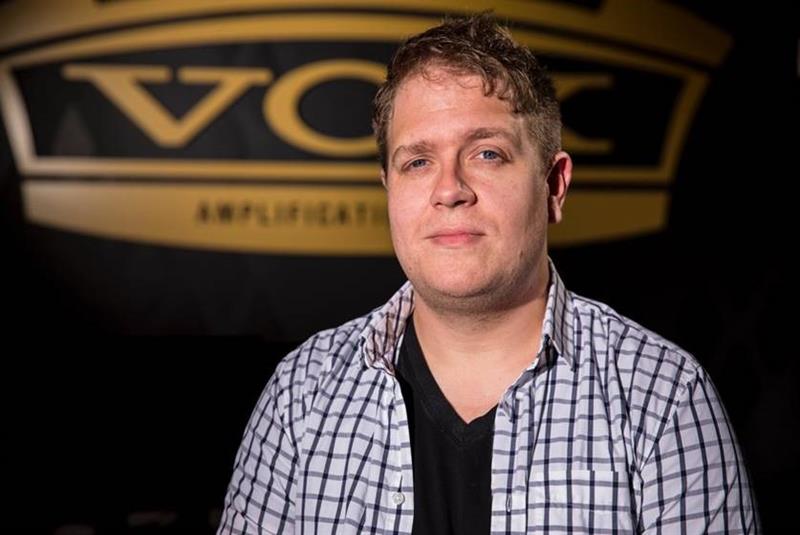 Dave Clarke, R&D manager at Vox Amplification

Though an electronics engineer by training and university degree, since joining Vox Amplification 12 years ago he has expanded his skills to become an all-round design engineer with experience in mechanical engineering, graphic design and industrial design. He says: "I've become a lot more mechanical and design based over the years, which has been quite a nice evolution."