Based at Donnington Park since 2008, Norton is producing modern versions of its classic bikes as well as getting back into TT racing. Its latest model, the V4 RR, is hoped to put Norton back on the map as a British superbike manufacturer.
One thing that makes the V4 RR stand apart from anything Norton has done before is that this is the first motorcycle that has been designed and developed entirely digitally. So, are its engineers mad, worried or inspired?
"It really was a revelation," says Simon Skinner, head of design and executive director of Norton Motorcycles. "It's a very special product and something that will move that kind of superbike on a little bit in the market place, so we're very excited.
"In November 2015 we had a blank sheet of paper and at the end of 2016 we were at the NEC with a motorcycle. There was no clay model, there was no physical prototyping. We went straight into tooling, straight to production. Our team of 10 people delivered that bike in 12 months."
The traditional way of designing vehicles, more generally, involves using a specialist team of clay sculptors to painstakingly reproduce sketches and CAD models, to show how the vehicle will look in a 3D real-world setting. This, combined with 3D scanning, is especially useful for figuring out surface details and the all-important vehicle 'lines'. But, the cost of hiring the designers and sculptors to build clay models is very high and if a redesign is needed, the cost can quickly skyrocket.
The breakthrough came when Skinner stumbled across a feature in PTC's Creo 4.0 CAD software called Freestyle that, he says, saves Norton hundreds of thousands of pounds and halves development time.
"As soon as I found that function in Creo my life changed," he says. "I couldn't have done it without that, plain and simple.
"Freestyle is more than capable for pretty much everything we need to do on a motorcycle, and it's just so quick and easy to use."
I feel free(style)
Freestyle lets you create high quality curvature continuous surfaces from scratch or from a converted 2D image. It is based on sub-divisional modelling technology that makes use of a control mesh to move or subdivide surfaces, allowing users to manipulate and intuitively add details, such as air intakes. There is also an option to mirror the surfaces so changes made on one side of the design are automatically reflected on the other.
Skinner claims that he designed and surfaced the whole V4 RR within a month, at his dining room table. He then handed the raw data over to his small team of engineers and charged them with turning it into bodywork with tabs and thicknesses, and to refine the surfaces where needed.
The risk with digital prototyping is that everything must be visualised onscreen, running the risk that mistakes or imperfections are only seen on the final product itself, resulting in late and costly redesigns.
"Designing the V4, like this, was about 97% successful," says Skinner. "There's a few elements that I'll do differently next time around as there are some things you see in CAD and you wonder, 'am I going to see that in real-life or not?' It's just a learning process.
"There's elements on that bike that grate every time I see them because they're not quite right. There's bits where the surface is not quite where I wanted it to be and in hindsight you think 'I should have spotted that', or 'I didn't think we'd see that', but we did. It's about trying to get the balance between refining something no one's ever going to see versus the bits that you will see."
So, why not use rapid prototyping to negate any possible problems with surfacing? According to Skinner, there's no point, as tooling a representative piece of bodywork out of carbon fibre takes just one week longer than creating a rapid prototyped part.
"If I've got an injection moulded part that's got a 16-week lead time and is £30,000 to tool up, I'll make a part for £300 [on a 3D printer]," he says. "But in terms of the big body panels, I'll go straight to tooling [from the digital model]. I tooled the bodywork of the whole bike for £10,000, which is phenomenal.
"It's been years since you'd do an engine part using traditional modelling techniques, you'd go straight to CAD and straight to tooling, so why wouldn't you do it with the bodywork?"
All of Norton's bikes are made by hand, so rather than take on the bigger players like Ducatti that produce around 60,000 bikes a year, Norton is aiming for the premium sector of the market. It means that while premium materials can be used, tooling costs have to be minimised.
"Ducatti and Triumph wouldn't make a frame the way we have," he says. "And they wouldn't make all their bodywork out of carbon fibre because it's too expensive.
"The aspiration is to be a two-wheeled Aston Martin and that's where we need to be. At the top end of the market with a very British product."
The V4 RR is priced at £28,000 and the sportier SS model sits at £44,000, but it'll take a while to get your hands on one as all 450 bikes planned to be built this year (200 SSs and 250 RRs) have been sold before they've even been built.
In the meantime, Skinner is planning a new model for release, possibly by the end of 2018 if the V4's rapid development time is anything to go by.
"This is the way we want to do future models," says Skinner. "It's all about the pounds and pence at the end of the day. We're taking hundreds and hundreds of thousands of pounds out of the design process by developing our products digitally."
Norton's Top 10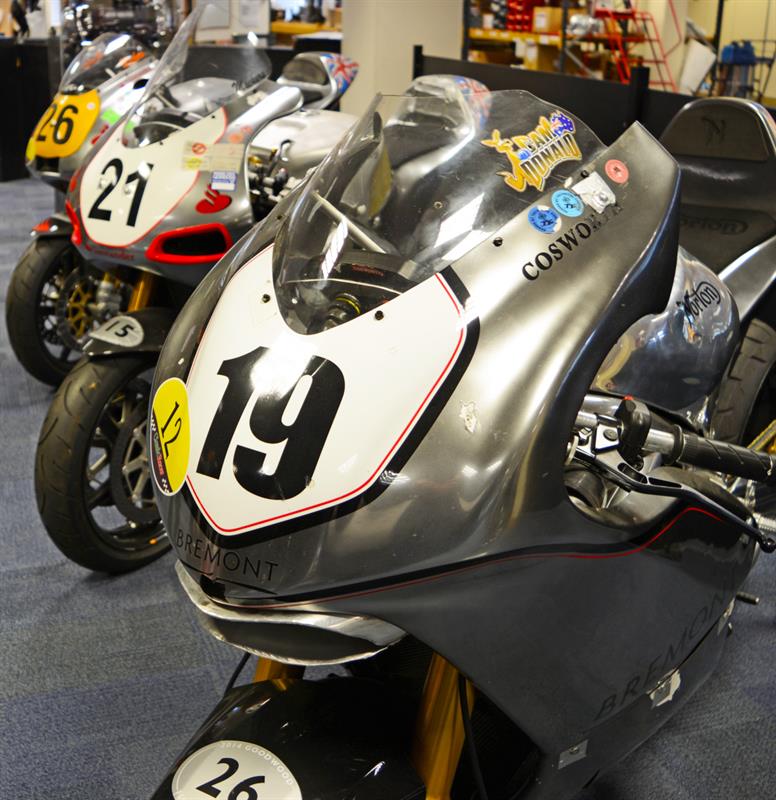 1. Norton Motorcycles was founded by James Lansdowne Norton in 1898 as a manufacturer of 'fittings and parts for the two-wheeled trade', and the first Norton motorcycles were produced in 1902.
2. Rem Fowler won the very first Isle of Man TT race riding a Norton in 1907.
3. By the mid-1930s Norton was producing over 4000 road bikes annually and its race bikes continued to win the Isle of Man TT as well as Grand Prix races.
4. Between 1937 and 1945 Norton withdrew from racing and produced around 100,000 motorcycles for the military as part of the war effort.
5. After the war Norton enjoyed more success at the TT, winning every race between 1947 and 1954.
6. The Commando was released in 1961, featuring an engine that was 'isolastically' insulated from the frame for a smooth, vibration-free ride. Over the next 10 years 500,000 Commandos were produced and sold.
7. The 1970s saw a huge increase in Japanese motorcycles into the market that drove Norton, along with other British marques, to the brink of extinction.
8. The last Commando was produced in 1976.
9. In the 1980s the rights to the Norton name were split between multiple companies in different countries.
10. In 2008 Stuart Garner secured the rights to the brand and set up a facility at Donnington Park and delivered the first Commando 961SE in 2010.
Product close-up: Creo 4.0
PTC released Creo 4.0 in November 2016, which featured support for model-based enterprise (MBE), also known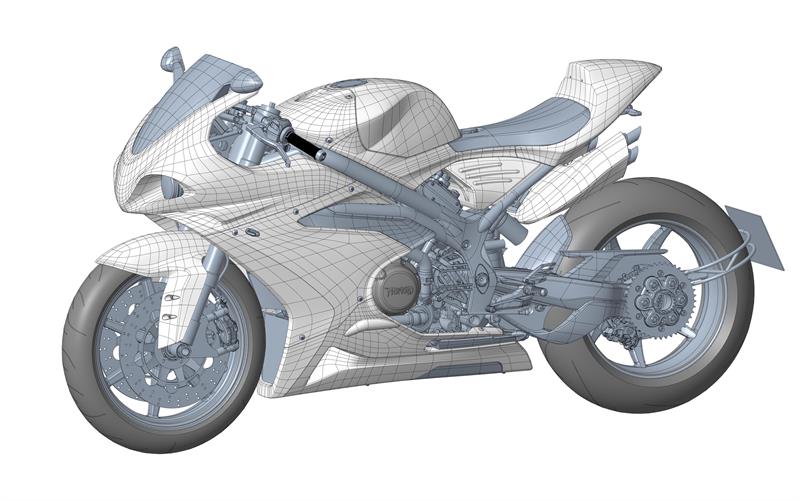 as model-based definition (MBD). It also included tools to apply ASME and ISO standard geometric dimensioning and tolerancing annotations, allowing users to validate models without having to produce 2D paper drawings.
Creo 4.0 also includes 3D printing tools that consider a designer's need to leverage the prototyping and production technology. Users will have access to a suite of tools to build and analyse parts that feature internal lattice structures.
Augmented Reality is also supported with a native integration with ThingWorx Studio enabling users to create AR experiences of designs that can be shared. Simply create a ThingMark (a kind of barcode) which the recipient prints off and places down anywhere, via the PTC app the recipient can now view the model on any device through 360° in 3D.
The last major upgrade to Creo 4.0 is a revamping of the software's UI. Users now have a more dynamic experience when interacting with their model. Depending on the geometry that a user selects, context-sensitive commands will appear at a designer's fingertips, allowing them to get their work done faster and in a more intuitive manner.