In a sector that is flourishing, why are women so vastly underrepresented? A multitude of factors plays a part in this. Girls are sometimes discouraged when considering a career in STEM at a young age, as the sector is typically viewed as only "for men". Women often don't consider a career in manufacturing, or if they do there's sometimes little inspiration.
To switch this image of the industry, changes need to be made. That old-fashioned notion of physical working is "jobs for boys" needs to be scrapped. Perception can't change overnight, but manufacturing companies and groups need to act now. That could mean changing recruitment processes and developing women's career progression in the industry.
Some manufacturers have already started to demonstrate to women that working in manufacturing is an aspiring and fulfilling career. One that's supportive, empowering, exciting, and collaborative.
In recent years, there has been a significant rise in female groups, which are aimed to support, empower, and give confidence to women in their professional careers. Groups like WECAN are providing women with the opportunity to network with others, whilst providing growth through mentorship.
To highlight women's importance in manufacturing, we spoke with Managing Director, Louise O'Brien, with 20 years of manufacturing experience and Office Manager, Magdalena Biziewska who has been working in the industry for six years at Greyhound Box.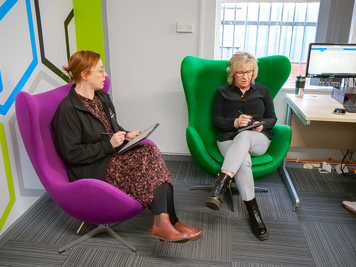 What's it like to be a woman in the manufacturing world, and how has this changed over the years?
It can be difficult at times as you need to have some engineering, and technology skills and apply logic to most things. It is male dominated so you have to be able to think and speak strategically, whilst staying determined and resilient. I do see a lot more females in STEM now and I believe there is a lot of encouragement to enter the industry. - Louise O'Brien.
Do you feel there are more opportunities now for women in manufacturing?
Yes, definitely and I think they are valued; it has brought more creativity to manufacturing. Relationships are key and I believe females have a lot to offer on emotional intelligence. - Louise O'Brien.
It certainly feels that way however there is still a lot to do to make manufacturing a more diverse sector. There is a perception that jobs within manufacturing are conducted in dirty and unsafe environments. In fact, this is far from the truth as the manufacturing industry is very innovative and it is getting more modern. - Magdalena Biziewska.
Which groups are you a part of, and why do you feel these groups are important? How have they impacted your career?
Groups we are both a part of include, Make UK, Made in Group, Business Value, Expansion Group, Yorkshire Leadership Group, Leeds Manufacturers Alliance, Help to Grow Mentor and WECAN.
These groups provide me with mentoring, understanding the current landscape in business and not just in manufacturing. Sharing ideas and issues is very valuable especially through the pandemic. - Louise O'Brien.
Being member of these groups provides me with ongoing support, whilst expanding my knowledge in various areas of the business. Groups such as WECAN allows likeminded women to network, gain confidence and provides a range of exciting opportunities. - Magdalena Biziewska.
Why should other women join these groups?
These groups provide endless energy. The courses available provide direct mentoring for any woman who is wanting to excel in their career. - Magdalena Biziewska.
What's the best advice you've been given about being a woman in business, specifically the manufacturing sector?
Manufacturing is a great and exciting industry to be involved in using so many skills like maths, and strategic thinking with people always top of the agenda. The good thing is that you can transfer any skills from other industries, and they will always be relevant. It is a showcase for using efficiency skills and increasing productivity is so rewarding. - Louise O'Brien.
Always stay resilient and be determined to go forward. With this positive mindset you will achieve a lot in the sector. - Magdalena Biziewska.
Women typically face barriers when working in STEM industries, as a business owner how have you overcome these?
It starts by recognising the barriers women still face in the first place. At Greyhound Box we took the decision to adapt our operating hours to accommodate a more flexible work-life balance. Although this was for the wellbeing of all our staff, this small but vital change has allowed our female members of staff spend more time outside of work. Whether that's with their loved ones, enjoying a hobby or simply creating ease with childcare. - Louise O'Brien.
Manufacturing companies and industry groups must commit to taking decisive steps to create gender diversity. Increasing women's access to STEM, providing training, and offering female benefits, will allow women to succeed and businesses to hire the female talent they need.