Delivering enhanced speed, accuracy, flexibility, and a more robust design including integrated process cabling, ABB's IRB 5710 and 5720 robots deliver increased productivity and enhanced performance with higher uptime for applications including electric vehicle (EV) manufacture, foundry, forging, rubber, plastics, and metal fabrication.
Available in eight variants, the IRB 5710 and IRB 5720 present a choice of options for payloads from 70kg to 180kg and reaches from 2.3m to 3m. Together, the two robot families are suitable for a wide range of production tasks including material handling and machine tending and assembly, as well as specific operations in EV manufacturing such as battery module picking and placing and parts handling. The benefits offered by the robots also make them ideal for use in plastic molding, metal casting, cleaning, and spraying applications.
Both robot families are powered by ABB's new OmniCoreTM controller V250XT, the latest addition to the OmniCore controller family. Featuring ABB's TrueMove and QuickMove motion control technology, the OmniCore V250XT controller enables the IRB 5710 and IRB 5720 robots to offer class-leading speed, improving production capacity with lower manufacturing times. With their excellent position repeatability (0.04-0.05mm), path repeatability (0.1-0.14mm), and path accuracy (1-1.2 mm), the IRB 5710 and IRB 5720 are more accurate than other robots in their classes, enabling them to deliver the highest levels of manufacturing quality.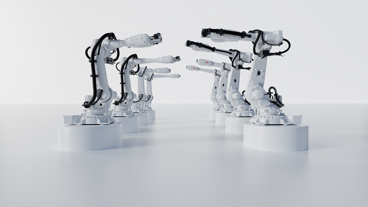 "These new robots accelerate ABB's continuing expansion into the rapidly growing EV market, meeting customer demand for robust units with the speed, path accuracy and dexterity to handle complex EV battery assembly duties" says Joerg Reger, Managing Director of ABB Robotics' automotive business line.