To create the vehicles, the company employs a method called 'STILFOLD', where robots manipulate single sheets of metal to form the frame and chassis. So far, the technique has been used to develop the Sport Utility Scooter One (SUS1) - the first product that STILRIDE will take to market – and plans for cargo bikes and trailers are also underway. There are already more than 90,000 people on the waiting list for the SUS1, with the first scooters set to be delivered to customers in autumn 2022.
It is claimed that the SUS1 requires 70 per cent fewer components than traditional scooters, as well as bringing a 25 per cent reduction in labour costs and a 20 per cent cut to material costs. According to Jonas Nyvang, co-founder and chief executive officer of STILRIDE, the idea came about when he and fellow founder Tue Beijer sketched out some ideas over dinner.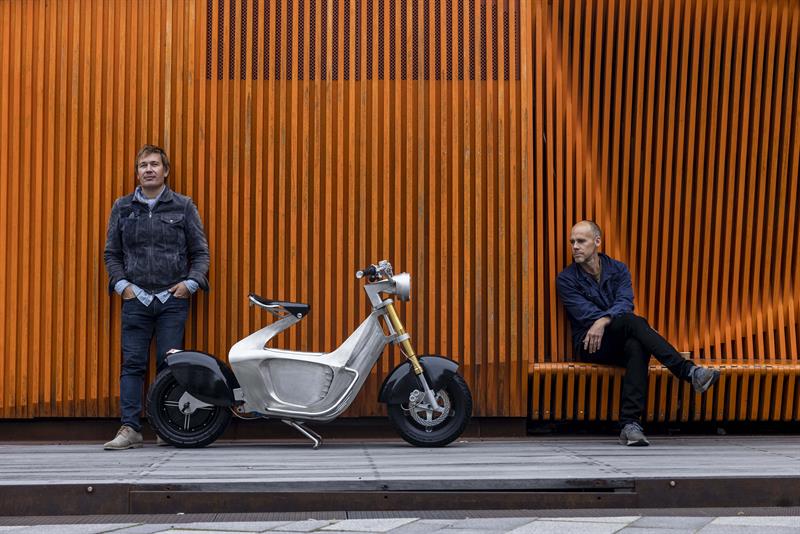 "My co-founder Tue first introduced the idea for the scooter to me at a dinner in 2019," said Nyvang. "He sketched out how it could be manufactured using origami folding and built a model out of paper.
"It's surreal to have now created a high-spec electric motorcycle that's true to that original vision. It meets our commitment to sustainability whilst also having a radical and distinctive design identity. Not only is it unisex, but it's uni-age. It's designed for everyone and we hope it can be an accessible entry point to the world of scooters and motorcycles for those with an eye for style and a love of nature."
To reduce the product's carbon footprint, the company is aiming to create a production process whereby the steel sheets are flat-packed and shipped to local factories across Europe where they'll be folded and fitted with a hub motor and battery pack. According to STILRIDE, the climate impact of developing the SUS1's chassis is already 50 per cent lower than that of traditional scooters, and flat-packing will further help minimise the vehicles carbon impact over its lifecycle.
"Using STILFOLD, manufacturers can minimise resource consumption and waste, cut down on labour costs and ultimately reduce the environmental impact of production," said Nyvang.
"We're launching in Europe first as it's a market that relies heavily on outsourcing and has much to gain from increasing its domestic manufacturing capabilities."