The BEEAs has been highlighting the breadth and depth of the UK's design engineering community and how they are competing on a global stage for the last 10 years. Winners of the Grand Prix, the best-of-the-best of each year, have ranged from individual engineers doing outstanding work both in their industries and communities, to small companies with staff numbers in the single-digits, to larger OEMs.
Each year, hundreds of entries are debated and analysed by a judging panel of industry experts, which includes the winners of the previous year's Grand Prix and Design Engineer of the Year Awards.
Cambridge Consultants has been a headline sponsor of the event since 2009. Its CEO, Eric Wilkinson says: "Cambridge Consultants has supported the BEEAs right from their inception, because we believed that the quality of depth of engineering talent here in Britain needed to be highlighted and celebrated. The BEEAs do more than give engineers a lift for a day – they inform and inspire fellow engineers, entrepreneurs, investors and, perhaps most importantly, graduates and students to be proud of what they are part of and to give free rein to their ambition."
In retrospect
This is the first in a series of features looking back at the past winners of these awards and seeing how winning has affected them and their business.
The inaugural British Engineering Excellence Awards ceremony took place at a gala luncheon on 1 October 2009 at London's Globe Theatre. The winners are listed above.
Where are they now?
Start Up of the Year winner, Flybrid Systems, also won the prestigious Grand Prix for its elegant kinetic energy recovery system (KERS) solution. The Flybrid KERS device could be fitted to road and racing cars to reduce fuel consumption and CO2 emissions. It could also be scaled up for use on busses, trucks and even trains. What's more, it cost a third of the key competitor product.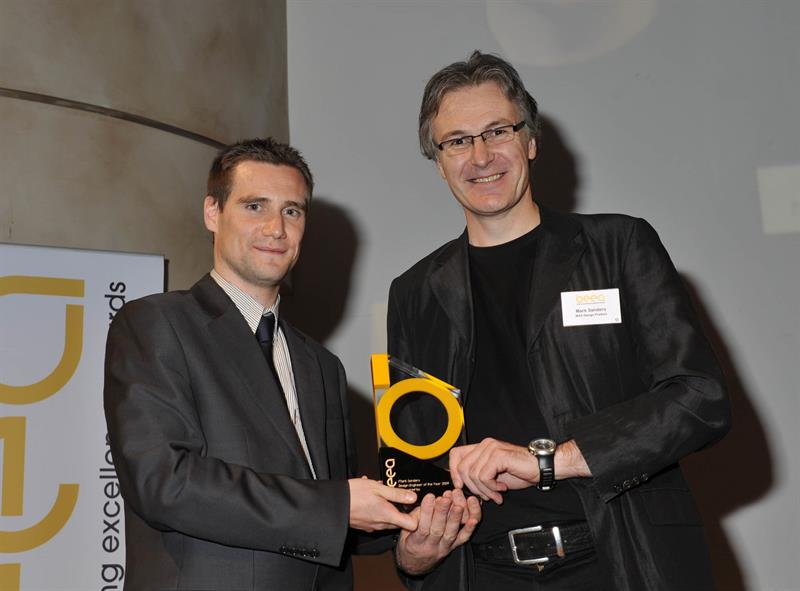 Founded in 2007 by Jon Hilton and Doug Cross (pictured in the centre of the group shot above), the company began operations from the Silverstone Park Innovation Centre.
Hilton recalls: "It was just Doug and I and one paid employee in a 500ft² office – we couldn't manufacture anything in there of course, but we could draw and sub-contract out to people with equipment to machine and build components.
"The start date was 2 January 2007 and by Christmas that year we were testing on a dyno – by March 2008 we'd landed a big contract with Jaguar-Land Rover and by July we had moved into a 7000ft² premises 200 yards away.
"In winter 2008 we saw product finally in a vehicle and since then it's snowballed. In our fourth year of trading 100% of our sales was export. We now have UK customers, but we've done business around the world in China and the USA, which did surprise me to start with.
"We're now 23 people. We've designed, developed and built 12 systems for different vehicles from companies such as Volvo, Jaguar, the Wright Bus group and JCB excavators, plus we are now owned by the Torotrak group which has 80 or so engineers."
Flybrid is now regarded as one of the leaders in mechanical hybrids in the world. The company also has 55 patents pending globally.
Mark Sanders of MAS Design Products won the Design Engineer of the Year in 2009 (above right) having been judged to be prolific, practical and creative, with a wide range of design expertise. The judges were particularly impressed with his involvement in the education of the next generation of engineers, running workshops in schools and universities in the UK and internationally.
An engineer and designer describing himself as a 'one-man band', Sanders says: "My career really took off since then, I'm sure it's no coincidence. Having such an Award verifies your reputation and adds some gravitas. Getting the Award also boosted my confidence when pitching to bigger companies and allowed me to reach for higher targets.
"I've always punched above my weight in the size of the projects I've taken on, but getting the message across that you're capable of bigger projects is quite difficult. This last 10 years, the hard work I've put in prior to that has come to fruition.
"I've taken on much bigger international clients like Mando in South Korea and Xaiomi in China. They're the sort of places that a small company like mine wouldn't normally get a look in."
When asked if he had plans to expand the company, Sanders says: "No, I just love the hands-on engineering design. I've employed people in the past but missed doing the work myself. I just want to do more and more ambitious projects.
"I'd encourage all engineers particularly to enter the BEEAs. Designers are so much more forward about putting themselves forward and engineers don't promote themselves as much. It's bad for the industry because it doesn't promote engineering as a career."
We will be covering the 2010 Awards in the February issue. Entries for the '10th Anniversary' awards will open in the Spring. Visit www.beeas.co.uk to pick up some top tips on entering your submissions.
2009 winners
Grand prix

Sponsored by: Electronics

Leadership Council

Winner: Flybrid Systems




Judges' special award

Sponsored by: Bloodhound SSC

Winner: Lotus Engineering




Consultancy of the year

Sponsored by: Prototype Projects

Winner: Plextek




Design engineer of the year

Sponsored by: Element 14

Winner: Mark Sanders,

MAS Design Products

Highly commended: Dr Robin Taylor

of Lein Applied Diagnostics




Young design engineer of the year

Sponsored by: RS Components

Winner: Oliver Start, Powelectrics

New electronic product of the year

Sponsored by: New Electronics

Winner: Electrosonic, VN Matrix

Highly commended: Entries from Atlantic Inertial Systems and Cambridge Semiconductor.




Green product of the year

Sponsored by: Centre for

Remanufacture and Reuse

Winner: Artemis Intelligent Power




New mechanical product of the year

Sponsored by: Eureka

Winner: Blatchford

Highly commended: Oxford Instruments Nanoscience's entry




Small company of the year

Sponsored by: Technology Strategy Board

Winner: Specialised Imaging




Start up of the year

Sponsored by: Cambridge Consultants

Winner: Flybrid Systems