By reintroducing the iconic shapes of the Sixties into an entirely new and contemporary package, the project was part of a six-month development programme called the E-MINI Classic proof of concept project. This was part-funded by the Niche Vehicle Network, an independent association of over 900 niche vehicle manufacturers, specialist technology and design and engineering companies.
The project was announced in 2017 with the intention of bringing together expertise in vehicle systems and electric powertrain engineering with battery technology to create a small fully electric vehicle for use in urban environments. The work was undertaken by engineering company SDT Drive Technology alongside two UK partners; Swindon Powertrain and battery specialist MEP Technologies that installed the technology. SDT Drive Technology accelerated development, pushed designs in the right direction and helped towards the goal of creating a custom, compact and efficient powertrain.
SDT Drive Technology specialises in the design, development and supply of advanced electric rotating machines and drives for many industries including automotive, aerospace, appliances, industrial, medical/rehabilitation, oil & gas, leisure, mobility, pumps & air movement, rotating equipment and renewables.
SDT Drive Technology plays a key role in selecting affordable, efficient, stable and reliable custom electric powertrain technologies in compressed time frames. Its primary focus is the process of defining, evaluating, designing and incorporating technologically advanced custom high-speed motors, gearboxes and controllers – that provide better solutions in meeting system configuration and vehicle operating requirements.
"To achieve this, as things become smaller and more power dense, it became essential to address component integration issues from the very first stages and validate high-speed motor concepts to reduce space requirements and weight to fit into a MINI vehicle. High-speed traction motors have significant potential for the reduction of weight and size, but normally have less torque capability. Thus, a custom gearbox was needed in order to keep the acceleration performance of the vehicle as high as possible," according to Dr Sab Safi of SDT Drive Technology.
This MINI vehicle programme uses a single in-board high-speed brushless drive configuration to propel the driving wheels. The traction motor and drive assembly is located in the front of the vehicle. However, a single inboard motor, gearbox, and drive shaft was easier to use, and was proved to be a cost-effective solution.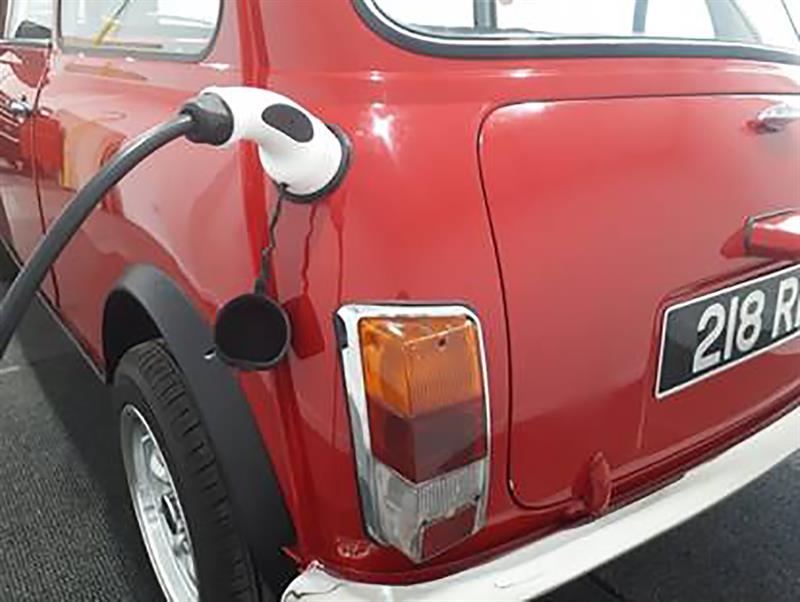 The MINI is powered by one electric powertrain drive which provides a maximum power output of 85kW alongside a maximum speed of 120km/h, accelerating the concept vehicle from 0 to 80km/h in less than 6.9 seconds. The motor is directly connected to one gearbox housing and thereby forms an electric axle. The power required for this is provided by a battery with a voltage of 350Vdc and an overall capacity of approximately 25kWh.
SDT Drive Technology provided a fully advanced electric powertrain (motor and gearbox) to replace an existing internal combustion engine. This consisted of a high-speed and power dense (11,000rpm, 250Nm) brushless motor allowing for compact packaging and capable of producing 85kW with system efficiency of 92% using a 40/60 water glycol coolant type with the required motor gearbox interface. Based on a common diameter, this high-speed advanced motor is paired with (>450 Vdc) inverter. A compatible gearbox transmission was also provided.
Electric vehicle powertrains and their subsystems and components must work together in a coherent, tightly-coupled way to maximise vehicle efficiency and performance. The electric powertrain can be accurately simulated to evaluate the individual components and subsystems as well as the interactions between them at the system level.
In order to ensure an innovative concept and faster design, SDT Drive Technology went on to focus on the analysis and evaluation aspects, describing the MINI Classic project as "addressing multiple disciplines in a very structured manner" and, crucially, it requires solving fundamental engineering problems at the earliest stage through a well-structured design process backed by industry and engineering expertise, to avoid problems and so optimise designs."
The concept was designed and approved by producing a demonstration prototype vehicle and further testing is currently underway.
The MINI vehicle concept was in development for almost six months, the mission is to create safer and more environmentally-friendly technology. The challenge was to provide a compact, efficient electric powertrain vehicle system while ensuring performance and meeting automotive standards in a short period of time. The answer to this was components: "Identifying the right calculations and including appropriate simulations in the initial stages means you can see what works and highlight potential problems earlier," according to Dr Sab Safi, of SDT Drive Technology.
Today, there is continued commercial interest in these classic vehicles and on successful conclusion of this project, the vehicle is now ready for Production Readiness Stage, to continue to build upon the successful results achieved so far by the current proof-of-concept model.
SDT Drive Technology believes that the results of this MINI concept programme show that E-MINI Classic concept technology will enable an electric vehicle market in the near future and will help to expand this market. In addition, it is hoped the technology will also enable electric vehicle volume production and will allow these classic vehicles to continue to be used in cities that prevent old, high-emission vehicles from urban areas.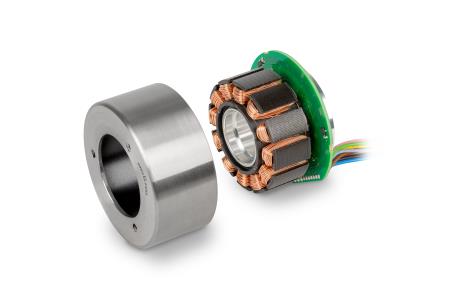 The benefits of frameless motors
There are several benefits to using frameless motors that include reduced space envelope, reduced mass and a lower part count. These are all interlinked and can be key factors in numerous applications.
Using a frameless motor, the customer can design this into the assembly, without the need of a shaft coupling device to transmit the rotational movement from the motor shaft to the driven element. The shaft will pass through the bore of the rotor and will be one single piece. This will reduce the overall length by a significant factor, as well as removing potential failure modes.
However, a certain amount of care is required in assembly to avoid having issues. All the time magnet grades are improving and getting stronger, which means that maxon can produce more powerful motors in the same space envelope.
Maxon has produced an installation manual for the frameless motors, which is available to download from the website product pages. This gives application examples such as instances where the bearings can be located on different packaging examples. It also includes ideas for assembly tooling and detailed assembly instructions to avoid the pitfalls above.