Bastian Schaefer, innovation manager at Airbus, says: "We've been using metal 3D printing with an aerospace material called Scalmalloy to create a full-scale partition which is almost 50% lighter than the existing design. This component has been tested successfully, it's not flying yet, but it has taken the first steps towards certification."
A revised version of this partition, 'Bionic Partition 2.0', is being built, originally the intention was to fabricate the new partition using metal additive manufacturing. But, due to a range of variables in the manufacturing market and materials requirements, it became clear that an alternative fabrication process would be necessary. Autodesk's generative design technology has continued to mature and is now capable of optimising for multiple advanced manufacturing techniques during the design phase of product development.
This meant Airbus could use generative design to create a plastic, 3D-printed mould for the partition, and then cast the part in an alloy that's already qualified for flight. Bionic partition 2.0 is just as strong and light as its predecessor and can be fabricated at scale more affordably.
"The revised design makes the bionic partition much more viable for production. The first prototype is in production, which we hope to finish before the end of the year," says Schaefer. "The process and technology have evolved to where we can now manufacture multiple units at a considerably lower cost."
From this, Airbus moved on to optimising critical exterior components like the nacelles for the engines and the vertical tail plane (VTP). The purpose of a VTP (or vertical stabiliser) on an airplane is to provide directional stability and reduce aerodynamic inefficiency caused by side-to-side movement. Generative design is enabling the team to evaluate hundreds of design alternatives that all meet objectives for VTP stiffness, stability and mass. The leading edge of the VTP has been 3D printed from metal into a lattice structure that is incredibly stiff, as light as possible and resistant to impact.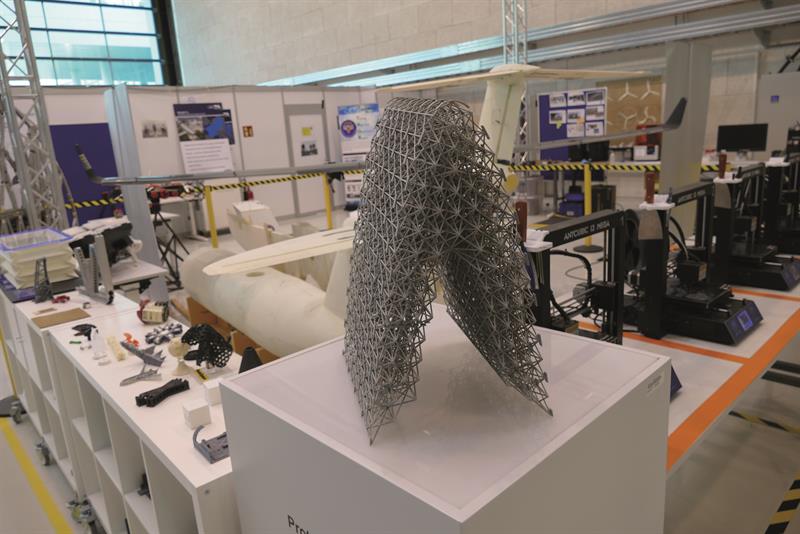 VR testing
This same design principle is beginning to be applied to the leading edges of the wings too. But generative design is much more than topology optimisation of parts, it can also be used to tackle complex engineering, architectural and systems challenges.
"All of this grew out of the work Airbus and Autodesk did four years ago," says Andrew Anagnost, CEO of Autodesk. "And today, we are working together to figure out how automation could help Airbus with a much bigger challenge. From their early work on structural optimisation, they've shifted their focus to systems optimisation, from parts like these to the processes that go into making them in factories like the one in Broughton, UK, where the A350's wings are assembled."
The assembly line involves a lot of human labour: drilling, cleaning, bolting, riveting, sealing, 24 hours a day in three shifts, and all these different tasks require different tools. Going back and forth between the wing and the tool trays, the carts and the storage racks involves a lot of walking. And while this walking might feel like work, it isn't really work at all, it's simply activity.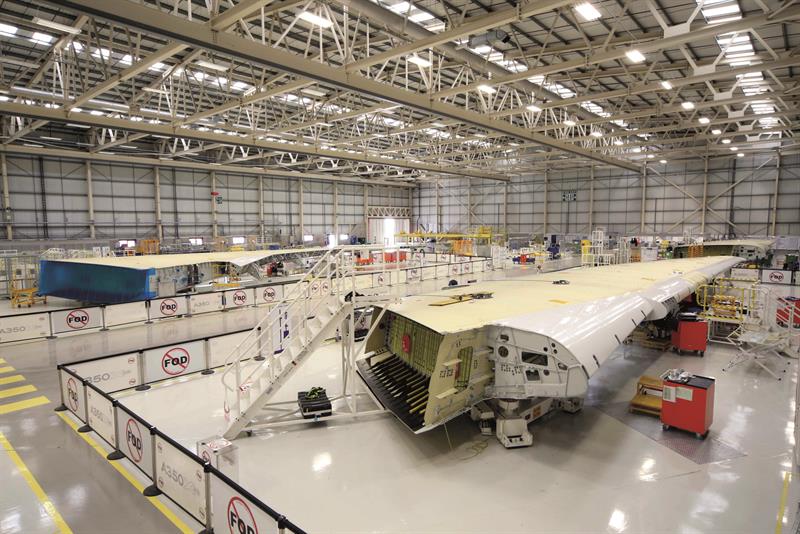 "We helped Airbus see how one bay could be configured for multiple wing types," Anagnost continues. "They use generative design to explore how tools, locations and configurations could be optimised for this process, as well as all the processes from all the variations of the wings for the different generations of the A350.
"We managed to reduce the distance of the key travel paths while also minimising congestion and bottlenecks. Now, the line workers are absolutely getting in their daily steps, but they're also spending more time assembling the wings, it's a more productive factory and more configurable factory."
This was essentially just a proof of concept for something much bigger. Airbus is now using generative design to optimise a new factory for painting and assembling A320 engines in Hamburg, Germany, that is due to open next year. The goal is ultimately to assemble engines more quickly with more efficient logistical flows and a more content workforce, in a factory that is expandable and adaptable to meet Airbus' needs both today and in the future.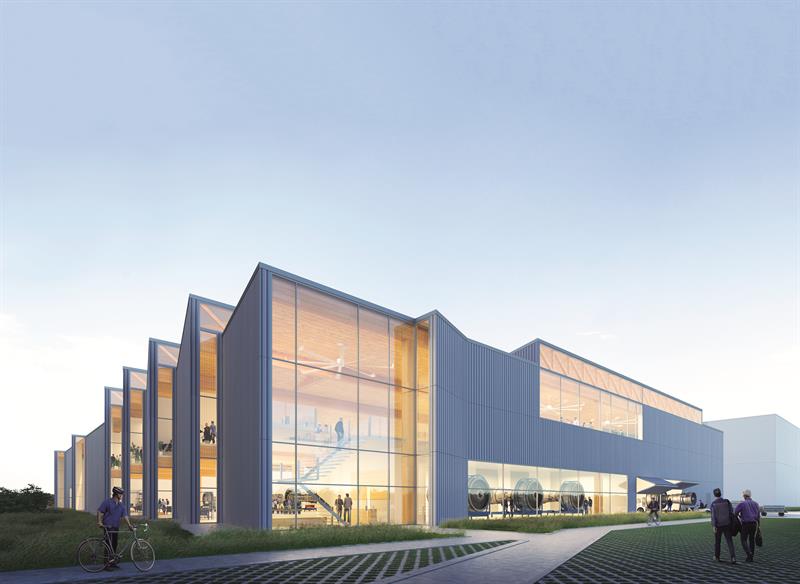 The reason Airbus has used generative design to design a whole factory is because the remaining plot on the edge of its campus is triangular and smaller than Airbus would like. So, Airbus explored two paths, one examining what a bigger building with a triangular footprint might look like, and the other how the same factory might be optimised to fit into a smaller, rectangular footprint. Ten different sets of variables were identified to optimise for, these covered the social, environmental, financial and operational aspects of the design.
The social aspects of the factory were a key consideration as Airbus wanted the best conditions possible for its workers. They also wanted a building with the best possible environmental certification. But the factory needed to be affordable as well as sustainable. So, Airbus considered the major financial drivers, the number of unique structural members, the length of these members, and the building's overall footprint.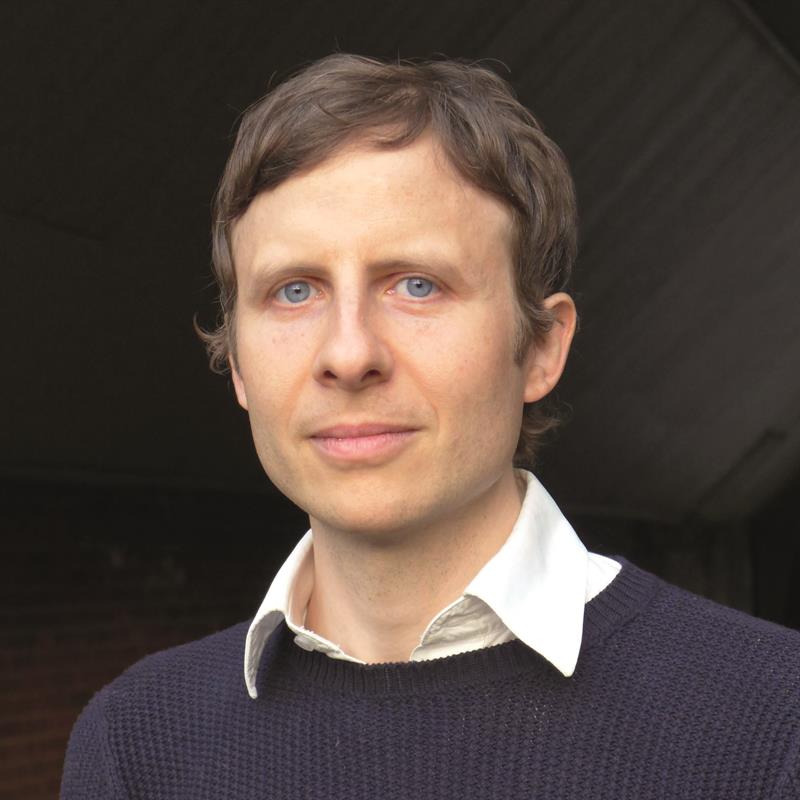 Cost matters to everyone, but what's critical to Airbus was the way the factory operated. So, they looked at the operational drivers, different flow paths through the factory. The software plotted lines representing the logistics flows (loading and unloading and prepping and inspection), jacking, jigging and the many parts that need to be assembled, and where and how these parts would be moved to and through the different paint booths.
"The generative design system learned over time how to achieve better scores," explains David Benjamin, head of The Living, an Autodesk Studio. "After identifying the options that were best and mathematically solving this 10-dimensional problem, we further filtered the designs to show only the super, super optimal ones for the most critical goals which were production efficiency and construction costs. Then we worked with the many project stakeholders for this factory to select the best triangular design option and the best rectangular design option."
Both have better flow scores than the existing standards, so either factory functions more efficiently, the engines are installed more quickly, the logistic flows are more efficient, and so are the workers because they take fewer steps each day.
Airbus and Autodesk made a 'baseline' factory design created with the typical rules or form and formula to compare the generatively designed options against. Overall, the triangular factory scored 40% better than the baseline. The rectangular one has a smaller footprint, which means that it fits squarely on the constraint side. Both options are less costly.
"In addition to having greater production efficiency and lower construction costs than a typical factory building, these designs are also better places to work," Benjamin continues. "And they're extremely sustainable with features like natural ventilation – there's no active air conditioning in this building – as well as great daylight, renewable materials and even net zero concrete, which translates to lower energy consumption, lower carbon emissions and better outcomes for Airbus."
Schaefer adds: "Generative design is helping us create a more sustainable architectural design that better accounts for critical human factors and work conditions. It has also expanded our way of thinking and our approach to design by overcoming preconceived notions and blind spots. Whichever design we choose, we know the factory will function more efficiently and will be less costly to build."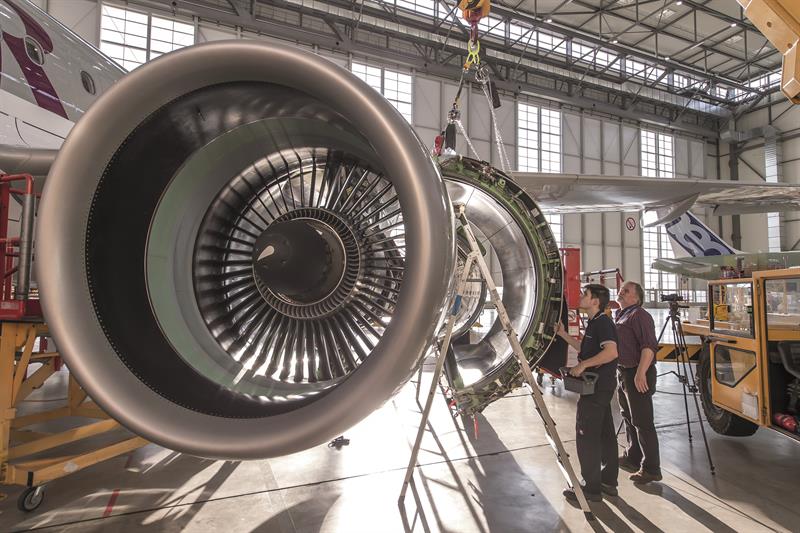 Autodesk and ANSYS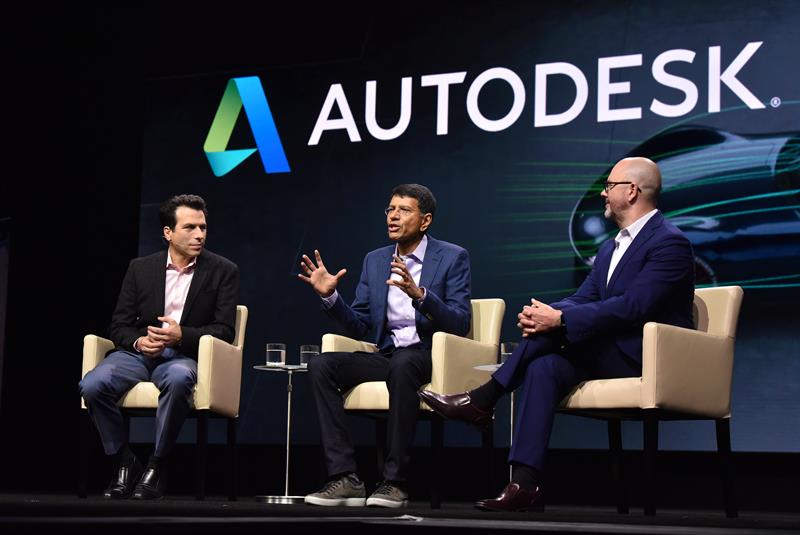 During Autodesk University's Design and Manufacturing keynote, in Las Vegas on 20 November, Autodesk CEO Andrew Anagnost (left) and ANSYS CEO Ajei Gopal (centre) discussed their shared vision for the future of industry.
The two companies have entered into a collaboration aimed at advancing simulation technologies within design and manufacturing software platforms to help professionals conceptualise, design and innovate with newfound freedom and agility.
"It's time to truly embrace the opportunity for better, and the only way to accomplish that is to look beyond our own company and collaborate with our industry peers and partners," noted Andrew Anagnost, president and CEO of Autodesk. "Like ANSYS, we're ultimately focused on delivering value, along with improved experiences and outcomes, to set up the next generation for success."
The partnership is being built with a variety of universal industry challenges in mind, addressing everything from increased customer demand for personalised solutions to eliminating silos in the design-to-make process. With this connected workflow, users can use Autodesk Fusion 360 alongside ANSYS Mechanical to accelerate the time it takes to go from idea to production.
The new workflow will allow users to simultaneously create multiple design options using generative design in Fusion 360 for a specific set of functional requirements, materials, and manufacturing criteria, then continue to explore performance across a wider range of operating conditions and environmental factors using ANSYS Mechanical. Users can take advantage of the new workflow with either a standalone subscription to Fusion 360 or via the full Product Design and Manufacturing Collection, and a license to ANSYS Mechanical.
Gopal said. "We believe in an open ecosystem that allows our customers to make the right business and technology decisions for their unique needs. This technology and API partnership will help customers seamlessly move between Autodesk and ANSYS products – and further our vision of an open ecosystem."