"All processes can benefit from preparation for Industry 4.0 or 'future proofing'," says Lesley Eaton, business development and marketing manager at SEEPEX UK. "There's a general misconception that enhanced connectivity, Smart Manufacturing and Industry 4.0 are for big operations with ultra-sophisticated data capture strategies. Yet, like most decisions in business, it's about thinking smarter, selecting the right pumping equipment for the job and factoring in current and future demands."
At the start of 2017, the manufacturers' organisation EEF published its 4IR report. Gauging where organisations are in their transformation process, the research offered some valuable insight. However, the report, like many others, highlights the uncertainty about how to apply Industry 4.0 technologies to business operations. While 99% agreed that the 4th industrial revolution will be about getting actionable insights from data, 58% of those interviewed reported that they are still getting to grips with the concept and are less certain about what it actually entails.
Undoubtedly, technology and its application will be the enabler. And while there is a widespread expectation among companies that investment in new technology will be required, the EEF report indicated that 61% of manufacturers agree they could be using current digital technologies more effectively to boost their levels of productivity.
Joining the dots
Smart PC pumps offer a perfect example of how embedded technology can optimise even common and straightforward equipment. Here, when data is captured effectively it can assist with forward planning.
Take the integration of software. Done effectively, this can assist with automated production, and online machine data capture, making preventative and predictive maintenance a realistic possibility. Importantly for businesses tight on resources, it doesn't mean more data is being generated; it just becomes more accessible and relevant.
Sensors and sensibility
Intelligent data generated by sensors is the basis for all smart machine control and automation, and is equally applicable in PC pump control. An example of application could be using transducers as pressure or lever controls which speed up and slow down the PC pump, varying the flow rate as required. Rather than using an on/off response when fill levels are reached, these pressure transducers send a variable signal to a PLC integrated to a variable speed drive. Because the transducer detects differences in vessel product levels, the speed at which the product is delivered increases or slows accordingly. This in turn reduces the wear rate of the pump, extending the service life and reducing the total cost of ownership of equipment.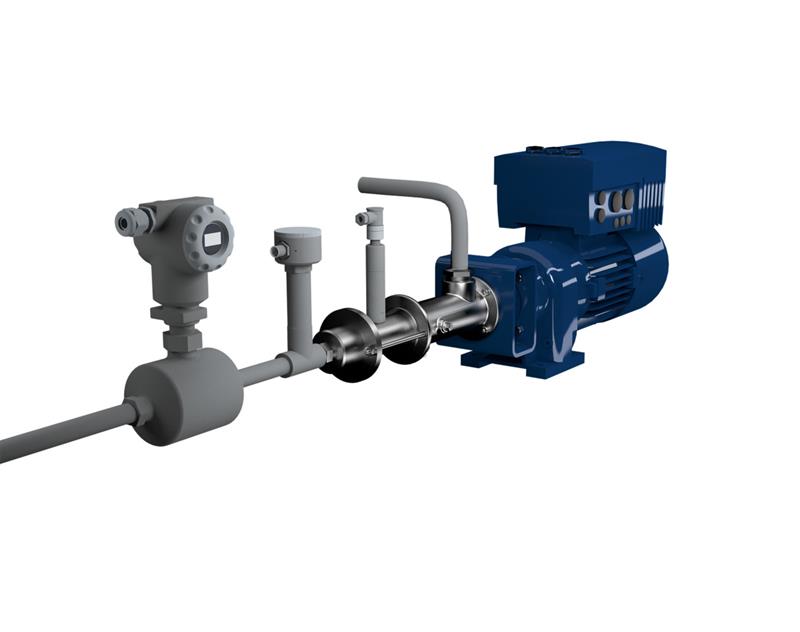 Likewise, there are a number of PC pumps fitted with sensors using IO-Link interface capabilities to switch pumps on or off. Replacing these with variable sensing technology reduces the reliance on remote processing of data, enabling intelligent analysis of performance as well as enabling variable flow rates. In addition, flow meters linked to variable frequency drives (VFDs) allow for real time feedback and speed control of motors to achieve accurate product flow. When the information from flow meters is analysed in conjunction with pressure transducers then PC pump wear is determined and predictive maintenance schedules can be set.
Pipework, valves and downstream equipment can all affect pump performance. As pumps become digitally integrated into processes a properly selected PC pump can collect data to provide diagnostic tools for the entire system. For example, an unexpected pressure increase could signal a product change, a closed valve or a pipework obstruction. Additionally, an increase in measured flow could indicate narrowed pipework. As pipework becomes fouled, for example, the diameter decreases yet this can often remain undetected until problems arise. Using a comparison of theoretical flow vs actual flow at a given pump speed can provide an early diagnosis of the condition of pipework, enabling remedial action to be taken before issues occur.
Scalable solutions for future demands
When selecting pump technology, it's equally important to consider existing technology infrastructures and industrial control systems and how your new technology will integrate into common supervisory platforms, such as SCADA.
The development of progressive cavity smart dosing pumps (SDPs) by SEEPEX caters to these future requirements. Used either as a standalone item or integrated into SCADA systems, these PC pumps maintain accurate flow using continuous real-time feedback and adjustment to overcome product and process changes that affect flow rates.
To simplify integration, the SDP has an intelligent VFD incorporating a PLC, special software and fieldbus communications. Input interfaces can be via a centralised system, a handheld HMI or by analogue and digital devices, which means that in addition to controlling the pump operation, data can be collected remotely and a picture of performance becomes clearer. Pump and system protection can also be managed using temperature and pressure sensors linked to the integral PLC.
The design of PC pumps is ideally suited to smart operation as the linear nature of the pump performance curve – flow rate vs pump speed – enables closed loop feedback. "The signal from a flow meter on the pump discharge is used to automatically adjust the speed of the pump when required," explains Lesley.
Connecting to untold opportunities
Despite enormous advances, technology connecting information with the physical world has barely scratched the service. Yet, the fourth industrial revolution is rapidly pervading every part of our lives. Even a simple pump, tasked with distributing product from one source to another, becomes exponentially more valuable when connected. Data from one sensor can be combined with data from another and linked with cloud intelligence to make smarter, even autonomous, business decisions.
Rather than just connecting for connectivity's sake, many industrial businesses see connected devices as a transformational opportunity. As a recent report from KPMG concludes, 'the real value of 4.0 comes not from component technologies or capabilities, but rather from smarter processes that integrate automation, data, analytics, manufacturing and products in a way that delivers unique competitive advantages and unlocks new business models'.
"The reality is that data connectivity and Industry 4.0 permeate every aspect of every business, large and small," adds Lesley. "With scalable options, there's the potential to revolutionise how we work and cut machine downtime by providing continuous feedback on performance."