Or has it? Hewlett Packard has come up with a 3D printer that it claims is at least ten times as fast as its nearest competitor and therefore brings production of larger batch sizes within range.
Called Jet Fusion, the printer works on the powder bed principal. A layer of powder has detailing and fusing agents printed by jets and a heat source follows straight after to fuse the material.
One interesting aspect of the system is that it is a two machine solution. Preparation and processing (eg removing all the un-fused powder) is done on a separate processing station, meaning the actual printing station can remain productive continuously.
"The printer's always building and the processing station's always processing," said Craig Perry, enterprise sales specialist. "It's a one-to-one ratio. We can do 16 x 12 x 16 inch build area in ten hours. So whether it's hundreds or thousands of little parts, or one massive big part, you can build it in ten hours. That's incredibly fast."
One of the highlights of this system is that powder that wasn't used during printing can be reprocessed for use in the next build. "We say we can reuse 80%, but I believe that it's probably much higher than that," claimed Perry. "It's really just the residue powder on the product that is lost."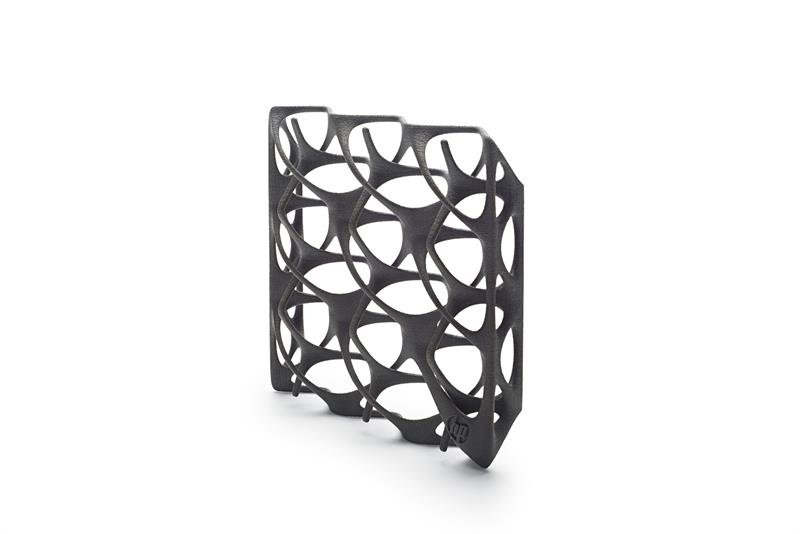 At launch the only material available will be the ubiquitous Nylon 12, with Nylon 11 to follow soon and many more in the development cycle. However, HP's strategy for materials for this printer promise to be its most disruptive feature. Perry explained: "One of the major problems in trying to move 3D printing into manufacturing is that part costs have been extremely expensive. One of the reasons is because of material cost. So we're going to have a competitive material market, which is going to reduce the cost of the individual part down to a point where it makes a lot more sense to use it in manufacturing."
Rather than selling exclusively its own materials, as is commonplace in both the 2D and 3D printing market, HP will certify and package third party materials, making them available on a dedicated web page. It will be the material suppliers who will set the prices, so the market becomes competitive and materials become cheaper. "We estimate that material costs will be less than 50% of anybody else in a similar marketplace - and that's just with the Nylon 12," said Perry.
Using Nylon 12 necessitates all parts being black initially, but colour units are in development although there is no release date for this yet.
Perry admits that the first applications will be for prototyping with the tooling and fixturing market also looking very promising. "But then, as this technology gets adopted and adapted, we'll start to get a lot of end use parts being made this way," he added.
Jet Fusion is available in two versions, the 3200 and the more productive 4200, with prices for a system comprising 3200 printer and processing station starting at about £130k.
Big surprise in small package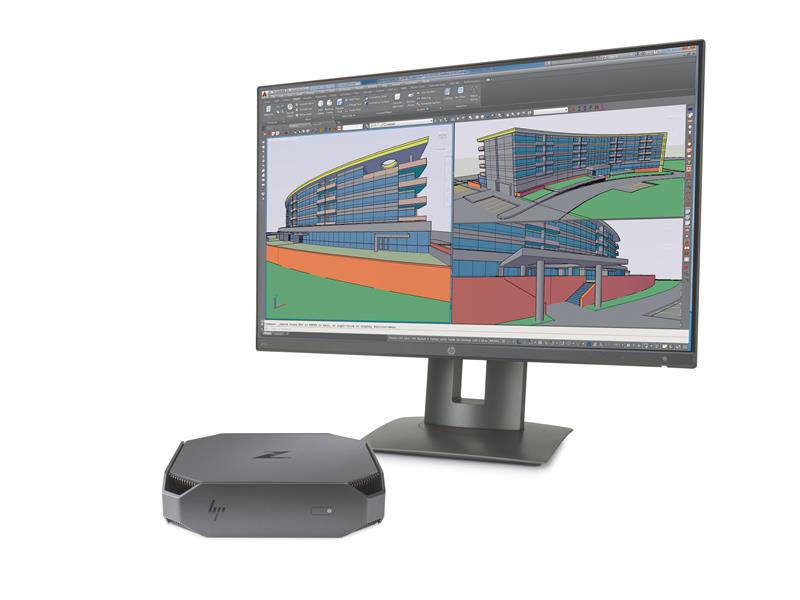 At the back end of 2016 HP bought out a new workstation that took many by surprise, which is surprising in itself. Workstations have evolved impressively over the years but remain large black boxes that sit under the desk. The surprise from HP was to bring out a workstation that was a fifth the size of a standard tower.
"All of our offices, even at home, are shrinking dramatically, but we traditionally just buy large towers off the Internet because that's all we know," commented Andrew Willard, product manager for the Z2 Mini. "We couldn't find an alternative out there that is small and still powerful enough to do what they need to do. That's why we decided that we needed to serve the market with this small solution."
The solution is the Z2 Mini workstation (announced in the December 2016 issue of Eureka!). HP had looked at the companies that they were not doing workstation business with and noticed that many of the millions of users were running CAD on off-the-shelf PCs. "For the majority of 2.5D and 3D CAD you need a fast processor, but all you need is an entry level graphics card," claimed Willard. "You don't need five PCIexpress slots or a couple of storage bays. It is actually quite easy to get rid of what you don't need – that is how you get it small. The question is, how do you keep it quiet and cool – and that is where the fun starts!"
Squeezing the computing power into a 216mm square box that is only 58mm high, is therefore doable, but keeping server grade processing from overheating needed a hybrid approach. "The custom fans are what you see in a traditional desktop tower.But there are also heat pipes that are going all throughout the system to disperse and collect that heat and push it out the back, and that's something you see in high-end laptops. It was the combination of those two philosophies that allowed us to cool the system."
The other contributing factor is that HP worked with NVIDIA to develop its new mobile graphics card, the M620. The Z2 is the first application of the M620. Willard said: "It is more than powerful enough for AutoCAD and SolidWorks.For everyone else that needs to do really intensive 3D work or rendering, we have higher end graphics cards and higher end towers to address that.But for a 2 GB graphics card the M620 packs a fair amount of punch.
Its size allows the Z2 to be strapped on the underside of a desk, sit on top of it or even be attached to the back of a monitor, and such close proximity to the user highlights the importance of its other main attribute – it is very quiet. Even if it was running 3D CAD across six screens it is still whisper quiet, largely thanks to the new graphics card and cooling strategies outlined above.
Given that the starting point is always going to be a black box, it looks pretty good too. "We want that workstation to be like a vehicle for inspiration for them, not just the engine that's driving their software," said Willard.