Based in Pontyclun, Wales, Concrete Canvas is the sole manufacturer of the award-winning products, Concrete Canvas (CC) and CC Hydro (CCH), which are manufactured in South Wales and exported to more than 80 countries. CC is a new material technology called a geosynthetic cementitious composite mat, or GCCM. The material is a flexible concrete impregnated fabric that hardens on hydration to form a thin, durable, waterproof concrete layer.
In Spring 2018, due to increased demand for its products, Concrete Canvas purchased a new facility in Pontyclun, around six miles from the original factory in Pontypridd. This new site is around three times the size of the Pontypridd facility, providing the company with significant opportunities for continued growth.
Graham Rose, engineering manager at Concrete Canvas, is responsible for developing the new production lines at Pontyclun, including machinery, controls and automation systems. He states: "As there was no off-the-shelf machinery available for producing our new product, all the design and build work was performed in-house."
The continuous production line for the new prototype rolled product comprises a variety of machines, equipment and automated systems, including unwinders, dry cement powder handling systems, a main process section that forms the cement filled web, coating machines, web handling machines and rewinders.
"The prototype production line is quite complex. There are many different machines with parts that need to be moved at different speeds. We therefore started to search for a suitable supplier of drives that could handle this type of application. We needed the drives to be flexible and easily expandable to allow easy, rapid future expansion of the line
and individual machines, with as little panel wiring as possible. Another key requirement for us was safety, so we wanted drives with in-built functional safety," explains Rose.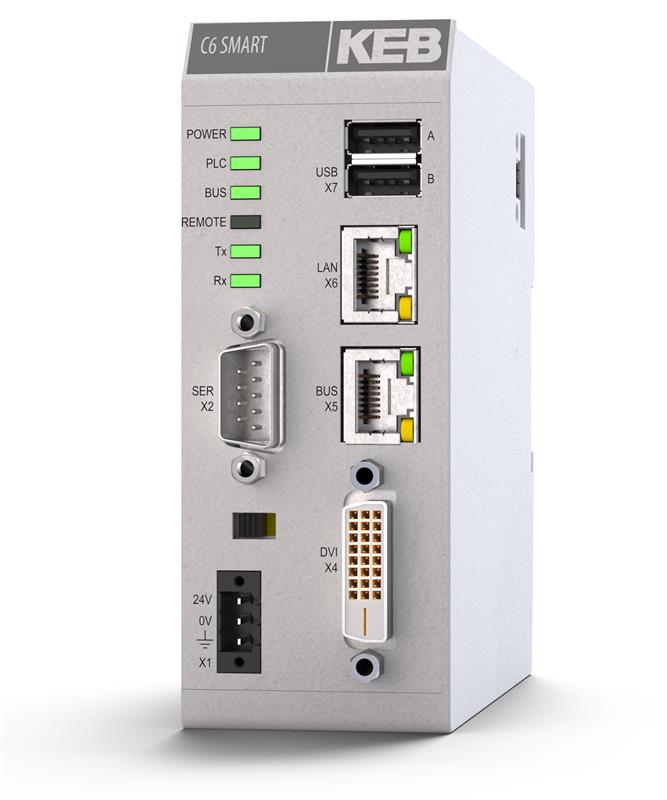 After a thorough supplier evaluation process, which included on-site demonstrations, Rose chose KEB Automation for its servo drives with FSoE (FailSafe-over-EtherCAT), as well as HMIs, a smart controller and the Combivis 6 software that provides a common development platform.
"At present, we have around 10 Combivert S6-A servo drives and some F6 drives from KEB operating on the production line. The lower powered drives tend to perform lighter duties such as transporting the web material, whereas the larger drives control the conveyors and mixers for the cement, the main web forming process section and the centre winding machine, as well as performing general positional and control tasks. Some of the drives are linked so that they operate synchronously, which is critical when controlling line speed set points and the intricate, varying tensions of the web material," he adds.
Compact, flexible and powerful, the Combivert S6-A is suitable for a wide range of highly dynamic servo applications, including highly automated, safety-oriented machines. The drives provide optimal motor control in real time, integrated safety functionality and are designed in a compact, space-saving book-style format for easier mounting in control cabinets where space can be limited. The drives are 100% in-house designed and built by KEB and can be customised with a variety of design options to suit the specific application. Safety functionality can be selected from three modules to suit the requirements of the machine.
"We use a variety of electric motors on the line including synchronous and asynchronous induction motors, permanent magnet motors and servo motors. The S6 drives are so flexible that they can drive any type of motor, with or without encoders, so this was never an issue for us," says Rose.
The S6-A drive is a flexible, modular design that allows scalable functional safety, from basic STO to encoder-based safe motion. Optional use of current speed-based safety functions (e.g. Safe Limited Speed, Safe Maximum Speed, Safe Operating Stop, and Safe Direction) is available. All safety functions can be used in applications up to IEC 62061-SIL3 in accordance with IEC 61508 or up to PLe in accordance with ISO 13849. The safety functions are controlled via secure digital inputs or via FSoE. The S6-A also provides more real time fieldbus control options and safety PLC communications (EtherCAT, ProfiNet, Powerlink), giving Concrete Canvas a genuine future-proof, Industry 4.0/IoT-capable servo drive.
"In terms of safety, we need some of the drives to be capable of breaking or ramping down at controlled rates, so we're already using some of the drive safety functions. In the future, as the line expands, we'll use a lot more, as we'll need to introduce more safety systems to the line, including safety gates, light curtains and safe interlock switches. With KEB drives, we can support this expansion quickly and easily using the KEB Combivis 6 development software platform," he explains.
Combivis 6 enables start up, administration and analysis of KEB drives. This includes start-up Wizards for quick and easy product configuration, direct access to device documentation, as well as enabling online drive parameter list comparisons and the setup of key safety indicators and functions. With a foundation built on libraries, devices and template databases, COMBIVIS 6 allows rapid, simple solutions to be generated for a wide range of applications.
Concrete Canvas also installed a C6 smart controller from KEB to control and manage all the automation and safety programs. The C6 SMART is perfectly tailored to the runtime environment and real-time capability with a powerful processor for performing complex automation tasks. The integrated micro UPS and spacious onboard memory make it a robust, reliable system. The device takes up just 47mm on the DIN rail and supports direct coupling with remote I/O modules. Operators on the line are also benefiting from the use of KEB HMIs, which allow them to alter or control set points on the machines, visualise the complete line or individual machines, and to look at key production parameters and performance indicators."
"Our environment here is digital fieldbus and EtherCAT, so in the future I can add safety and functionality to the machines easily and quickly, with reduced panel wiring. The Combivis 6 software is critical here, as it allows us to quickly add new safety features to the drives and gives our engineers a common platform for the development environment," says Rose.