From powering each individual wheel on the Mars Exploration Rovers - one of which has remained active 13 years after it landed on the surface of the red planet - to the humble tattoo gun, motors need to be reliable. They also have to meet ever more stringent efficiency regulations, especially in industrial applications where every extra revolution has an effect on the bottom line.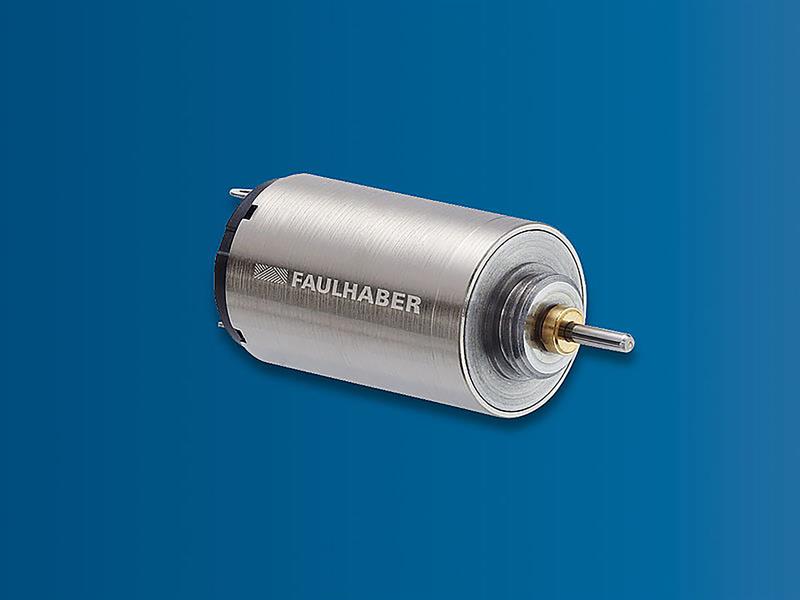 At the smaller end of the scale, in terms of size, FAULHABER has released a compact DC-motor with high torque for applications where maximum power is required in compact spaces, such as in precision tools, optical devices or active prostheses.
The 1016…SR motor series reaches a continuous torque of 0.92mNm at a length of 16mm and a diameter of 10mm. Its Δn/ΔM characteristic curve has an especially flat slope of 5953rpm/mNm, which is said to make it possible for soft transitions during a load change. The motor also exhibits low power consumption, high energy-efficiency, minimal vibration and low audible noise.
The DC-micromotor has a wide range of gearheads and can be combined like the other motors in the SR family. It reaches a torque of up to 300mNm with the 12/4 planetary gearhead. For high-precision positioning applications, zero backlash spur gearheads are available as a compact alternative where undesirable play can be reduced or eliminated. Optical and magnetic encoders with a resolution of up to 256 pulses per motor shaft revolutions make highly precise control of the drive possible. In addition, it can be combined with numerous controllers, from the miniaturised SC 1801 speed controller up to the MC 3002 motion controller for a complete solution.
Diakont's compact DA Series actuators, available in the UK through INMOCO, have been designed for easy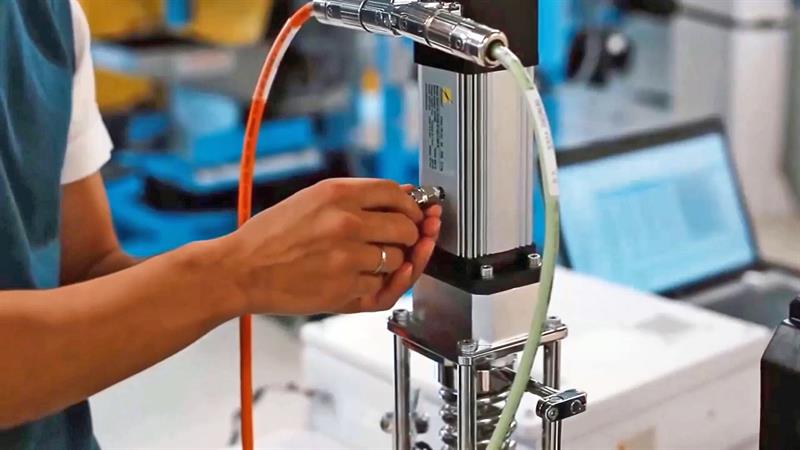 installation and maintenance in space-restricted applications. Its integral servo motor is designed so that it can be mounted in a number of different ways, including flange mounting, using a rear clevis pin, extended tie rods and trunnion to make mounting a single step process.
In the demanding applications where the DA units are likely to be used, long term reliable performance is vital and downtime must be kept to a minimum. A patented system allows complete lubrication changes to be carried out in less than 30 minutes without removing the actuator from its machine or to disassemble it, making maintenance fast, simple and cost effective.
The DA series actuators are based on an inverted roller screw mechanism that is compact yet capable of carrying high loads and offering a working life many times longer than ballscrew alternatives. They were originally developed for and used in the nuclear industry and INMOCO is now finding uses for them in a variety of applications, including presses, bending machines and other machine tools, automated welding systems and factory automation, clinching, plastic moulding machines, clamping, work holding and packaging machines.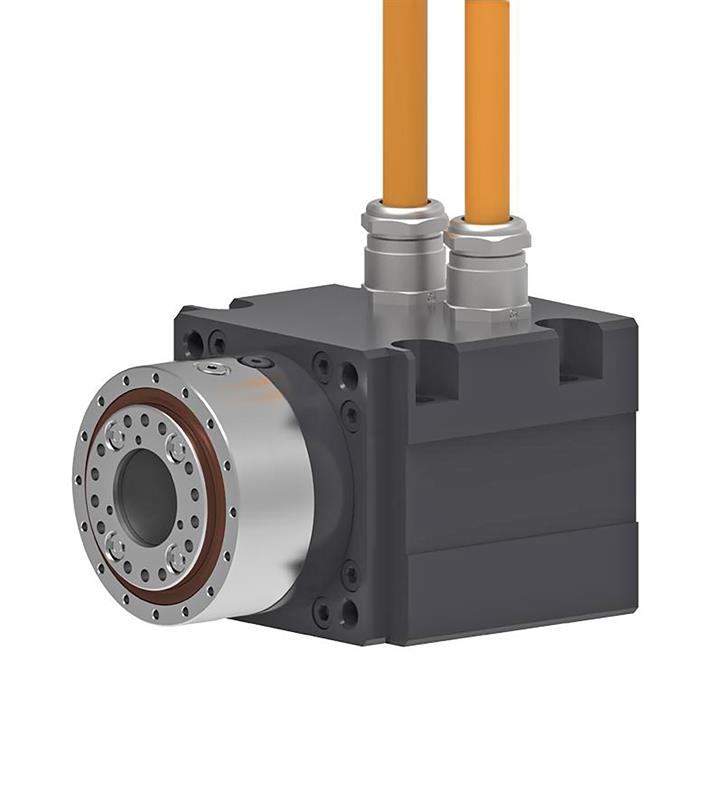 Available in the UK through Heason Technology, Spinea's DriveSpin (DS) series compact servo actuator range has been expanded to include a variant that offers additional mounting possibilities.
The DSM series features a housing design with adaptable fixings for the direct and versatile mechanical interfacing of end effectors and other automation components without the need for adapters or support brackets. Its modular design also allows the simple assembly of self-supporting 'kinematic' modules by connecting DSM's together.
The series joins the standard and hollow-shaft variants of the DS range that provide industry leading tilting and torsional stiffness, high precision and accuracy with minimal vibration and long service life. The range's torque-to-size ratio is claimed to save space and cost in robotics, precision positioning stages, machine tools and other high performance machine applications,
Available in three frame sizes with square sections of 50, 70 and 110mm in compact lengths, the DSM series' specification includes continuous torque output from 18Nm for the 50mm model and up to 122Nm for the 110mm model - with acceleration and braking torque rated at 200% continuous torque. Output speeds in the order of 50 to 80rpm are dependent on gear ratios and bus voltages which range from 24 to 560Vdc.
The 70mm model boasts torsional and tilting stiffness values of 7Nm/arc-min and 35Nm/arc-min respectively and across the range values. With superior hysteresis, excellent backlash and other significant performance related specifications the DSM is equipped for very high performance and high load rotary positioning with long life and proven reliability even at high throughput rates.
KOLLMORGEN claims that its AKM servo motors with flexible usage options and performance are among the best on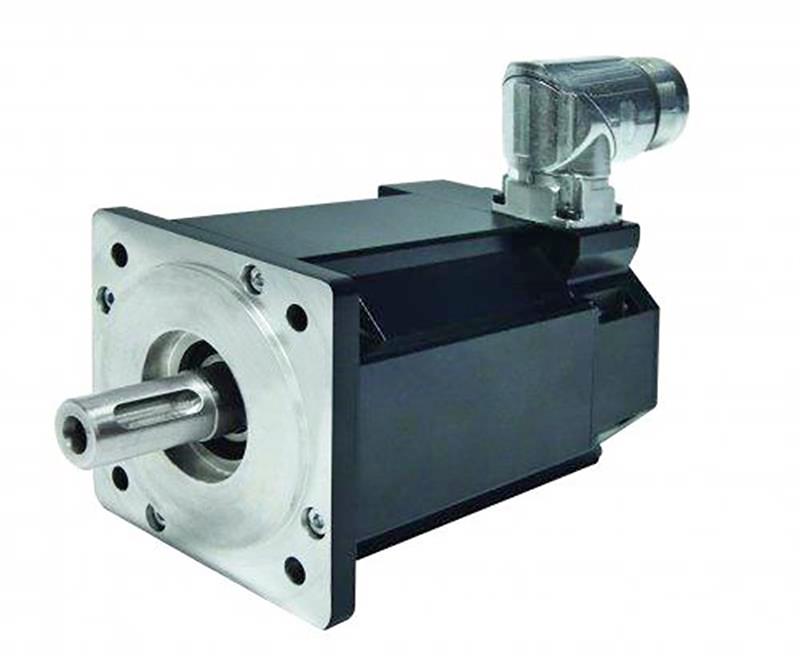 the market now it has increased the power density of the AKM2G by up to 30%.
The increased power density with an improved torque/speed ratio is the result of optimised winding technology. The AKM2G motors are said to offer improved energy efficiency, room for more performance with the same installed size as well as smoother cogging behaviour, which also improves control accuracy.
The new generation of synchronous servo motors come in six design sizes with performance levels between 0.3 and 10kW. The AKM2G motors can be fitted with different feedback systems and are primarily provided with single-cable connection technology.
Because of the modular structure of the range, KOLLMORGEN says it is better able to adapt the motors to the requirements of a specific application in parallel with series production. Machine builders are thereby able to use drives that fit like bespoke drives without compromise.
At the larger, more industrial end of the scale, ABB has introduced the Dodge Quantis gearmotor, engineered to provide the highest starting torque and easiest shaft mounting of any major gearmotor. Featuring IEC rated motors that have NEMA Design B torque characteristics offering up to 50% more starting and overload torque versus competitive products.
"This product is unique in that both the gear reducer and the motor are designed to withstand the high torque required during cold starting with no damage to motor windings or gearing," explained Ben Hinds, Dodge Quantis product manager. "Another advantage for customers is the exclusive twin-tapered bushings that cause no shaft damage, making it fast and easy to remove the reducer no matter how long it has been in service."
Quantis gearmotors are available in three styles; Inline (ILH), right angle helical bevel (RHB), or offset parallel (MSM). With ratings from 0.18 to 7.5kW, up to 14,000Nm output torque, and ratios up to 350:1, the Quantis gearmotor is suited for pumping, material handling, conveying and mixing applications.
From large scale industrial uses to smaller scale operations, there is a high powered, efficient motor to suit all needs. However, this is just a small selection of the products available, to see more visit the 'products' section of the Eureka! Website.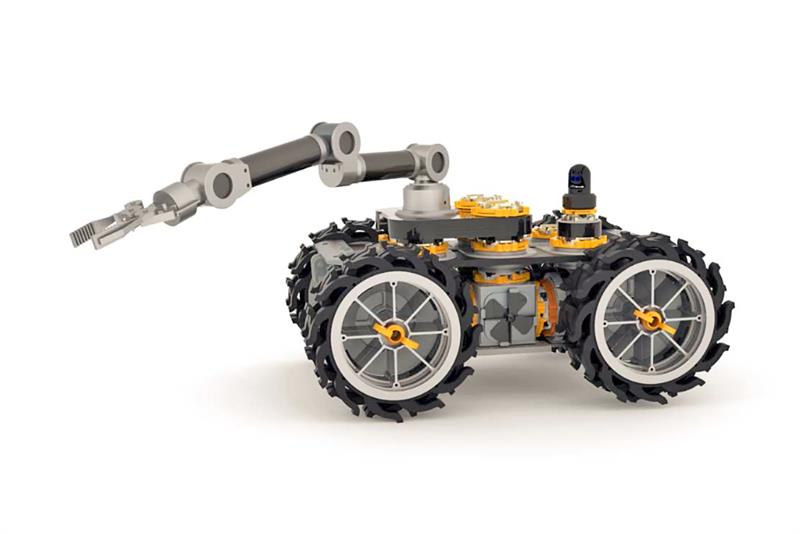 maxon motors power modular robot platforms
Ross Robotics builds reconfigurable unmanned ground vehicles (UGVs) that replace people in areas they shouldn't or can't work. The robots are extremely resilient and designed to perform in unstructured environments, avoid obstacles, react to unpredictable events and cope with vibration, dust and radiation.
The UGVs are primarily aimed at the nuclear industry and have attracted the attention of CERN, the European Organisation for Nuclear Research and the EDEN project at Chernobyl.
Philip Norman, director of research and development at Ross Robotics, said: "Users in these fields understand robotics and the virtue of having a modular and reconfigurable system from which many different applications can be developed using standardised parts."
Ross Robotics originally had problems finding a motor that would work inside its modules in terms of form factor and performance.
Norman said: "We were looking for a compact DC motor that was easy to drive at a low speed, had a high torque and importantly was of a certain size because of the small space envelope we had. maxon's standard EC 45, 70W, flat BLDC motors are ideal because they are reliable and have a lot of torque. What is critical in a lightweight, man portable robot is torque not power."
Other industries that can benefit from the UGVs include oil & gas and utilities where the robots can be used for mapping and maintaining their distribution lines. Further to this, security forces, first responders and the emergency services could also benefit from UGVs.
In line with worldwide energy savings trends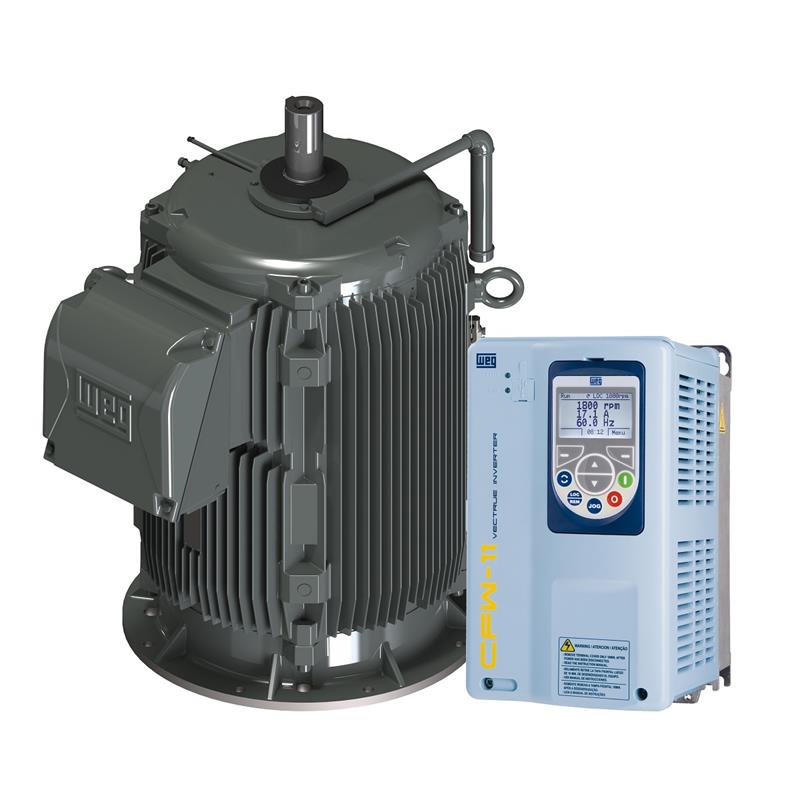 Industrial energy efficiency has received increasing attention in many countries due to the importance of energy supply impact on economic competitiveness and the mitigation of greenhouse gas emissions. In line with this global concern, WEG has developed high efficiency products to offer solutions providing quick return on investment through energy savings.
For increased reliability and economy in cooling tower applications, WEG developed the W22 Cooling Tower Direct Drive System that eliminates the gearbox of the conventional cooling tower, allowing reduction of mechanical losses with increased operational flexibility and system efficiency.
In large manufacturing processes that require a cooling system, water is used as a heat conductor. The water transfers the heat into the environment through the cooling towers. The airflow through the tower to aid heat transfer is forced through the water 'spray' by a large fan which is powered by a system consisting of an electric motor and a gearbox, the system provides torque and speed suitable to the fan operation.
WEG has developed a motor suitable to deliver torque and speed without using the gear reduction system by using permanent magnets in the rotor. This ensures high efficiency levels and high torque, even at low speed controlled by a Variable Frequency Drive. The motor speed control allows airflow control to match the requirements of the application during variations in the process needs and environmental changes. Reduction in the power required by the application is exponential with the speed of the fan, which can save significant energy over a fix speed system.
Alex Sandro Barbosa Passos, WEG product development and application department, said: "Since the W22 Cooling Tower Direct Drive System does not require a reduction system, this eliminates contamination of the Tower's water by gear oil leaks and brings advantages to the system, such as increased efficiency with the controlled air flow, less maintenance downtime and noise level reduction."