The race to fill this gap is therefore on. An ability to provide affordable robotics that allow smaller manufacturing companies entry to the world of automation is increasingly seen as a significant opportunity.
This is certainly the intention for igus, which recently launched a new robot with a unit cost far below that expected in discussions of automation.
Cost-effective and quick and easy to implement, the new Delta robot from igus is available directly from stock as a kit or delivered pre-assembled ready to install. Its maintenance-free belt drive units, lubrication-free link rods, encoders and stepper motors combine to create a lightweight, low-cost automation solution for automated tasks such as pick and place. The typical ROI period for the Delta robot is estimated at just six months, this compares favourably to the industry's rule-of-thumb target of two years.
The Delta robot is based on three maintenance-free drylin ZLW toothed belt axes, lubrication-free igubal link rods and matching adapter plates. NEMA stepper motors and encoders ensure fast handling of up to 1kg with a precision of ±0.5mm. The complete system has an installation space of up to 420mm in diameter and can carry up to 5kg at lower speeds. The lightweight design, consisting of aluminium and plastic, makes the Delta robot extremely cost-effective at a price from as little as £5,000 and ensures high speeds with a pick rate of at least 60 per minute.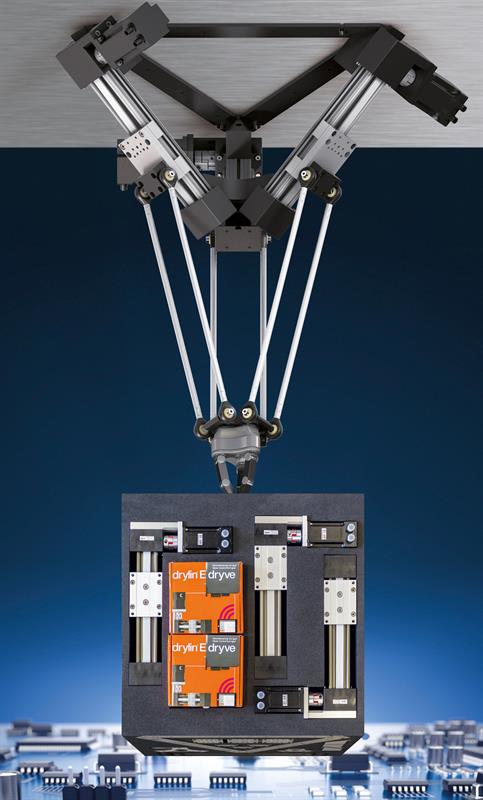 "The open design of the Delta robot enables manufacturers to use their own controller," says Matthew Aldridge, managing director of igus. "We estimate that with the usual integration costs, each Delta robot installation will be around £10,000 to £15,000, which means that it will pay for itself after a few months."
There are many other benefits inherent with Delta robot deployment; the higher the production rate the lower the cost per unit will be. If a company can make twice as many widgets as its competitor in the same amount of time, the advantage is obvious. There are also opportunities to reduce scrap and rework, increase quality and consistency, and improve overall safety.
Kit in a box
Depending on requirements, the Delta robot can be delivered as a kit in a box within 24 hours of receipt of order. Alternatively, the delta robot can be delivered pre-assembled on a transport frame ready for installation. The machine builder is free to use their preferred software and controller or, as an alternative, they can opt for the intuitive and easy-to-use dryve D1 controller.
Also in this vein is igus' robolink Apiro, a modular motion system which enables design engineers to develop low-cost automation systems. Consisting of three lubrication-free worm gears for standard movement, inverted movement and linear movement, the system can be configured to perform simple linear motion to complex humanoid and animatronic robotic tasks.
"The name says it all: Apiro is derived from the Greek word for 'unlimited'", explains Robert Dumayne, dry-tech director at igus. "When the new series was being developed, the focus was on decoupling the motor and gearbox, as well as a new type of worm gear."
Rotation
With this system, Dumayne adds, even complicated movements can be implemented. For example, cost-effective and individual SCARA robots and linear robots as well as sprue pickers for the removal of products from injection-moulding machines. Transport and handling systems, as well as humanoid and animatronic robots which can perform movements like those of a spider, for instance. The new robolink series is also suitable for training, development and research as different kinematics can be set up easily and quickly.
In the worm gears of the new Apiro series, high-quality tribo-polymers with solid lubricants are used. The corrosion-free and chemical-resistant high-performance plastics ensure a high degree of stability, low weight, a long service life and freedom from the need for maintenance. The joints are joined together by a multi-functional profile made of aluminium. This makes it possible to insert drive shafts through a hollow space in the middle, a possibility that the inverted worm gear makes use of. The gearbox rotates the aluminium profile, making it suitable for use in robotics and rotating applications.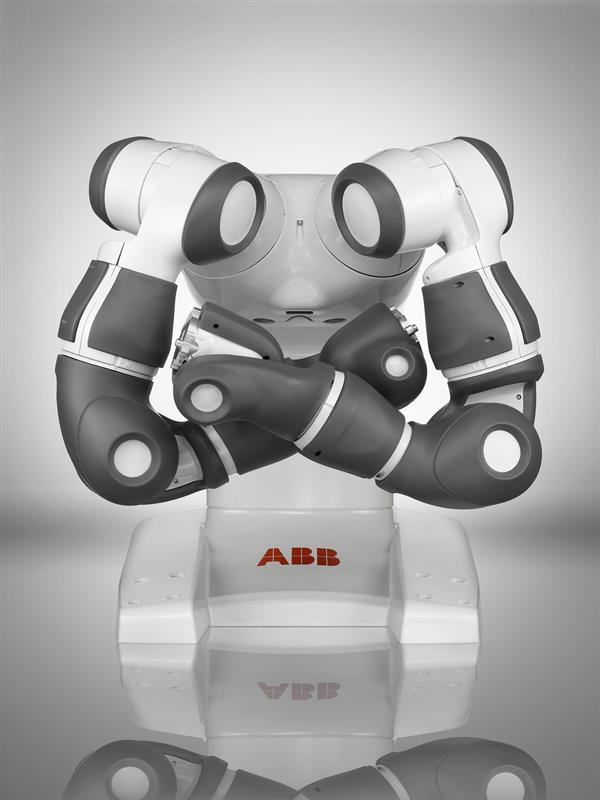 For linear motion, the aluminium profile travels linearly through the worm gear or the worm gear travels on the linear profile. The multi-functional profile also enables the engineer to connect the different gearboxes of the robolink Apiro series. Placing several Apiro joints side by side makes parallel joint connections possible as well. This results in endless possibilities of combinations in order to automate very different applications.
The aim is to be able to offer robolink Apiro as a series-produced solution for a wide market after the test phases. In addition, a configurator is being planned that is to simulate the modular system's different possibilities of movement.
ABB's YuMi robot, which was launched in 2015 is, by comparison with these, relatively expensive, originally being priced at approximately $40,000. However, it too was designed with the intention of breaking into the SME market.
Here, rather than price point, the attraction with YuMi lies in its collaborative nature. ABB developed a collaborative, dual-arm, small parts assembly robot solution that includes flexible hands, parts feeding systems, camera-based part location and state-of-the-art robot control.
YuMi can collaborate, side-by-side, with humans in a normal manufacturing environment enabling companies to get the best out of both humans and robots, together. One of YuMi's unique features is its "inherently safe" design, allowing it to work alongside humans while reducing risks to acceptable safety levels.
ABB Robotics' business development manager Mike Wilson makes clear why this is important in the adoption of robotics, saying: "Normally industrial robots are behind barriers, in cages or within cut-off zones. That has meant they are removed from the workforce and seen as separate. Because it is able to work closely and safely alongside humans, this particular model could be the bridge needed to bring shop floors across the country up to par with the world's top industrial nations."