Even for relatively simple manufactured products, there is more to inspection than meets the eye. Manufacturers must consider accuracy, reliability, cost, speed and where in the process to carry out the measurement. The requirements vary across industry sectors. Volume production usually relies on a sampling inspection strategy, so automotive component producers, for example, typically measure a few parts from each batch to help ensure consistency.Safety-critical applications normally require 100% inspection, so aerospace manufacturers usually inspect each part individually and maintain records for the long term.
"With the dawn of Industry 4.0 comes the rise of smart manufacturing technologies that are bringing complexities to the inspection process," says Phil Hewitt, manufacturing product manager, Autodesk, who has been working with FARO Technologies on smart metrology in additive manufacturing. "Yet they can't be ignored, since they're integral to the future development of smart factories, more efficient manufacturing and customised products – and will help boost manufacturing the world over."
Indeed, according to a new study carried out by Accenture, Industry 4.0 could add as much as $14.2 trillion to the global economy by 2030, driven by smart factory solutions.
So, how can manufacturers update their inspection processes for smart manufacturing?
"The purpose of smart factory metrology is to give manufacturers greater visibility of the whole supply chain, including suppliers," Hewitt explains. "Smarter, quicker, actionable metrology is an important foundation of the future factory. A factory equipped with industrial robots and automated material handling relies on automated control systems built on timely verification and feedback."
However, Hewitt adds that inter-connectedness requires more visibility and better data flow, and this requires interoperability. As a result, manufacturers need to adapt their inspection processes to overcome physical barriers, as well as close the gaps in metrology information between different stages of the value-chain to fully support customised, digital and autonomous production.
With the rise of Industry 4.0, it's never been more pressing for manufacturers to adapt metrology to the needs of the smart factory and the technologies within them. Here are three processes Hewitt says they should be considering:
1. Inline metrology
For manufacturing operations, inline metrology (measurements carried out as part of the process) has several advantages over traditional methods, where inspection is a separate activity.
Speed of decision making is crucial.Moving the parts to an inspection department requires additional transport and setup operations which can result in delays. Inline inspection saves time and allows some of the process steps to be removed.Measuring parts in-process can help reduce rework and scrap, as detecting problems sooner helps prevent problems from going unnoticed. Inline inspection also provides the opportunity to minimise the impact of any rework – it is much easier to correct a problem while the part is on the machine. Taken to its logical conclusion, in-process measurement can help prevent problems from occurring in the first place. If variation is detected early enough, it is sometimes possible to take corrective action to compensate for the variation before it becomes a problem.
2. Non-contact: optical and laser systems
Non-contact metrology, including laser scanners, phase-based laser scanning and optical systems, are crucial to smart factories.Non-contact measurement allows high-resolution scanning of parts and long-distance manoeuvring of measuring devices. However, these methods are not without their challenges. Non-contact metrology typically has line-of-sight limitations and requires accurate positioning to measure detailed features such as holes and sharp edges. The Metrology Hub at the University of Huddersfield is working to increase the technology's capability for high dynamic range measurement.This aims to improve the ability of metrology to measure workpieces effectively from a distance while maintaining the capacity for very high levels of accuracy.
3. Robots
Accuracy, reliability and continuous production are all well documented benefits of introducing robots into a factory. And while robots are not designed to measure parts, they can be optimised for use in inspection, especially high-volume productions, with 3D measurement and metrology software such as Autodesk's PowerInspect. The sweet spot for robotic inspection is the 100-micron tolerance area and above. Here, errors of a robotic machining system can be compared with a normal machine tool in a fair comparison.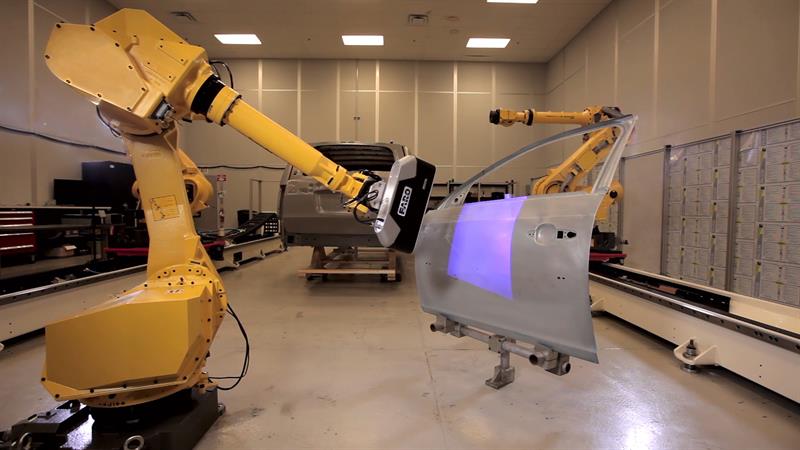 The rise of smart inspection tools
The science of inspection is evolving rapidly, alongside other fields in the Industry 4.0 revolution. For example, EU-funded and multi-partner project, SYMPLEXITY, was launched to research and improve how humans and robots collaborate, specifically in polishing. They found that 90% of finishing work is done by hand, but robots could shift the balance nearer to 20%, with the rest done by robots under human supervision.
"Evaluating polished surfaces is difficult, and many surface finish parameters have evolved to cover different conditions," says Hewitt. "The SIR Cell employs a surface finish sensor to measure surface quality; it can report on as many as 13 data parameters. Humans, however skilled, inevitably end up having to make subjective judgments on whether the finished part is good enough."
According to Hewitt, one of SYMPLEXITY's offshoots is developing the means to see surface-quality data using augmented reality (AR). "AR could mean the end of flat 2D representations on screens. Rather than trying to visualise how a certain parameter change might affect the part, the information is presented directly on the surface"
This is said to help remove some of the subjectivity so that users can make more informed decisions more quickly. It is expected that a human expert will approve the results for the foreseeable future, but when measurements of properties are quantifiable, the data can be connected directly to the quality assessment process.
Beyond research, suppliers are also developing new technologies with better measurement capabilities, and manufacturers must embrace these new methods to keep pace with competitors.
Hewitt says: "Better measurement will help reduce downtime, speed up production, and lead to more accurately designed products, as well as support the evolution of truly interconnected factories. With smarter and possibly more affordable measurement tools set to emerge in the next 12 months, now is the time for manufacturers to step up and update their inspection processes."