The report, 'Augmented and Virtual Reality in Operations: A guide for investment' has found that 82% of companies currently implementing AR/VR say the benefits are either meeting or exceeding their expectations. However, a shortage of in-house expertise and insufficient back-end infrastructures are significant barriers to growth.
The new report, which surveyed more than 700 executives in the automotive, manufacturing and utilities sectors, with considerable knowledge of their organisation's AR/VR initiatives, found that 50% of enterprises currently not implementing AR and VR will start exploring immersive technologies for their business operations within the next three years. These include using AR to remotely access real-time help from experts on a wearable or handheld device, and VR to train employees. Some 46% of companies believe the technology will become mainstream in their organisations within the next three years, while a further 38% think it will become mainstream in their organisations in the next three to five years.
The report revealed that while AR is more complex to implement, organisations perceive it as more beneficial than VR. It highlights that AR generates productivity benefits thanks to streamlined workflows, citing examples such as technicians at Porsche using AR glasses that project step-by-step bulletins and schematic drawings across the line of vision, while also allowing remote experts the ability to see what the technician sees to provide feedback. This solution can shorten service resolution time by up to 40%.
VR improves efficiency and safety and helps manage complexities of tasks thereby boosting productivity. For instance, the report highlights that VR is used at Airbus to integrate digital mock-ups into production environments, giving assembly workers access to complete 3D models of the aircraft under production. This reduces the time required to inspect from three weeks to three days. Additionally, according to the report, at least three in four (75%) companies with large-scale AR/VR implementations can attest to operational benefits of over 10%.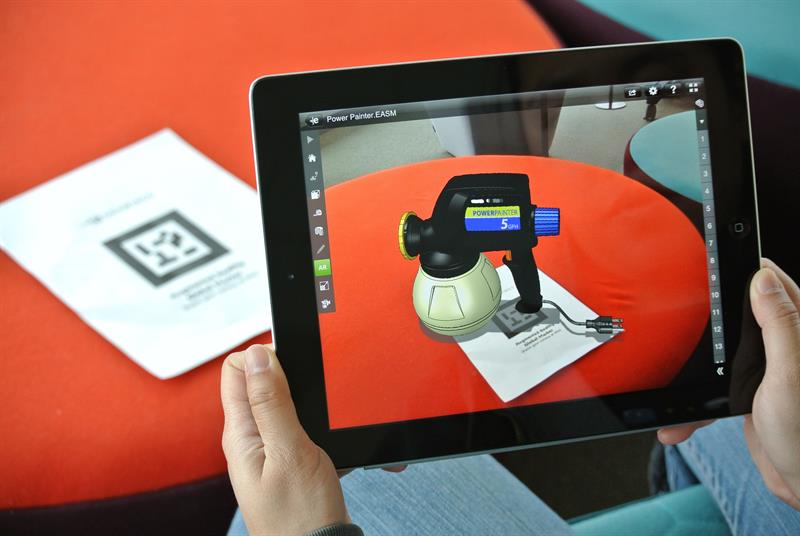 The report found that across the automotive, manufacturing and utilities sectors, the most popular uses of AR and VR are repair and maintenance, and design and assembly. Between 29% and 31% of companies using AR and/or VR are using it for repair and maintenance, specifically to consult digital reference materials (31%), seek a remote expert (30%), digitally view components not in physical view (30%) and superimpose step-by-step instructions on work stations (29%). For design and assembly, companies using VR and/or AR are using it to view digital assembly instructions (28%), simulate product performance in extreme conditions (27%), visualise infrastructures from various angles (27%) and overlay design components onto existing modules (26%). For example, the report cites Ford's use of VR technology to identify, and then engineer alternative actions by humans captured by body motion sensors during assembling, which has resulted in a 70% drop in employee injuries and a 90% reduction in ergonomic issues.
The report revealed that two-thirds of all the organisations surveyed believe that AR is more applicable to their business operations than VR. While VR has been found to enhance a solo, immersive user experience that is isolated from the real world, AR connects the digital world to the real world, and therefore supports a number of breakthrough use-cases. Of companies deploying AR, 45% are implementing the technology, compared with just 36% of those companies using VR (the rest of the companies are still at the experimentation phase).
The report found that companies in the US and China are leading the implementation race, with over 50% of companies surveyed already implementing immersive technology for business operations. Whereas over 50% of companies in France, Germany, the Nordics and the UK are still only experimenting with AR/VR.
"Immersive technology has come a long way in a short time and will continue to evolve. Businesses need to streamline investment to seize the long-term growth potential this technology offers," said Lanny Cohen, chief innovation officer at Capgemini. "To drive the highest business value from AR and VR, companies need a centralised governance structure, proofs of concept that are aligned with business strategy, and to be able to drive innovation and employee change management."