New projects, like Crossrail and HS2, obviously help, but there is has been long overdue investment in the existing network and rolling stock that is gradually creeping back to 'fit for purpose' condition, either through supply of new trains or refurbishment of old ones.
One of the problems with the railways in the UK is that there are so many stakeholders, and this in part contributed to underinvestment in previous decades. Since the days of a single nationalised entity, the rail sector is populated by numerous organisations who design, make, own, operate and regulate both rolling stock and infrastructure. SNC-Lavalin Rail & Transit fits into the mix as, originally, a designer of trains under the guise or Interfleet which was one of the companies that sprung out of the dissolution of British Rail. SNC-Lavalin, with its wider interests in infrastructure, bought Interfleet four years ago and now has involvement in rail network infrastructure projects as well.
One of the interesting things to emerge from all this is the adoption of SolidEdge as the predominant CAD platform. Graham Spencer, design engineer - Rolling Stock Enhancements, SNC-Lavalin, started designing for the rail industry just at the time mainstream CAD was making its mark in the 80s. His first job was working for British Rail Engineering (BREL), formed out of the breakup of British Rail. He commented: "I went on to a CAD terminal then; it was MicroStation because that was the main tool in the rail industry at the time. MicroStation was a mapping software at one time for things like the surface of the Earth.It was brilliant.Then they turned to put an engineering base into it, and that's probably one of its drawbacks.But I used to like using MicroStation, at the time it was a good tool."
BREL decided that it needed to change its CAD platform and spent a year deciding which one to use, finally plumping for Solid Edge. During subsequent company changes to ABB Transportation, Adtranz, Bombardier and finally SNC-Lavalin, Solid Edge has remained the CAD package of choice. In fact, given that much of the rail industry's family tree has a common starting point, it is no surprise that most design houses in the sector use Solid Edge.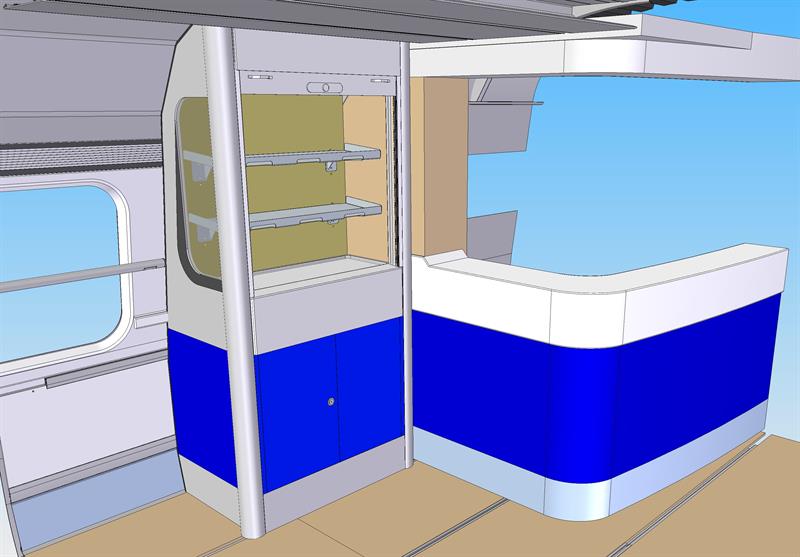 So why has the industry stuck with it rather than move onto higher end products? Apparently there was a move from Adtranz to impose CATIA on its supply chain, but users found it too expensive and difficult to learn at the time. Nor does Spencer think that using a mid-range package like Solid Edge places any limitations on the work he does.
Also in the Siemens family, for example, is NX. "It's surfacing tools are far superior to Solid Edge's surfacing tools," admitted Spencer, "but they're not things that bother me.I can create all of the surfaces I need with what tools I've got.I'll be honest with you, I have not designed an engine on Solid Edge, those are things that the rail industry buy from a specific supplier.But I've designed everything else on a train - the bogies, the structure, the interiors, the seats, everything I've designed using Solid Edge.If we got an order tomorrow to design a train, we would be able to do it using Solid Edge. We wouldn't need any other tools."
Other tools do have their uses. Much of the investment in the rail industry has been ploughed into refurbishing the existing rolling stock. "There's rolling stock in this country that was planned to be scrapped many, many years ago but has been refurbished and is still running," said Spencer. "But some of it's not going to last much longer."
To add equipment or adapt the vehicle in any way, it needs to have a current CAD file and this is not always the case, so measurements need to be taken and models created. It can be a slow process and, as Spencer points out, it's all just background: "It's just scenery and you can spend a lot of time creating scenery. So people are looking at using scanners to get point cloud information for the scenery. At the moment Solid Edge can't accept point cloud information, but NX can.So we're looking at that to speed up the way we work.We would use NX to create solid models, but then we would then carry on the work in Solid Edge."
One of the problems with old rail carriages, and sometimes the factor that makes refurbishment a necessity, is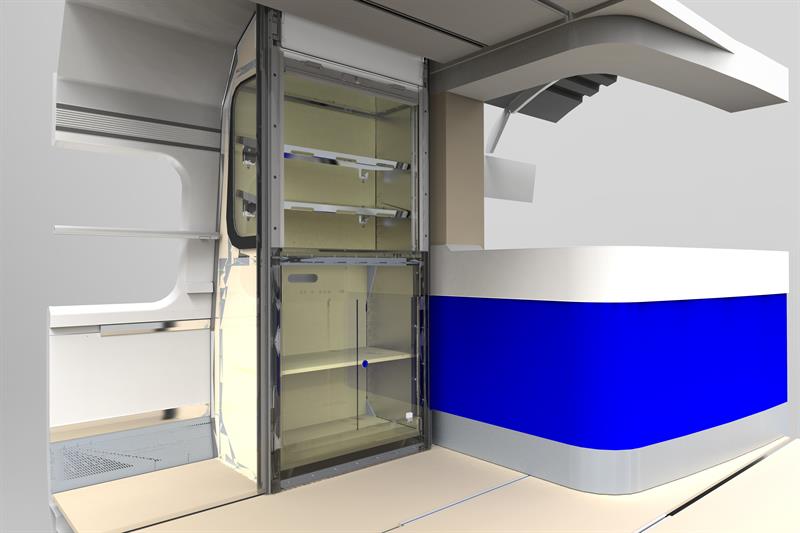 the need to comply with legislation regarding People with Restricted Mobility (PRM). This comes as part of the Equality Act 2010 which needs to be adhered to by 1 January 2020.
All new trains are compliant with these latest accessibility requirements, but cost will prevent the UK having an entirely new fleet by the time the legislation requires. "One of the biggest things at the moment is PRM and a lot of the refurbs are due to making vehicles suitable for disabled people. A lot of them have got standard toilets, the ones where you stand there and you're touching both walls. That's no good for a disabled person in a wheelchair. So you put in in a larger toilet [a UAT – a Universal Access Toilet], and that moves the carriage seats about. If you modify one area of the train, you've got do the rest of it really - they change the seat layouts and carpets and things like that, so it becomes a full refurb in effect."
It all mounts up to a positive picture. Spencer concludes: "It's a good market because successive governments have invested in the rail industry to improve our infrastructure and improve the rail - so it's a good industry to work in at the moment."
UK Rail facts
Track kilometres: 32,000
Stations: 2,500
Trains: 4,000
Daily services: 20,000
Passenger journeys: 1.5 billion
Freight tonnes: 110 billion
UK jobs: 200,000
Source: UKTI