Powered by Dassault Systèmes' 3DExperience platform, Solidworks 2019 supports the design to manufacturing process with digital capabilities to solve complex design challenges and facilitate detail work in engineering. New features let product development teams better manage large amounts of data and capture a more complete digital representation of a design. Solidworks 2019 also offers new technologies and workflows that improve collaboration and enable immersive, interactive experiences during design and engineering.
"We are using Solidworks to support implementation of the Maunakea Spectroscopic Explorer 10m-class telescope that will open new possibilities for scientific discovery," said Greg Green, mechanical designer/instrument maker, Canada France Hawaii telescope facility. "Our design processes generate a large and growing dataset. The final production version of the telescope will contain over 100,000 parts. We needed technology that can tackle large design projects, and Solidworks delivers."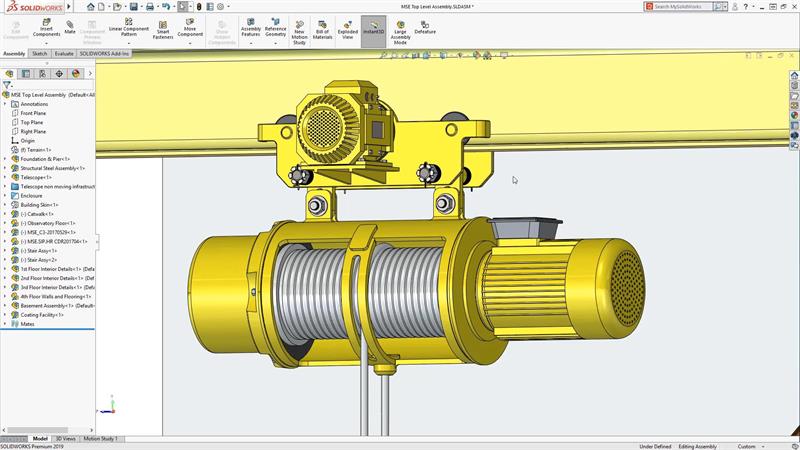 Among its new features, Solidworks 2019 provides greater design flexibility to quickly interrogate or rapidly make changes to a model thanks to an enhanced Large Design Review capability. It also dramatically improves high performance view manipulation to scale with higher-end graphics hardware. In addition, Solidworks 2019 allows teams to communicate outside of the design community by adding markups to parts and assemblies directly using a touch device, storing them with the model, and exporting them as a PDF.
Another key feature of Solidworks 2019 is Solidworks Extended Reality (XR), a new application for publishing CAD scene data created in Solidworks – including lights, cameras, materials, decals, and motion study animations – and experiencing it in VR, AR and web viewers. As increasingly affordable immersive devices contribute to the growing ecosystem of technology and interactive experiences, designers and engineers can use Solidworks XR to improve collaborative internal and external design reviews, sell designs more effectively, train users how to assemble and interact with their products and boost confidence in designs throughout the product development process.
"This latest Solidworks release is packed with enhancements and innovations built based on insights and feedback from the Solidworks community.
"We continue to drive our products forward in terms of usability, quality, and productivity, and Solidworks 2019 delivers a complete design ecosystem," said Gian Paolo Bassi, CEO Solidworks, Dassault Systèmes. "Designers and engineers who prioritise design performance, attention to detail and innovation, as well as seek the powerful storytelling capabilities of VR and AR, can experience the prototyping shop of the future — one where digital design data makes it easier to visualize parts in 3D and improve how designs are translated from virtual to real."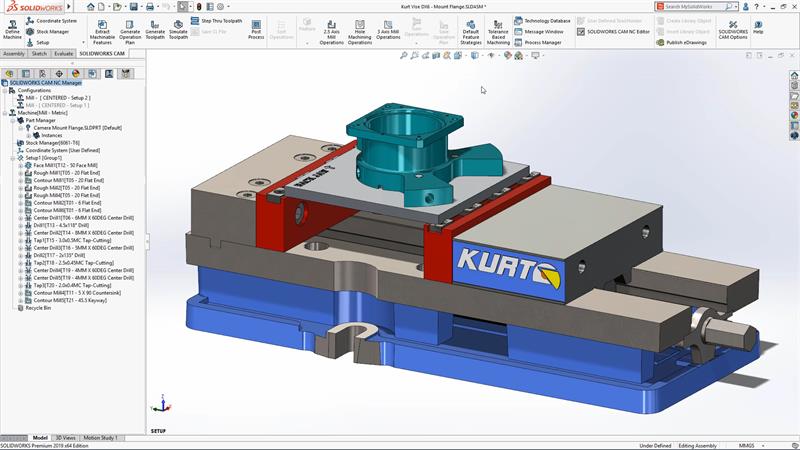 Solidworks 2019 introduces a number of new tools for working mesh geometry and to speed productivity of assemblies. For example, a common workflow for reverse engineering is to import mesh data and generate a solid model for production over the top of it.In Solidworks 2019, a new Slicing Tool is available to generate 2D sections at the intersection of the selected geometry and a series of planes.Just define the number of slicing planes and the offset and watch as Solidworks create the planes and intersection sketches, conveniently placing them in a folder. These sketches can be dynamically edited at any time for exact positioning, and can be used like any other sketch to create geometry or referenced to define the lofts and surfaces required to build a solid model.
Solidworks 2019 introduces a new 3D Texture Tool that leverages an image to define a pattern of bumps. This is particularly important because some designs, require textures or bumps, which can be functional or just for aesthetic purposes.Often time consuming to model; textures require many features such as ribs. The new 3D Texture command can be used to turn appearances into 3D geometry. The lighter the color in the appearance, the farther the offset from the base face and there are controls for mesh size and offset. Solidworks then creates a mesh body that is ready for downstream processing or 3D Printing.
Body modelling
Multi-Body Part modelling is a standard method to create designs like weldments, and now the Interference Detection Tool is available in Part Mode.This brings great insight into a multi-body part, which is especially useful for weldments to verify that all members have been properly trimmed.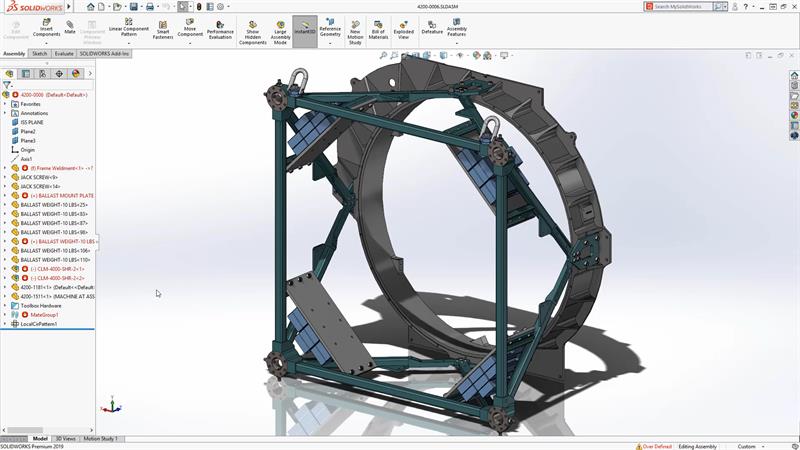 Solidworks 2019 adds support for sheet metal annotations. Bend notes can now be automatically inserted directly onto a components flat pattern view, displaying each bend direction, angle and radius. For components that contain many bends, a tabular display of the bend details is often the preferred method of capturing and viewing the information. Now in Solidworks 2019 you can capture all of your manufacturing information in a bend table. When a bend table is inserted, each bend on the component's flat pattern view is tagged in relation to the table. This, combined with the tabulated bend information, enables designers to now detail sheet metal designs in the same manner as a traditional drawing. When finished all of the information can be captured in a 3D view, ready to be shared with other members of the design team and organisation.
Protection of intellectual property is often the number-one priority when sharing designs with other parties. When creating a 3D PDF file in Solidworks 2019, designers now have much greater control over the access of information contained within the document. New security settings provide further flexibility, enabling users to set the access to printing, editing, and copying.
Once a secure PDF document has been created, the password must be entered in order for it to be opened. Viewing the security information in Adobe Reader will confirm the limitations on printing, editing, and copying that were set back in Solidworks. 3D PDFs of Solidworks designs can be shared safely, in the knowledge that all intellectual property is secure.
When sharing parts for use in downstream manufacturing processes, derived parts provide an associative and controlled method of referencing the original design. Enhancing the workflow further, in Solidworks 2019 it is now possible to copy the pre-existing Dimension and Tolerance Schemes to a derived part, eliminating the need to recreate any PMI.