The UK car industry is in good health. In fact, reports last month widely labelled it as 'booming' with OEMs and its supply chain boasting impressive financial figures. Indeed, for the last few years the UK has exported more cars than have been imported. And it shows no sign of letting up, from January to June this year, manufacturers have produced nearly 800,000 vehicles. It's an impressive resurgence from an industry nearly lost in its entirety to the global recession in 2007/8.
One of the darlings of the UK car industry is Jaguar Land Rover. Its fortunes today are unrecognisable to those that nearly filed for a Government bailout six years ago. The company, today, is resolute in its development and application of cutting edge technologies, and many say it's this that's helped revitalise its position as a premium luxury brand fit for the world stage.
It shows no sign of easing up this charge as it recently announced the development of 'connected cars'. So great is this ambition, it says all of its vehicles will be 'connected' by the end of the year. So what does that mean, exactly?
Mike Bell, global connected car director, Jaguar Land Rover, explained: "The potential of the connected car is huge and we are actively embracing it. It is certainly one of our top priorities and we are making a significant investment in the technology, skills and partnerships to make it a reality."
This connectivity is based around numerous sensors, built-in telematics and fast data transmission. Does it mean data can be easily accessed via an app on your phone? Predictably, it does.
Bell continued: "We have huge potential to ensure the car has a prominent role in the Internet of Things, which will enhance driving experience and make driving smarter and safer in the years to come."
Rather unpredictably, however, is that you'll be able to drive JLR cars via your smartphone from the outside. Engineers there have obviously been watching James Bond, and been inspired?! The system connects wirelessly the vehicles ECU, where your smartphone will act as a control pad and allow you to accelerate, steer and brake.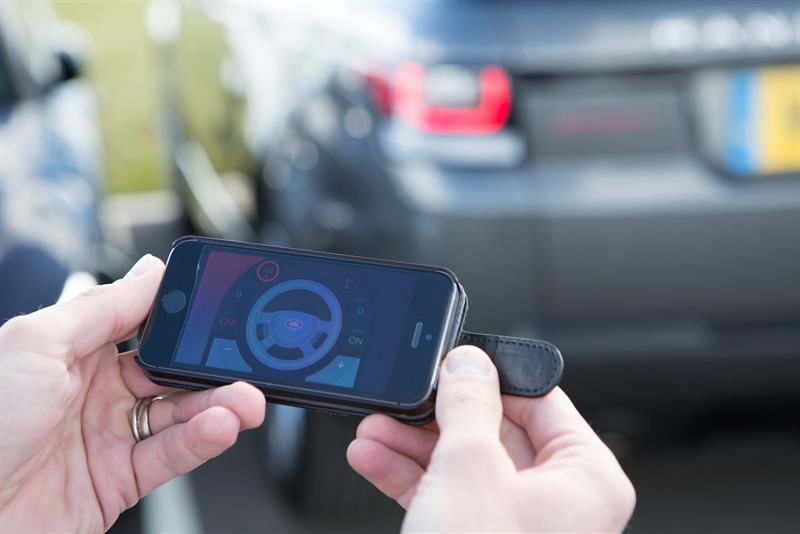 "Getting a car out of a tricky parking manoeuvre can be a stressful experience for any driver," said Dr Wolfgang Epple, director of research and technology at Jaguar Land Rover. "A remote control car demonstrates how we can use these new technologies to reduce the tedious parts of driving and improve road safety."
The driver can to walk alongside the car, at a maximum speed of 4mph, to manoeuvre it however they like, whether that's to negotiate difficult off-road terrain – so you can get a better view of what is around the car – to tackle that challenging parking spot.
As you might imagine there are a vast number of safety systems involved, such as stopping the vehicle if the driver moves out of range (maximum 10m) or gets too close. Any production system would also have a range of security measures and firewalls, and presumably questions around latency have been thought about. It wouldn't be ideal if it unexpectedly takes a few extra metres to brake.
It might seem a little gimmicky, but many in the industry are looking at JLR's lead with envy. There are two reasons why. Firstly customers love it. It's a great marketing and promotional point that is popular simply because it is cool. You can imagine customers taking it for a test drive around the showroom with their smartphones. It gives customers additional bragging rights, though let's face it in all likelihood it is never going to be of any real day to day practical benefit.
The other, perhaps more important reason, is that this is a step towards fully autonomous vehicles. It is an important scene setter not just for the company, but for the industry more broadly. However, the company is keen to play down the prospect of fully autonomous vehicles, probably as most JLR owners and perspective buyers like to drive, even if it is an option that can be turned off.
"Research into technologies like these won't only help us deliver an autonomous car, they will help make real driving safer and more enjoyable," added Dr Epple. "The same sensors and systems that will help an autonomous car make the right decisions, will assist the driver and enhance the experience to help prevent accidents. Autonomous car technologies will not take away the fun of driving."
The company is developing the sensing and analysis software at the moment that is handing over increasing control to the vehicle. Even if the driver gets distracted, the car will be able to take evasive action and avoid collision.
The sensors being trialled and assessed include radar, lidar, cameras and structured light. All have relative merits and detractions in being able to read the road, seeing other road users and identifying pedestrians.
One of the cornerstone sensing technologies for autonomous vehicles is image processing and stereo cameras. These are excellent at object classification. The technology is quickly advancing and a forward facing stereo camera is being mounted behind the front windscreen of the new Jaguar XE to scan the road ahead and build up a 3D image. This gives the ECU highly accurate data about the road ahead and is being used to provide autonomous emergency braking (AEB) as well as lane departure warning.
The stereo camera can detect vehicles up to 100m away and if the algorithms in the AEB control module determine that a collision is likely, the brake system is pre-charged and the driver receives a visual warning in the instrument cluster and, if fitted, the head-up display. If no action is taken, full braking force is triggered automatically.
The traffic sign recognition system relies on the stereo camera to keep the driver informed of speed limits - including temporary limits which apply in roadworks, for example. To ensure a high degree of system robustness, camera data is always cross-referenced with speed limit information from the navigation system. A driver-selectable function enables subtle notifications if speed limits are exceeded: a ring flashes around the speed limit image, but there is no audible warning.
In addition to road signs, the advanced stereo camera also 'sees' road markings. This capability is used by the XE's lane departure warning system that determines if a vehicle unintentionally leaves its lane. Here, the driver receives haptic feedback through the steering wheel to prompt a correction.
In addition structured light can be used to produce a pattern of light. When projected onto the road ahead, it can be used to measure the topography of the ground. If a pattern is projected onto a smooth surface it will be geometrically perfect, but a bump or hole on the surface will distort the pattern.
This is having an interesting application in identifying potholes and could allow a vehicle to identify their location and severity, and then share this data in real-time with not only other vehicles but also road authorities to help them prioritise repairs. If a car receives a warning about a severe pothole then the driver can slow down and avoid it or the car could automatically adjust its suspension settings to reduce the impact and smooth the ride.
Dr Mike Bell, explained the vision: "While this gives our customers a more comfortable ride, there is a huge opportunity to turn the information from these vehicle sensors into 'big data' and share it for the benefit of other road users. This could help prevent billions of pounds of vehicle damage and make road repairs more effective.
"Ultimately, sensing the road ahead and assessing hazards is a key building block on our journey to the autonomous car. In the future, we are looking to develop systems that could automatically guide a car around potholes without the car leaving its lane and causing a danger to other drivers."