Human centric design was the focus of Ford's design workshop on 7 November 2019. The car giant was displaying its latest Puma and Kuga compact crossover models as well as other peripheral technologies and design aids.
Thomas Morel, exterior design manager at Ford Motor Company, said: "Of course, any designer works with humans in mind, but we try to go further in terms of this concept and involve many other areas of the company as well as holding clinics with our customers."
This design philosophy to give passengers a better overall experience rather than adding more and more features has become the main driver for the design of Ford's vehicles. Its designers are now using tools that help them in their roles too, both in the design of the vehicles and sharing their ideas with the engineering department and management.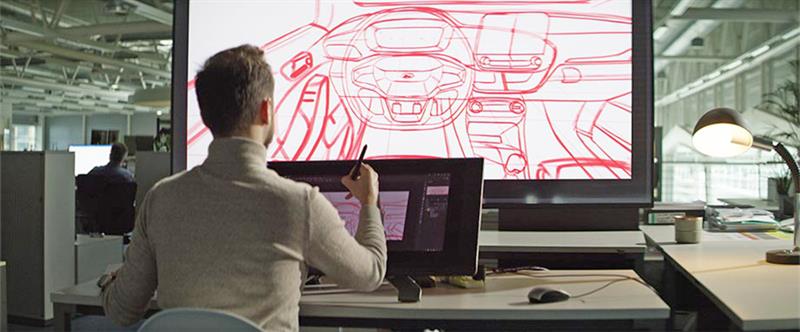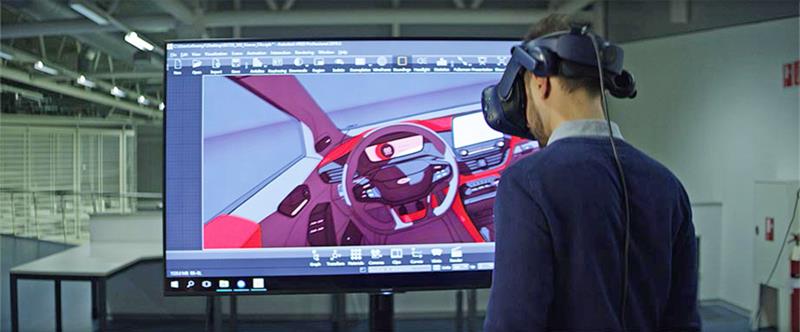 360° sketching
Working with London start-up Gravity Sketch's 3D virtual reality tool has enabled Ford's designers to work using gestures in three dimensions. Using motion tracking technology, headsets and controllers, they can see all angles of the vehicle as it is being drawn.
Gravity Sketch allows designers to speed the process from weeks to hours, skipping the 2D pen and paper stage completely. The model can be rotated to view it from any angle and can be scaled up so they can step inside the sketch to quickly adjust design attributes. The program's Co-Creation feature even allows multiple designers based in different locations to make real-time adjustments to the model at the same time.
Another tool that the team at the design centre in Cologne are using is 360° sketching, which has been pioneered by Nicolas Fourny, interior designer at Ford of Europe.
"360° sketching makes it possible to see the dashboard, doors, seats and console all together and to better understand how elements interact," said Fourny. "We can see how things flow, collaborate in real time and work on different elements all at once. We can make the customer experience central to a vehicle's interior right from the start of the design."
Fourny and his team are also using animation to bring the sketches to life – by lighting up the dashboard cluster and screen, moving elements around, and adding more mood and atmosphere to each sketch.
Rendering the interior in such a way makes it easier to identify improvements to the height and width of seats, check the visibility for rear passengers, change the size and placement of roof console elements, and experiment with colours, materials and shapes.
Fourny's inspiration for the sketching tool came from video game development, which often involves creating a world and having the player move through and interact with it, also in virtual reality. 360° sketching provides a template for potential driver experiences, as it creates an interaction between the viewer and the interior well before the CAD phase.
"I sketch on Photoshop," Fourny explained. "The level of detail increases and the level of definition of the whole interior is much more accurate compared to before because I can zoom when I am drawing. So, I don't need a giant piece of paper, rulers and compass to try to get it right. I can add colours and shading, so it has an atmosphere, you kind of feel like you understand the volumes."
The main difference between 360° sketching and a simple 2D sketch is that 360° sketching is done on a spherical 'canvas'. This means the image – usually with the central point in the position of where the driver's head would be – is massively distorted.
"The first time I did it I didn't know exactly how to do it properly," Fourny said. "I was figuring out how it works at the same time as doing it, so it was a bit messy. The first one took two weeks, and the result was not great.
"Think of it as a world map. Antarctica looks ridiculous because it's stretched infinitely. It's exactly the same, the top and the bottom of the image are stretched infinitely, which means they are very hard to draw, because it's very hard for the brain to project a curve like that."
But Fourny persevered and now, thanks to the fact that Photoshop has been updated to be able to create a spherical image from a flat one, the process takes just one day, depending on the level of detail required.
"The process now is so good because you don't need to have a science degree to compute the curvatures," said Fourny. "We visualise it with another tool because there's some limitations of Photoshop, for example the texture size is limited, so it can look pixelated. But that's also because the software is not entirely made for this, maybe they didn't even think of it when they added those functions."
Fourny added that traditional pen and paper will never be replaced, it's all about using the right tool for the right job: "Pen and paper is great for me for quick ideas, generating ideas, the first ones, then I go on Photoshop to refine those ideas, putting on colours and testing it. Once I have that I go with the ball to see it at full scale."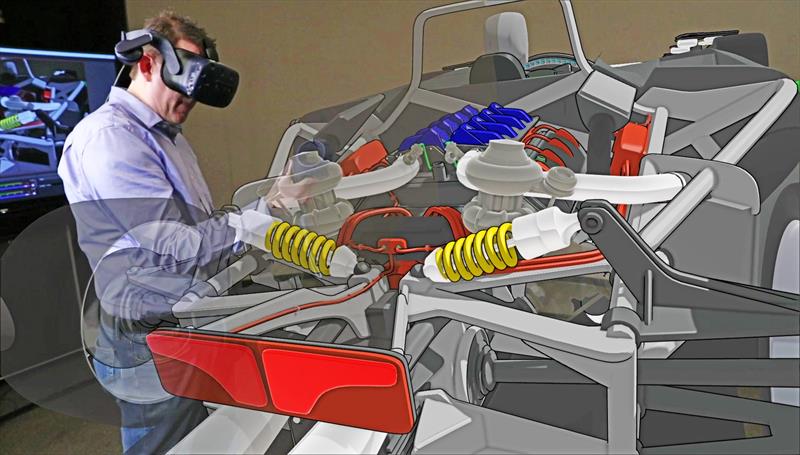 VR testing
These 360° sketches can be viewed using a VR headset and, once the design is agreed upon, it can then be upscaled into a fully rendered 3D image using Autodesk's VRED visualisation software. In VRED Fourny and his colleagues can see how the colours and materials in the cabin will look in different lighting conditions. However, mainly it's used for checking the distances to certain features is correct, such as the steering wheel and infotainment console, as well as making sure the driver and passengers have good all-round visibility.
"Seeing it with the VR is very powerful because I sit inside my own sketch," said Fourny. "And for my audience, it's even better because the whole goal when I do a sketch is me putting on paper what I have in my mind so people understand it. You understand the shapes, you understand the roominess, and you understand everything on one image.
"My job is done really well if I don't need to say anything when you're viewing an image because you understand it directly. If I'm trying to sell my design for half an hour, it means it might not be clear enough."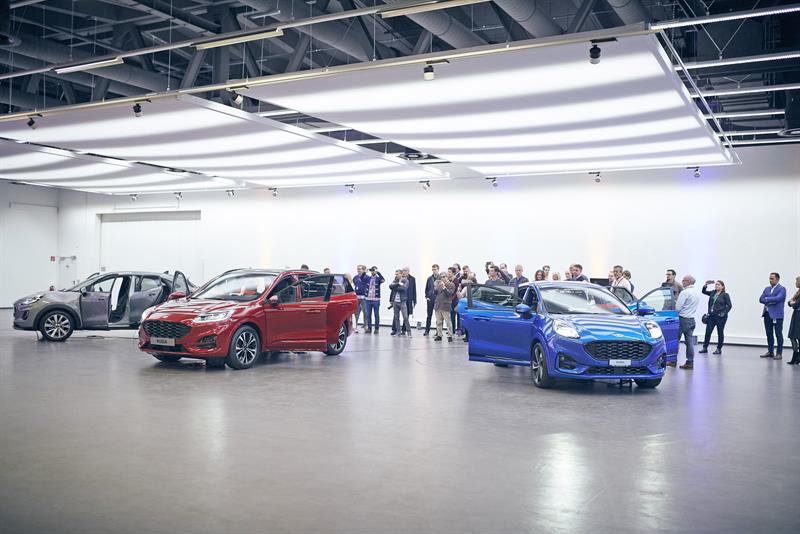 2020 Ford Puma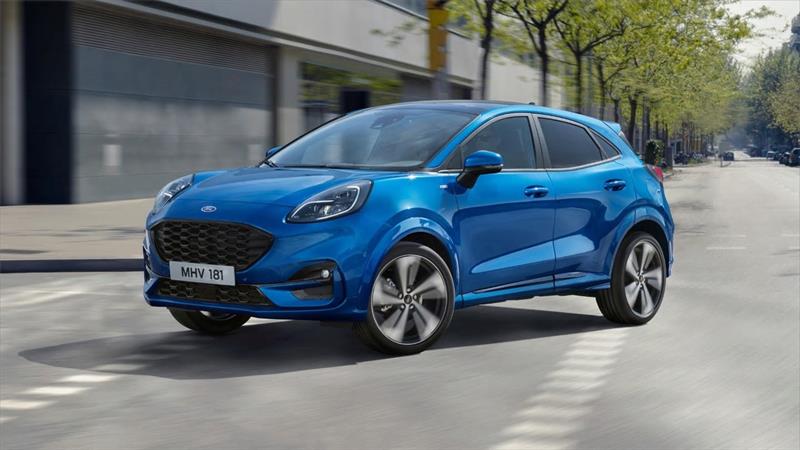 The Ford Puma used to be a small front-wheel-driven-coupe. Now, in a sign-of-the-times, it returns as a smartly styled compact crossover with Ford's current softer design language in full effect inside and out.
The Puma is based on a Fiesta platform and there's plenty of Fiesta styling in the profile. The Puma has a rounder front profile, the ride height is up a touch, and the body is slightly longer and wider. At launch, it will be offered in either Titanium trim or ST-Line, the latter having a 'faster', coupe-like rear end.
The interior features human-centric design features enabling more leg space for both driver and passengers, thanks to repackaging the climate unit in the dashboard. For the driver, the infotainment screen has been moved closer to the steering wheel, bringing it into the driver's peripheral vision to reduce the need to take their eyes off the road. It also features fewer buttons and a finger-rest for better control when driving on bumpy roads or even off-road.
Boot space clocks in at 456 litres with the trick floor removed and the rear seats still up. Instead of a spare tyre, a rectangular drop-down section beneath the floor, dubbed the 'MegaBox', means that you can store tall items up to 115cm, such as golf clubs, or dirty items, such as muddy sports boots or sandy beach furniture, and it features a drain hole for easy cleaning. The floor stows behind the seatbacks for maximum space, or the Puma can function as a typical hatchback with the floor in-place and the rear seats folded.
Power goes to the front wheels from a 1.0-litre EcoBoost three-cylinder engine coupled with a 48-volt mild hybrid system, which allows stop-start functionality and will be offered in either 123-horsepower (92-kilowatt) or 153-hp (114-kW) versions. A diesel option is said to be coming further down the road.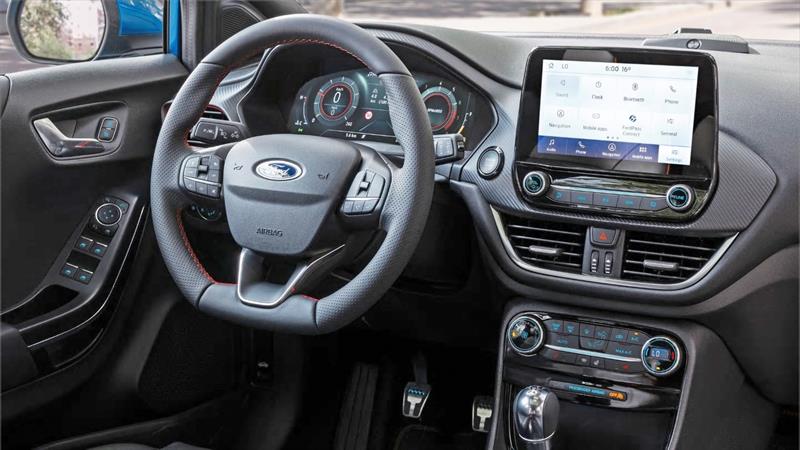 3D knitted seats
Personalisation is one of the biggest areas of growth in the automotive industry. As the general shapes and sizes of modern cars become more homogenised to fit worldwide safety standards, the interiors are beginning to be seen as differentiators for customers. Up to now personalisation has been feature led and perhaps differing trims, but going forward any area is up for grabs, starting with the seats.
3D knitting is not a new process, it has been used by Nike, for example, to make comfortable running shoes, the medical industry has used it for support bandages, as well as in fashion and furniture design. Now Ford is using this material to make seamless seat covers.
Diana Kovacheva, colour and material designer at Ford Motor Company, said: "3D knitting is a pretty sophisticated technology that is allowing us to produce fully seamless textiles in a three-dimensional shape. The potential of this technology for personalisation addresses the individual needs of the customer."
Rather than having upwards of 40 individual pieces of fabric being sew together by a group of needle workers in a very time consuming process, 3D knitting is done by one machine that creates single pieces from CAD files that each fit precisely to the seat cushion, backrest and headrest.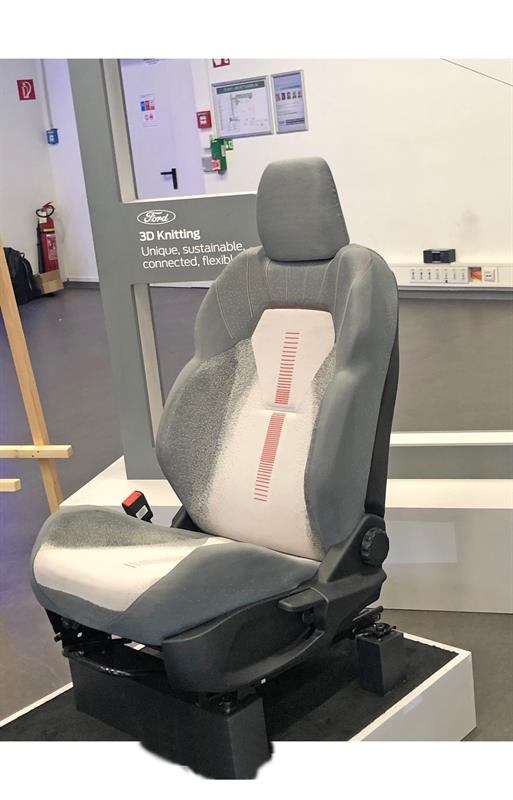 "Besides the fact that we're working seamlessly, what is really interesting to us about this process is the fact that we can develop and design the seat fully digitally. That's so different to how we make seats today." Kovacheva said. "The process can be applied to switching colours, it can also be applied to graphics and to the material quality."
So, not only could designs and colours be completely personalised, but materials could be tuned for strength on the seat bolsters or for comfort on the cushion and backrest. Seat covers could even be changed depending on the season – wool for the winter and something more breathable for the summer, for example, or mixtures of materials.
Pockets can also be added for extra storage, and conductive yarn could also be used to turn these into wireless chargers for mobile devices, or to power heating pads that could be stitched in.
This additive process also produces no waste and reduces plastic parts that traditionally are used to attach the covers to the seats, as the 3D knitted seats fit exactly.
Anais Castinel, automotive designer at Ford Motor Company, added: "This is a study for now, but we believe that it has high potential because this process is a faster, more efficient way to make personalisation sustainable.
"In cars there are textiles everywhere; in the head-liner, on the dashboard, on the doors," Castinel added. "So, if you continue to think further that's new avenues for design for us because you can think really differently in terms of everything. I read somewhere some examples of 3D knitted carbon fibre for the aerospace industry. So, in the very very far future we could even knit the exterior maybe."