Professor Nick Reed, academy director from TRL, says: "We are coming to the twilight of the project, but this third trial is around deliveries. And, as in all of the use cases, we are looking at public trust and acceptance of automated vehicles."
Now, the project together with online supermarket Ocado and Oxbotica has completed the UK's first trials of an autonomous delivery vehicle called CargoPod.
"We need to understand how these vehicles will support the future of logistics in the city," adds Prof Reed. "Whether that will be supermarkets, fuel filling stations or hospitals. Can we improve the efficiency of deliveries to these environments by using autonomous vehicles that are completely safe and produce zero emissions?"
CargoPod has been developed by Oxbotica and is guided by the company's Selenium autonomy software system, which uses two lidar sensors as well as several cameras to enable real-time, accurate navigation, planning and perception in dynamic environments like busy residential areas. The CargoPod is run by the same software as the autonomous shuttles, meaning that it can predict the trajectory of people, cyclists and other vehicles that are moving around it. It is programmed to make emergency stops if someone were to step out in front of it, yield to other vehicles and follow people or cyclists at a perceived safe distance of around 5m. Although this will be subject to the result of the public trial and how comfortable the public is with being followed by an autonomous vehicle.
Dr Graeme Smith, chief executive of Oxbotica, a spin-out from Oxford University, explains: "We took a standard electric vehicle and modified it so we could drive it electronically. The compartment on the back swings open so you can load up to 128kg of groceries using a forklift truck. Once the boxes are in there, the customer will get a message on their phone to say which of the eight lockers on the side of the vehicle is theirs to open when it arrives."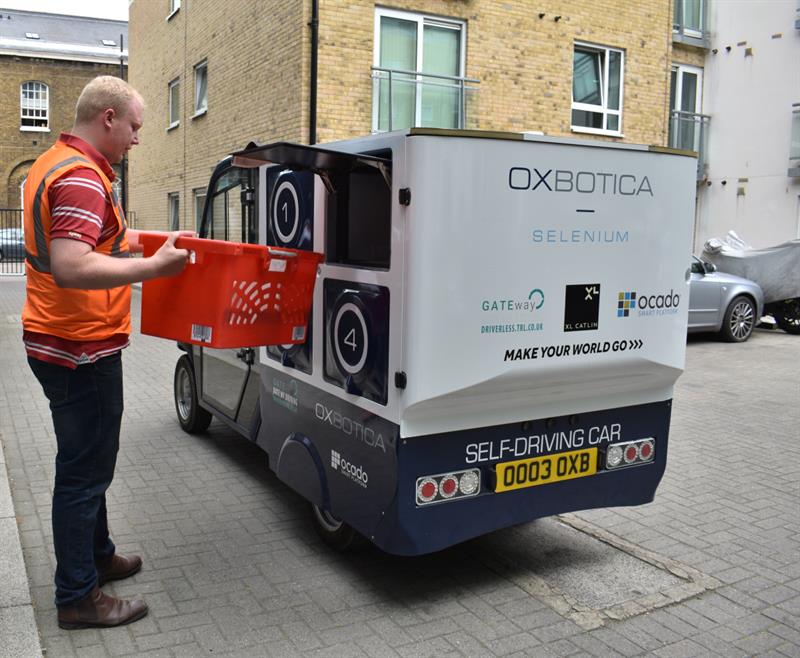 Although Oxbotica developed the vehicle for the trial, the company's main role in the project is as software manufacturer and developer. It is working on how the vehicle reacts to pedestrians and other road users as well as the more formal rules of the highway code. Another area they are pioneering is the laser mapping of environments where GPS is ineffective and has been overlooked by initiatives like Google's street-mapping.
"There are a lot of companies that are laser mapping all the roads in the world, but when you get into a community like this or a campus community, maybe your own driveway, these are not things that anybody has ever mapped before," Dr Smith says. "The technology that we introduce has to have the capability of being able to form maps itself and then transmit those maps between other vehicles that might want to use the same area."
Uniquely, the focus of this study is both on the commercial opportunities of self-driving technology and how it functions alongside people in a residential environment. It also explores the public's perceptions and understanding of driverless delivery vehicles.
Last-mile delivery
Ocado Technology has already invested heavily in autonomous tech for its warehouses to increase efficiency and throughput. It is using the GATEway trial to explore the logistics and practicalities of deploying electric autonomous 'last-mile' delivery vehicles and could be the next step to replace or augment its fleet of diesel delivery vans.
David Sharp, head of technology at Ocado, is quick to point out that last-mile delivery is not the end of human delivery drivers. He explains: "This is just another delivery mechanism. The Ocado driver who carries all the heavy stuff up your flights of stairs is still a very valuable way of having things delivered. But, to economically deliver small numbers of items, having a more autonomous delivery mechanism might be more value for money."
The research findings will also help guide the wider roll out of autonomous vehicles which, in the future, may play an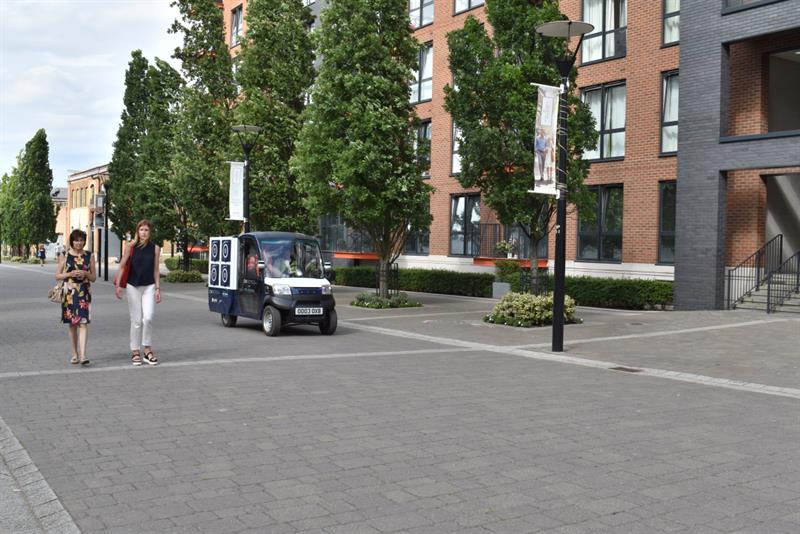 important role in cutting inner city congestion and air pollution. The trial is run in partnership with 'Digital Greenwich', an initiative that has established Greenwich as a flagship 'smart city', where emerging technologies, such as these, are being developed and tested in real-life, complex urban environments. GATEway is one of several projects taking place around the UK.
The residents of Greenwich may have become used to the sight of autonomous vehicles, but do they like them? Dr Smith says: "It's been amazing, we haven't found anyone that's been negatively opposed.
"For example, we had an older lady, a real technophobe, she was terrified of being in the vehicle, but after it had been going for about 30 second she said, is this it? It's just like a train. And from that minute she was over that hump."
Over the horizon
With its role in the GATEway project virtually over with the completion of this test, Oxbotica is setting its sights on the next, bigger project, focussing on the highest levels of autonomy.
Dr Smith says: "We have just won a £13 million Government project called 'Driven', which is going to put six autonomous vehicles on the road between London and Oxford."
Finishing in 2019, the Driven project, which Oxbotica is leading, is underway now. It will use everything it has learned from developing the GATEway pods and transfer that into full-sized cars travelling at national speed limits. The first cars are expected to be on the roads by the beginning of 2018.