At Cambridge Consultants, we work with our clients to define the whole product cycle and help them to identify and reduce risk. We are good at it because it's what we do, in every project, in every industry and at every stage in the development. We work across many industry sectors – front end through to manufacturing process design and delivery.
The approach to risk is the same – identify the highest risk area that may cause your product to fail, understand it, mitigate it and move on to the next biggest risk. Attack the hard stuff first; it may sound obvious, but perhaps not if you have never developed a new product before.
While it's a situation that Cambridge Consultants is familiar with, it can be challenging for our clients. When someone comes to us with an idea, one of the first things we'll do is ask the company what it knows about the market, how much research it has done and how sure it is that the product will be successful.
We pride ourselves on delivering market-changing breakthrough products at very high speed. But the assumption that speed to market is the most important thing is wrong. It's a complete waste of time and resources to design the wrong thing, however fast you do it. In fact, it's even worse than that, as it could cause irrecoverable damage to your brand and, in some cases, you might not get a second chance.
It might seem strange to ask a client how well it knows its market, but there's more to it. Sometimes clients are so eager to get on and 'make the product'that they are reluctant to spend time finding answers to questions such as how well they know their competitors, what IP issues they might come up against, and what the market will be like in two years when they plan to launch – but it's a very important part of a successful product development. One of the biggest challenges in product design is trying to predict the future – that's why we have market insight experts who can help with this.
Some clients will have a well-developed specification for their product before they come to us, but others may still be at the idea stage. It is important that, early in the project, aproduct requirement specification is created, outlining what the product needs to do – how it will function. From this, develop thetechnical specifications – how is the product going to deliver those functions ? These documents will become the project's sanity check. While they may change as more information becomes available, they will be the documents you always go back to.
One risk to be wary of is 'specification creep'. When innovative people get together, they will oftencome up with new features or functions which may be very clever, but may add complexity. Changing requirements in the middle of a project is rarely efficient. So take things back to the product requirement specification and ask if the design is still valid – aim for value, rather than complexity.
Because Cambridge Consultants is a fee-for-service company, we are agnostic about solutions. What drives us is doing the best thing for the client. When a client first comes to us with an idea, we'll be asking such questions as who will use it, how will it make money and how will it be sold? Our job is to ask the right questions and to listen carefully to the answers.
Projects, of course, need a strong project manager, but an excellent technical lead is also very important – someone who understands the product as a whole system. Identifying and addressing risk on a system level is key to developing a successful product.
Let's take the example of a subsea sensor as part of an oil and gas application. The client might come to us and ask whether we can design that particular sensor. We can do that, but the design of the sensor itself might not be the highest risk area; it might actually be getting the oil or gas to flow correctly past the sensor – and that might not be something which the client has considered.
Of course the 'look and feel' of a product is important, particularly if it is targeted at the consumer or medical markets, and this must be determined early in the process.
Cambridge Consultants has a team of human factors and industrial design specialists who can help clients understand how users will interact with their product. With medical products, for example, this aspect may need to be solved before you address the technical challenges.
Bear in mind that the appearance of industrial products also needs to be considered; often the buyer only sees a catalogue picture at point of purchase.
In parallel, you need to start designing the internals. Start identifying the components that will be needed. What is available 'off the shelf' and what needs to be designed? Be cautious in terms of size and shape; your design might work, but be too big or too expensive. The challenge then is cost and size reduction, which means you'll lose time to market and, potentially, money.
And think about how the product will be made. Will it be on an existing production line, for example, or is a new one required? Cambridge Consultants has a very experienced transfer-to-manufacture team who work with clients to identify potential manufacturers early in the project.
In conclusion, remember that all product development should be driven by theend user. It might sound obvious, but it's something that is often overlooked – your product must be driven by a need and the design must follow a well-checked-out process. If you do that, your new product will get to market quicker and with a greatly reduced risk of failure.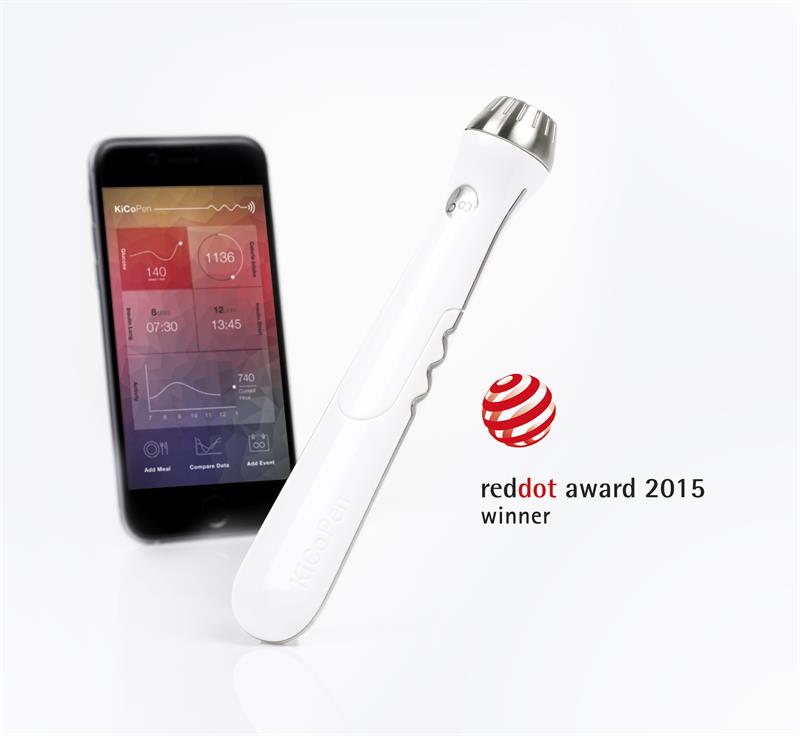 Design expertise wins Red Dot Design Award
Highlighting the world-class expertise of its product design team, Cambridge Consultants has won a prestigious Red Dot Design Award for its KiCoPen smart insulin pen concept. One of the largest design award schemes, the Red Dot Design Concept category attracted nearly 5000 entries from 63 countries.
KiCoPen is intended to make management of diabetes easier and more accurate. It captures the exact dose of insulin delivered and transmits this wirelessly to a smartphone. The batteryless device is powered by the energy generated when the user removes the injector cap.
KiCoPen team leader Vaishali Kamat, head of digital health at Cambridge Consultants, said: "The KiCoPen concept is a fantastic example of how the combination of innovative technology and great design has the potential to change people's lives. The user is always at the heart of our medical device developments – from understanding their unmet needs at the outset through to delivering a user experience that is second to none.
"When it comes to the new generation of digital products, that user-centred design thinking includes working out what information is needed and how it is displayed to make it easy to understand, making apps simple to use and creating solutions that people want to use."
Adam Geernaert is a product design engineer who leads the analytical engineering group at Cambridge Consultants.