For some, the use of an office 3D printer has become an essential tool in developing and validating design concepts, for others no bid is complete without a 3D printed prototype to accompany CAD data. But, whether you are a one-man band, or a multi-national engineering firm, chances are if you are involved in design and development you are thinking about investing in a 3D printer.
So, whether you feel a genuine need, or you've just got caught up in the hype, if you are thinking about a 3D printer for the office then there are a few things to consider. The first thing is clearly set out what you want to use it for. While this sounds obvious, many have brought one, only to produce Yoda heads or Eiffel Tower paper weights. After a few months when the novelty has worn off, they realise that the machine is not set up for their needs.
Like many things in engineering, the 3D print market is full of acronyms including FFF, FDM, SLM, SLA, SLS… it's enough to confuse anyone. The other problem is the cost of printers can be anything from just a few hundred up to nearly half a million pounds. So how can you decide which one is right for you?
"The first thing to consider is to decide what you want to get from the printer," said Mark Tyrtania, sales director at Laser Lines, a large Stratasys 3D printer UK reseller. "Do you want to use it for design verification? Or, do you want to use it as a communication and marketing tool? Are you buying it to win more work? There are all sorts of things they can do, but try to hone in on the two or three things that matter most to you, and then buy the machine that best fits your core needs."
Rarely, does a printer do everything but there are some broad brush comparisons that can be made. For example, Fused Deposition Modelling (FDM) printers tend to be mechanically stronger with better physical properties. These types of machines are proving popular for use as jigs and fixtures, or where a part might actually be made for service. On the other hand, PolyJet printers have a much better surface finish and fine feature definition. These are popular with users that want to use additive manufacturing for product realisation, as they are a better representation of the finished article. Then there is selective laser melting (SLM) of metal powder, which can produce parts for in-service flight qualified parts such brackets made for the Airbus A350 XWB.
There are, of course, many different types of 3D printers and substrates available, and all have different properties both from a mechanical and finish point of view, but also in terms of cost to operate. So if you think that a £5000 entry level printer will be able to build you a flight ready part, it can't.
"There is a lot of hype behind 3D printers and people think when they get one they can make anything they want," said Tyrtania. "You can't, like any manufacturing process there are of course limitations, and those will depend upon what machine you have. What we try and do is manage the expectations that people have, with the money they want to spend."
Buying cheap?
Many engineers might be tempted to try the technology out by purchasing a low-cost printer. It's a logical train of thought as it allows you to become familiar with the process of 3D printing and identify its value and how it best works for you.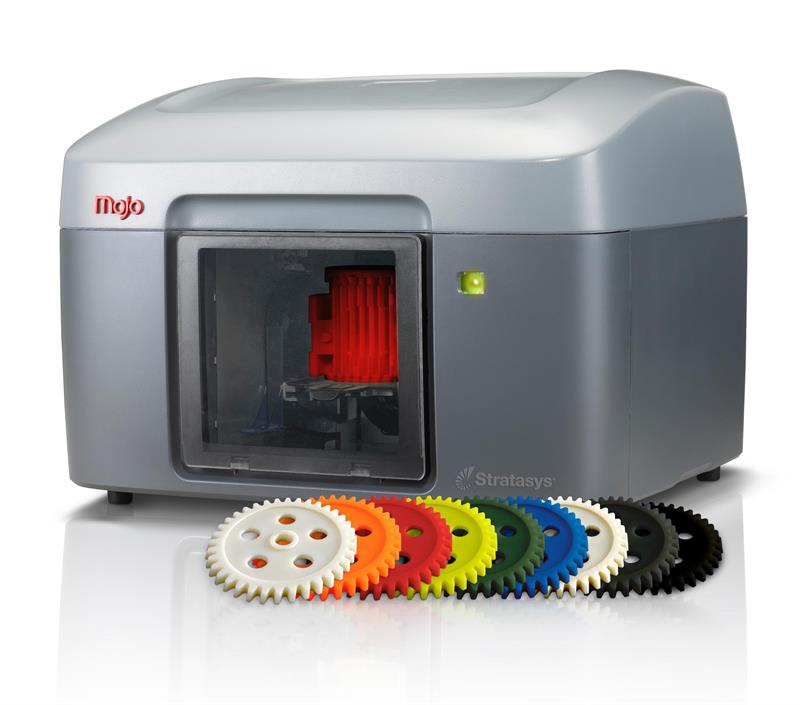 The Statasys Mojo is one of the entry level machines that allows engineers to experiment with 3D printing technology
However, the 'sweet spot' for Laser Lines is actually around £25,000, and realistically if you want to get any serious use from a 3D printer then this is the kind of budget you can expect to be dealing with. Of course, lower cost options are available, but the adage that you get what you pay for certainly applies to the 3D print market, as much as it does anywhere else.
"I've seen time and again people go for an entry level machine, only to upgrade it in a relatively short space of time," said Tyrtania. "They trade in, upgrade or add to it as they see the value of it, and this gets them thinking about the possibilities and opportunities inside their business. They identify exactly where it will be useful, where it will add value, and then they want to keep investing.
"There is a lot of noise at the lower end of the market with a lot of machines retailing for between £1,000 and £5,000. The Makerbot is a good example. And while I see lots of people joining that market, I also see a lot of people leaving it."
There tends to be a mental mind set that dictates certain price points in the marketplace. The most popular is around £25,000, and then again up to about £50,000. This goes up again to the Stratasys multi-material J750 at around £200,000 and then up to the very large Stratasys Fortus machines that can retain at as much as £450,000.
For some industries 3D printers have become essential for competitiveness. If a competing agency is putting in a multi-material prototype that shows off the full range of colours, material properties and functionality, it is of course going to trump a single colour, scaled down, single colour plastic representation. Like CAD systems, 3D printers are fast becoming must-have tools, moving away from that reputation of being a bit of a fun toy to tinker with.
bureau vs ownership?
Another common and sensible approach to purchasing a 3D printer is to try it, before you buy it. The many 3D printing bureaus that are operating are able to show you the sorts of quality and types of parts that you are likely you received back from machines at certain price points. Many bureaus are only too pleased to talk you through the specifics of a particular machine that they use, and you can see first-hand the outputs you will get from them. It means before you or your company invest, you can prove it can work. This allows you to learn and understand the technology, and find the value in it.
Laser Lines also runs its own bureau service, that actually helps it turn many sceptics in to buyers. Tyrtania explained: "You might think its counter intuitive to be a reseller of machines and operate a bureau. But what we find is, actually, they are intrinsically linked. Nobody invests in a 3D printer without doing research whether its £5k or £100k that your spending.
"We have found that people might start and use us for bureau parts and then buy a machine once they see the value in the technology and see what it can do. It helps them to justify the investment and they then really know what it is they are getting."
A bureau is a great way to help identify some specifics, namely what you might use a 3D printer for. Identifying that core need is essential in getting value from them. Remember, no one machine will do everything. So you may find you'll still need to use a bureau even after you've purchased one.