The Burnaston plant is the sole manufacturer of the Avensis model and the sole European manufacturer of the Auris and Auris Hybrid. The plant comprises a single assembly shop – which produces both models – and within this facility a number of information technology solutions are deployed to collate and deliver a wide variety of production management data.
These IT solutions are used as the communication framework for a number of production programmes and one such programme is the company's Andon solution, which allows line operators to call for management help or temporarily stop the production line if they spot something that they perceive could have a detrimental effect on vehicle quality. Originating from the word for a paper lantern, Andon – which in English translates to 'sign' or 'signal' – is a term that refers to an illuminated signal notifying others of a problem within the quality-control or production streams. It is a means of highlighting a problem as it occurs in order to immediately countermeasure the issue and prevent re-occurrence.
It was the intention of TMUK to refresh its current Andon systems through a phased programme of hardware and application replacement and modernisation.
For this upgrade project, Toyota appraised a number of technologies from different vendors and approached Rockwell Automation to develop the new solution based on more up-to-date and open technologies.
The existing Line Andon System comprised a number of technologies from multiple vendors. The display technology was fairly basic. It had evolved from red and green bulbs that showed where the line had stopped, up to a more contemporary 640 x 720 LED-based solution that showed basic figures such as production targets. But this was beginning to show its age and was experiencing failures.
TMUK needed to undergo a modernisation programme to develop a new solution that would not only collect all the necessary production information, but would also collate and decipher it before disbursing it in an easy to understand, actionable format. The new solution was to be made up of three core elements: a Line Andon system; a Real Time Andon reporting system; and hourly reporting and shop display boards.
The new Digital Andon System (DAS) for TMUK is based on technologies already deployed, tested and delivered by the Rockwell Automation in North America across multiple Toyota sites in the US.
The UK Global Solution team enhanced the DAS with the addition of FactoryTalk Historian Site edition (SE) to provide additional functionality that will deliver a standard Manufacturing Intelligence platform for Toyota to develop beyond the Andon solution, across its global manufacturing sites.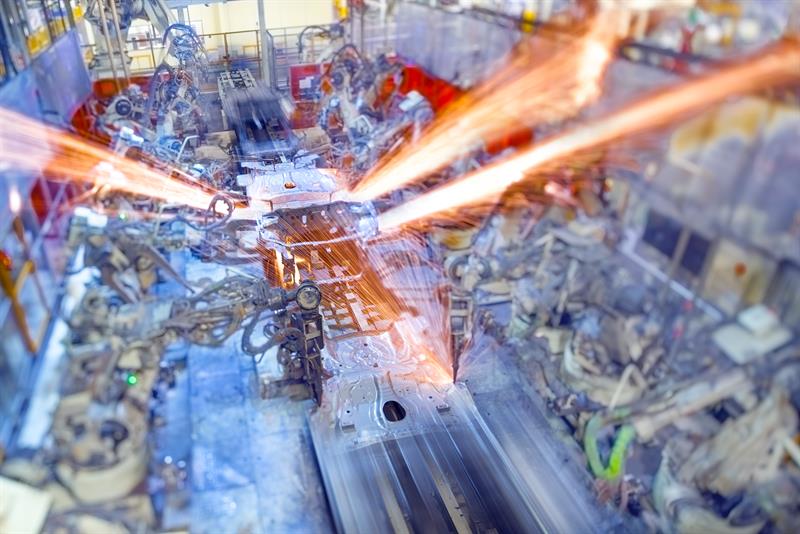 The Line Andon System is delivered by a number of stations (specific to each line) running FactoryTalk View Station SE on six physical PCs, but using video extender cables to connect to multiple monitors mounted above the line in full view of the operators and their supervisors. The new system gathers data from the line-control panels (LCP) for immediate reflection on local display screens as well as ensuring that data extracted from the LCPs is also made available for extraction, for use by the Real Time Andon and other systems.
The Real Time Andon System uses virtual servers for FactoryTalk Historian SE running in conjunction with RSLinx, FactoryTalk VantagePoint and Microsoft SQL servers. Relevant information from these servers can then be displayed on various client PCs as web reports and on the large shop display boards that are located at strategic points around the assembly shop.
In operation, the Real Time Andon System gathers data from the shop floor controllers and then populates an SQL database. It can then display different levels of data graphically using a touchscreen interface, which provides supervisors with the ability to perform rapid identification of line stop or Andon pulls that are impacting production. The new system is a scalable, accessible integrated solution that will evolve with the production solution. In addition, the databases can also be used to calculate where potential issues may occur; and if there is any relationship to times, shifts or specific operator stations.
Completing the new installation are the new Shop Display Boards, which comprise a number of large-screen displays that summarise overall shop status and line-specific data, regarding planned volume, achievement and operation rate.
According to Alastair Moore, Section Manager Assembly Engineering at TMUK: "We had an idea of what we wanted to achieve in terms of modernisation, but our main focus was the visualisation. The main shop displays were 15 to 16 years old and really starting to show their age. We had a look at what was available from the market in terms of new solutions – including the most recent development of the incumbent hardware and software – and the solutions from Rockwell Automation were part of this mix. In the end, the final decision was based upon licensing costs and the way the whole solution 'hung together'. Rockwell Automation was able to offer us something a lot more competitive.
"The majority of our existing production equipment is based on Rockwell Automation control solutions," Moore continued, "so we already knew that Rockwell Automation could offer us a robust solution based on an Ethernet network; and the fact that its architecture is open and more technologically agnostic made it more attractive in the long term."
TMUK now has a Digital Andon System that delivers exactly what it needs in terms of accurate, pertinent real-time operational information to both the line-side operators and their supervisors; speeding up the time taken to recover from a stop and to identify the root cause.
In addition, the Historian functionality gives them the ability to predict where problems may occur and take preventative action. Its open, integrated architecture and scalability also means that the hardware and software can be modified to suit future needs in terms of production volume or information requirements.
According to Guy Smithson, Account Manager UK Automotive & Tire at Rockwell Automation: "A similar Andon evolution took place in a Toyota plant in Kentucky USA and as well as sharing information to specific line supervisors, the information was more widely shared in order to discover how issues affected other operations in the production flow. In this instance the paint shop was able to react immediately to alerts generated by subsequent processes instead of waiting for a production report from the previous day. In addition to other Andon reporting streams, it was estimated that annual cost savings could be in the region of over half a million dollars. This whole new wider approach also addresses Toyota's Muda philosophy, which tackles futility, uselessness and wastefulness."