The idea was that testing CAVs in real-world environments would help lead to greater levels of understanding for the producers of these vehicles as well as city authorities and urban planners. It would enable testing of the technology, but also the potential benefits in terms of pollution, congestion reduction, safety and crucially, how the public would see them fitting in to everyday life.
UK Autodrive was different from the other projects, not only because it was testing in two separate cities, but also because three different car manufacturers, Ford, Jaguar Land Rover (JLR) and Tata Motors European Technical Centre (TMETC), were taking part together.
By October 2016 the three manufacturers had demonstrated the project's first two connected car features on the HORIBA MIRA test track at Nuneaton. First, the 'Electronic Emergency Brake Light' where the car alerts the driver that a connected car in front has braked suddenly. This is to limit the number of rear-end collisions in poor visibility like heavy fog.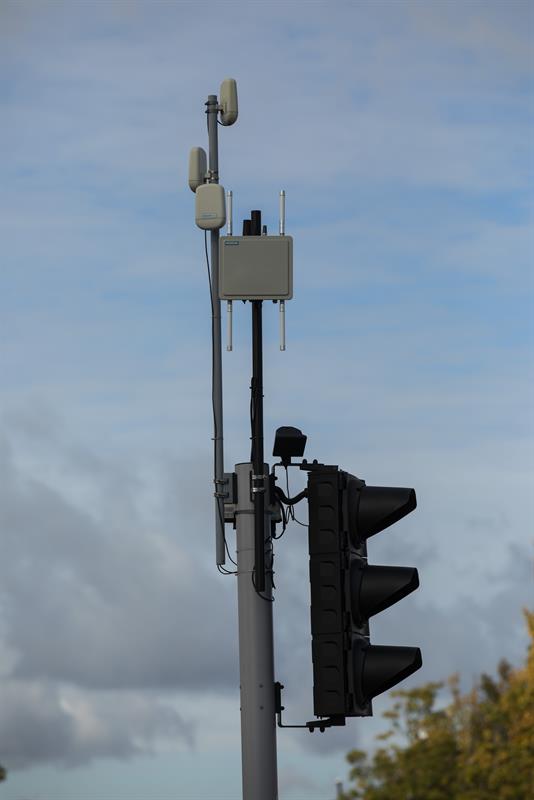 The second demonstration showed how connected cars can be sent information from traffic lights, allowing them to reduce the likelihood of meeting red lights by giving a certain speed for the driver to maintain – potentially improving future traffic flow and lowering emissions in urban areas.
"There has already been a lot of public focus on self-driving vehicles, but connected car technology may be just as revolutionary," says Tim Armitage, Arup's UK Autodrive project director.
"The benefits of having cars that can communicate with each other and their surroundings could be very significant – from increased road safety to improved traffic flow, more efficient parking and better information for drivers."
June 2017 saw three more demonstrations. The 'Emergency Vehicle Warning System' warns connected cars that an emergency vehicle is approaching and from which direction, with the aim to minimise congestion and potentially reduce the time taken for ambulances, police cars and fire engines to reach their destination.
During the 'Intersection Collision Warning' demonstration, the connected cars were able to detect the presence of other connected cars on approach to a junction and warn whenever there was a high probability of a collision.
The third involved 'In-Vehicle Signage', where the connected cars received traffic information sent from road-side units, ensuring that drivers do not miss out on important notifications, such as changes of speed limit or temporary lane closures.
JLR used this session to demonstrate its 'Autonomous Urban Drive'. An automated Range Rover Sport fitted with sensors including lidar, radar, GPS trackers and cameras, was able to navigate its way around an urban-style road network, successfully negotiating roundabouts and junctions while also steering around obstacles.
In November 2017, two yearsinto the project, CAVs from all three companies became the first in the country to be tested on open roads in the UK with the start of in-city trials in Coventry.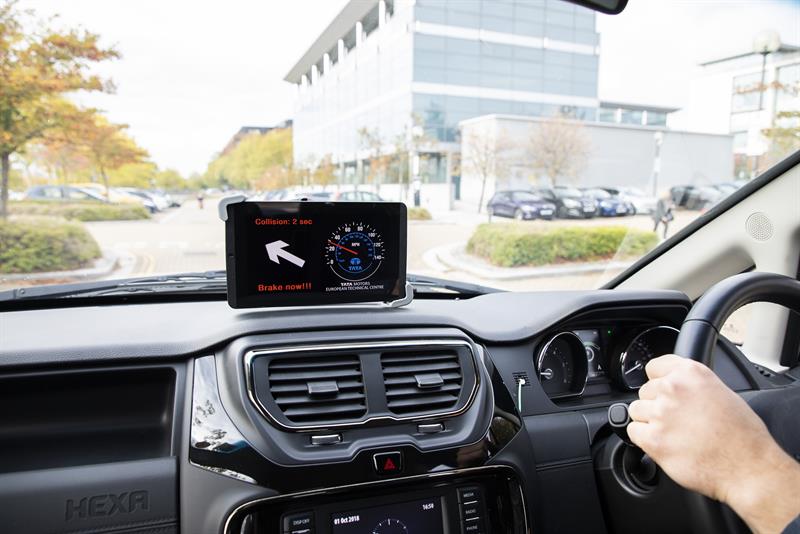 Ralph Wilson, project manager at Arup, says that the move from test-track to open roads was complex because of the many extra variables such as other road users and pedestrians, but what the trial really highlighted is the gulf between autonomy Levels 3, 4 and 5.
"Level 3 is where Tesla is at," he explains. "In certain scenarios the vehicle runs quasi-autonomously on a motorway, but the driver is still ultimately responsible and has to pay attention. Level 4 is when a vehicle will run autonomously and is good enough that the driver can switch off, but only in certain scenarios, like on motorways, or pods running in specific areas. Level 5 is when a vehicle can go anywhere autonomously.
"The gulf between Level 4 and Level 5 is huge, to get to a point where you can jump in a vehicle and it will drive you out into the countryside, I think that's a long way out because the number of potential scenarios and variables are absolutely huge. I think we'll see Level 4 happening pretty soon – we are already, but Level 5 I think is a long time away."
April 2018 saw the first trials of 'Collaborative Parking', where the CAVs used on-board parking sensors to send data to other connected vehicles to communicate where there are free spaces in car parks.
The three manufacturers also tested the Emergency Vehicle Warning System and Electronic Emergency Brake Light on public roads for the first time. Trials began for Aurrigo's last-mile-serving autonomous pods too, with trips made between the train station and the Transport System Catapult's HQ, a distance of nearly half a mile.
A public attitude test was taken right at the start of the project before the pods and cars hit the streets. The same survey was conducted at the end of the project in October 2018. One of the main findings was that by 2018 people were surer they either did or did not wish to use a self-driving car, privately or as a public transport option. The strongly agree and disagree numbers went up a few percentage points while the neutral number decreased.
The big difference came when people were asked if they would send their child to school in one, where the numbers saying that they would fell by 2% while those that wouldn't rose by 3%.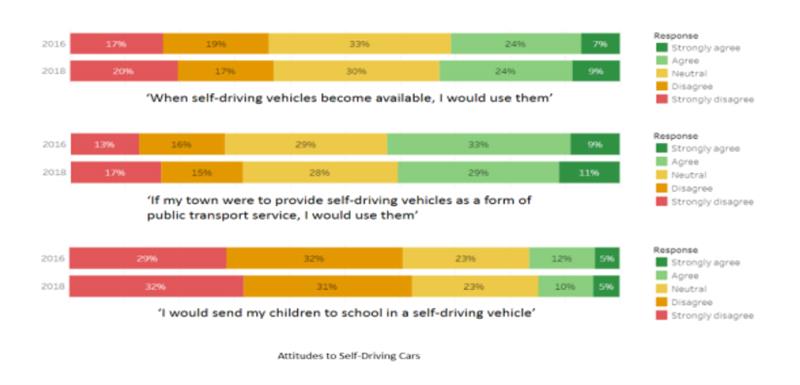 Wilson says: "We polled around 3000 people around the country and the result was that people were remarkably open minded about the technology.
"There's always a small proportion of people at one end who are enthusiastic. It's like a gadget to them and they can't wait. And, at the other end those who love driving and don't like the idea of control being taken away from them. But then everyone else, a big proportion of people in the middle, are cautiously optimistic or open-minded."
Wilson says there's a lot to take away and analyse but there's still a lot of mileage left for Arup now UK Autodrive has reached its goal. The next phase for the companies that took part in the project, Arrup, Aurrigo, RDM, JLR, Ford and TMETC will focus on taking some of the technologies further.
For example, Wilson says: "Potentially developing the technology around the pods but trying to trial more of a demonstration of service as well. There's also lots more public attitudes work to do.
"We've done some work around computational modelling to understand what the benefits could be in terms of reducing pollution and congestion and again there's just so much more you could do in that area, same with business case modelling, there's all sorts. But, the new funding rounds haven't been announced yet and it does always take a bit of time to get the wheels rolling on these projects.
"We'll stay very embedded in this area, potentially collaboratively with some of the partners and certainly individually, there'll be lots more to come."