One of the things with engineering, and engineers generally, is that we can have a tendency to approach all problems as technical. Whether it is getting the next generation involved in STEM or adding value in the supply chain, a logical approach usually sees us through.
But this can be intimidating and even off putting to those people outside technical industries. So, when a charismatic and enthusiastic individual stands up to get the message out that, actually, engineering is a creative industry, it is perhaps not surprising how quickly people change their mind.

"Educational institutions are designed such that failure is not an option," said Mark Hatch, CEO and Co-Founder of TechShop, a chain of member-based workshops that lets people of all skill levels use industrial tools and equipment. "You only get an 'A' on a test for getting the answer correct, not for great insight in to the problem, or for trying different solutions. But when you are creating something, you know the first and second renditions probably won't work. You know you have to spend time developing, and getting it wrong. But that isn't how you get trained at school."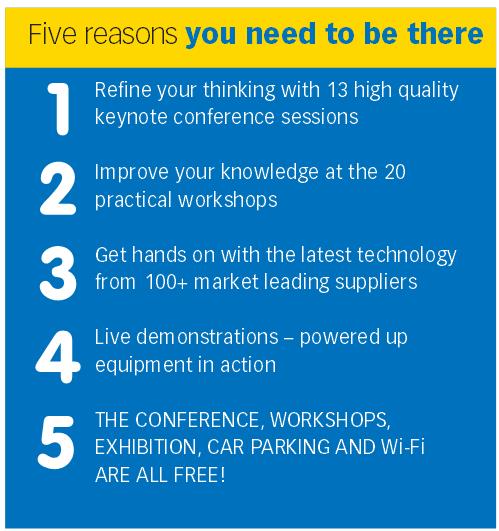 Hatch is at the forefront of what has become known as the 'Maker Movement', and has managed to commercialise the cult trend throughout the USA. He now hopes to spread the concept further afield with possible sites being mentioned in Birmingham and London.

There are many facets to Techshop that should interest the engineer. While the US Techshops are filled with artists and academics, tinkerers and entrepreneurs, they are helping inspire young people to 'do engineering' as Hatch describes it.

And it is not surprising that this practical hands-on approach is at the centre of what is on offer. Interestingly though, it is also laced with the need to understand physics and maths, and their practical application. This goes down a lot better with the younger audience who can suddenly see a point to all those equations. And if that wasn't enough to get young people interested in STEM, failure at Techshop is encouraged!

"What's fascinating is that the cost of failure has come down, in fact it's so low I no longer talk about it as failure, I call it cheap learning," he said. "And that is inspiring people to be more creative and that's so important."

But aside from inspiring many more to take up engineering – from all ages and backgrounds – Techshop has proved hugely successful with professional engineers. When Techshop partnered with the Ford Motor Company in Detroit the results amazed everyone.

"We built a location in Detroit to try and help spur a cultural change inside of Ford," explained Hatch. "It was part of a process to help drive innovation and increase the number of patents coming out of their employee base. The results blew our minds. We've seen a 100% increase in high quality patents as a direct result.

"Those creative people can now produce the answers and ideas they have in their heads and rapidly assemble them. They have access to all the tools they need to prototype much more effectively. It is so much better than a PowerPoint presentation that they used to have to give for some development money. They're now able to get moving much more quickly."

As you would expect of a high class US facility, the Techshop's themselves are big, modern and very well run. They are in the region of 20,000 sq ft and as Hatch enthusiastically put it: "It has every tool you need to make anything on the planet, from machine tools to wood working tools to plastic tools to electronics to textiles."

Members are charged a monthly fee of $125 a month, the same as 'a really bad coffee addiction'. And while many just like to play with the tools and make things, there have been countless successful Kickstarter campaigns that have been spun out, some of which have multi-million dollar turnovers. The maker movement is grassroots innovation.

"We are targeting the creating class," he said. "Our objective is to shift just a little bit of their disposable income to pursue creative activities in our facilities. And if we can get a small percentage of that and move it into creative pursuits then all that innovation pays for itself, because it is adding value to the economy with all these little businesses.

"People come in and take classes on electronics or laser cutters, and they start making things that you've never even thought of. In 90 days people are producing beautifully crafted products. It's amazing!"

One of the most prized aspects of Techshop, and the maker movement generally, is the variety of people and backgrounds that get involved. This has created a community and that is where Hatch really places value in what he does. It has become a place for engineers to get fresh perspectives as they talk to artists, tinkerers and entrepreneurs.

"It is not about the tools, it is about the people who show up to use them," he said. "We've had people build everything from downhill soapbox racers to a Lunar Lander! And they all share knowledge, ideas, inspiration and creativity in a way that really works."
---
CV - Mark Hatch
As an ex-Green Beret it is no surprise that Mark Hatch CEO and Co-Founder of TechShop prefers the hands-on approach to engineering. He holds an MBA from the Drucker Center at the Claremont Graduate University, and has become known in the US for being a leader of the Maker Movement. He authored The Maker Movement Manifesto and is now setting his 'sites' on bringing pay-as-you-go maker-spaces to the UK and Europe.