Is hardware important?
"Hardware is fundamental," said Sean Young, worldwide product development and AEC (Architecture, Engineering and Construction) segment manager at HP. "Software is something that the users are using all day long and it's completely dependent on the hardware to do its job. So, if the hardware is not properly spec'd, the configuration will be incorrect for the user's needs and that is going to result in either a poor, or slow, experience with the software or at worst major problems with the function."
It was a problem that resulted in a new class of workstations to be created that may look like regular PCs on the outside, but in fact are built to meet the demands of people working within the CAD environment, where the equipment will be used all day long and, with deadlines around every corner, slow performance or downtime cannot be tolerated.
AEC segment manager for Lenovo Tom Salomone explained: "When SolidWorks first started out, a lot of people put their SolidWorks on PCs and they just had too many problems. Typing would be slow. Their graphics wouldn't work right. So SolidWorks went through a certification process where they take the hardware in and test it. They make sure it works with SolidWorks and certify it.
All the major ISVs (independent software vendors) now certify equipment as capable of running their software, and have these certifications in place.
Leigh Schvartz, product manager for high performance computing and workstations at Fujitsu commented: "Each of our products is certified by the CAD companies, ensuring that specific application software is supported by the vendor on our workstations. However, this still allows for plenty of customisation – as the base product model is certified in combination with a professional graphics card.Therefore, if customers want to customise their hardware with regards to CPU, HDD or memory that is not a problem."
But does this mean that engineers, or their IT managers, can look at the 'minimum system requirements' as quoted on the software box and be confident of seamless operation if these requirements are met?
"Minimum hardware requirements can be very misleading," said Scott Hamilton, a precision strategist at Dell. "Software vendors provide these only as a minimum requirement for the software application to function, anything less will not work properly. But these are not recommendations and certainly won't give you good performance. We partner with ISVs to test, certify and optimise professional software on Dell workstations, enabling a stable and reliable platform to create, simulate, visualise and collaborate on designs, speed up workflows and maximise productivity."
As a result of this work, Dell helps potential customers define their unique system configuration using a tool called the Precision Workstation Advisor. Equally HP has the HP Performance Advisor, while Fujitsu positions its machines as good, better and best for each of the popular software packages.
What to look for
Lenovo's Salomone said if you asked an engineer what his top three priorities should be it is "Performance, performance, performance. First, it's processor performance.Then it's the graphics performance and then it's the disk drive and memory performance.They'd be looking to get the most performance they can for the money they have. For CAD applications the performance should be really the highest gigahertz.
"For CAE applications the performance is really about having the most cores; you get 18 cores in a processor in a P900 now, and you get two of those, so you can get 36 actual cores. Intel has a spec now, it's called Hyper Threading and you turn that on, that's equivalent to 72 cores.So that's a lot of cores and lots of threads that can be processed at a desktop level now for people to do analysis quickly."
The different ISVs also use computer resources in different ways, sometimes even when doing equivalent functions and this can have an impact on the hardware. "[software packages] all have differences, they all have different strengths.In terms of the workstation requirements, they're different across the board.It really depends; some support multiple port processors better than others, some use GPU for rendering, some use CPU, some use both. Some have different memory requirements, more memory requirements, as they all manage data differently on the back end."
Getting it right
With all the help available from the hardware companies, finding the right equipment should be straightforward. Design teams can be made up of a diverse range of engineers and designers, some running different applications and there will always be pressures on the IT manager to keep costs within reason. But, as Hamilton summed up, shortcuts don't pay off. "The most common mistake Dell sees is not building a balanced system that meets all of the requirements needed for the applications and workflows. Dell's advice is to consider how the system will be used in all cases and don't sacrifice performance to save a few dollars. Remember all of the components working together provide the best performance. It is much more important to make the user as productive as possible as this will bring many benefits to your company like cost of labour savings, better product design, less costly physical prototyping, faster to market and avoiding costly mistakes."
Workstation, mobile or virtual?
Is the vision of the future designer a free spirit, taking his craft with him on his laptop? Not yet according to the big four.
Fujitsu's Schvartz said: "As a company we don't believe laptops will be used for mainstream CAD work in the near future, we see the importance of having access to designs on the go for showcasing in front of customers and working on the move, but any heavy work will still need to be ported back onto the desktop."
Hamilton concurred: "Workstations are tuned and optimised to run top engineering and design applications at peak performance that boost productivity that laptops don't have the capabilities to run."
So what of centralising the processing on a server and 'virtualising' the design. While virtualising has been around for ages for general office applications, CAD software requires a GPU and, until recently, virtualised graphics has been a problem. HP's Young said: "Nvidia has created the technology called Nvidia Grid which enables the video GPU to be virtual. That really opened the possibility up for users to have the full virtualised workstation experience. We're starting to see companies embrace that and get started with it, but many haven't fully rolled it out yet."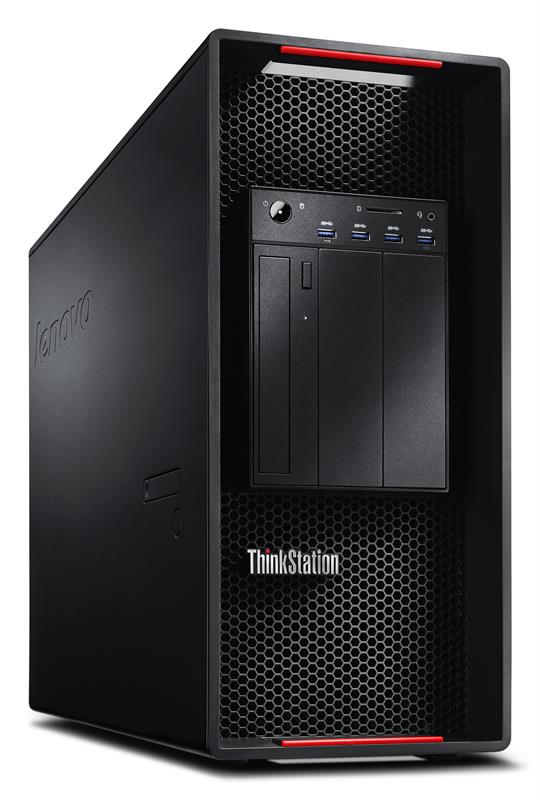 Lenovo ThinkStation 900
Top of the range at Lenovo is the ThinkStation 900. The power comes from its latest Intel Xeon processors and NVIDIA Quadro graphics cards to provide sufficient performance to run all ISV (independent software vendor) certified applications. The ThinkStation P900 is up to 73% faster than its predecessor, the ThinkStation D30.
The features revolve around flexibility, with storage maximised by allowing up to 14 drives, with redesigned single trays that support 2.5" and 3.5" hard drives. FLEX Bays allow easy 'mix and match', so that only components that are needed are used. These include HDD, ultraslim ODD, 29-in-1 media card readers, and firewires. Thunderbolt 2 adds in cards allowing for faster data transfer. Functionality is increased without sacrificing slots using two innovative FLEX Connectors, supporting SATA/SAS/PCIe storage and advanced RAID solutions.
There are intuitive red touch points to guide the user to quick and easy component changes – even to the motherboard and removable power supply – without a single tool. And a revolutionary tri-channel design and unique air baffle maximises airflow, keeping components cool, quiet, and strong.
Fujitsu Celsius C740
Fujitsu claims to be the only global tier-one vendor offering a 1U rack workstation, which maximises data centre density benefits. The new Fujitsu Celsius C740 rack workstation is flexible enough to be used as a one-to-one remote workstation, versatile enough to form the basis of a one-to-many virtualised workstation, and powerful enough to become a node in a high end rendering cluster. Features include:
Up to 18 cores of Intel Xeon processor E5-2600 v3 family
Maximum memory capacity of 256GB of DDR4 running at 2133 MHz
NVIDIA GRID graphics supporting a virtualised graphics environment
New Fujitsu SSD PCIe card: Choice of adding one 1x 256 GB or 1x 512 GB card directly to the board or support of a flexible expansion card with up to two modules
Two PCIe x16 slots and an additional PCIe x8 slot allow for maximum flexibility to add either two single height or a double height graphic card in combination with a Teradici card or LAN- or RAID-controller-card
SATA DOM (Serial ATA Disk on Module)
www.fujitsu.com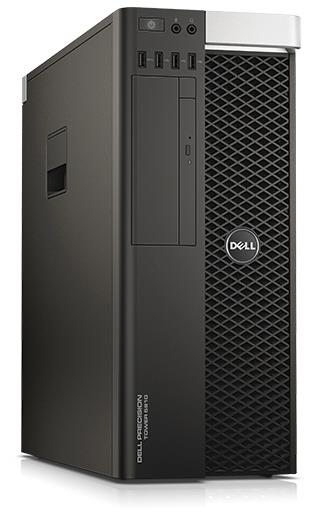 Dell Precision Tower 5810
The Precision Tower 5810 is claimed by Dell to deliver up to 75% better performance than previous generations for iterative design and prototyping. The power comes from Intel Xeon E5-1600 v3 series processors, NVIDIA Quadro and AMD FirePro graphics.
System memory is expandable up to 256GB using the latest DDR4 RDIMM memory technology. The Dell Precision Tower 5810 delivers up to 5.5x higher graphics performance than previous generations on SolidWorks, 3.7x on CATIA, 5.5x on CREO, 6.8x on MAYA and 3.6x on Siemens NX.
Storage options include the actively cooled PCIe SSD storage solution for fast and reliable content storage - up to 180% faster than traditional SATA SSD storage. A more traditional storage option is the 12Gb/s RAID controllers, doubling the I/O speed of the previous-generation workstation.
Different applications have different system requirements and the new Dell Precision Optimiser takes the guesswork out of customising settings by automatically adjusting Intel Hyper-Threading, number of CPU cores, graphics and power settings. Precision Optimiser automatically tunes the workstation to run specific programs at the fastest speeds possible.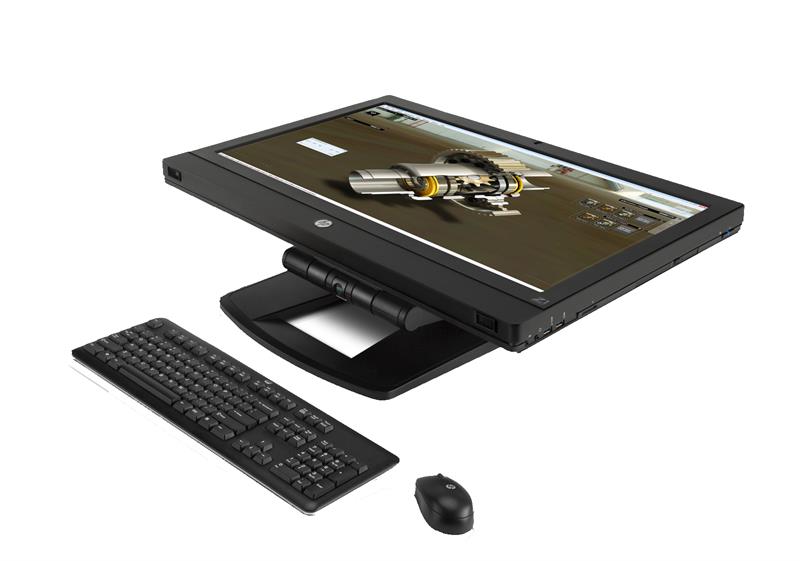 HP Z1 G2 Workstation
The HP Z1 G2 Workstation is an all-in-one workstation with a large-screen display, which can be customised with 10-point touch technology in an edge-to-edge glass design. It features 4th generation Intel Xeon E3 processors, NVIDIA Quadro graphics, ECC memory and a wide range of ISV certifications.
The engineering behind the Z1 G2 includes a high end professional MXM Graphics cooling module, optional multiple hard drives and an adjustable custom display stand. Thunderbolt 2.0 ports allow for fast connections.
For frequently used data that is permanently held on the machine there is quick accessibility through the optional mSATA storage technology that provides fast storage and cache for OS and applications.And for designers who need, or want quality sound on their workstations there are premium audio features on the HP Z1 G2 including dual cone, front-facing speakers and DTS Studio Sound.