Answering these questions was one of the reasons for the establishment of the Digital Catapult. Digital Catapult is the UK's leading advanced digital technology innovation centre. It drives the early adoption of digital technologies to make UK businesses more competitive and productive to grow the country's economy.
Since its launch in 2013, the Digital Catapult has made significant progress in helping grow the UK's economy. It has opened five centres across the UK, worked with over 2,500 start-ups and scale-ups to take their business to the next level, won over £3.5m in collaborative R&D bids and partnered with a number of major corporates to support their open innovation work including Visa, Cisco and PWC. It has also helped deliver 41 projects and generate additional contributions of £5m from across the technology landscape.
It does this in several ways. The first is by providing physical and digital facilities for experimentation and testing that would otherwise not be accessible for smaller companies. Its innovation programmes drive collaboration and encourage use of the facilities. By bringing together small companies, corporates, researchers and investors, the right solutions are developed to solve industry challenges, increase productivity and open up new markets faster.
It also connects corporations, small businesses and academic researchers to get the latest thinking into the heart of industry and discover new ways to solve big challenges in the manufacturing and creative industries.
"We've really done two different things," says CEO Jeremy Silver. "One is to think about which industrial sectors to put the most focus on – not necessarily exclusively, but the most focus. And on the other hand, what are the technologies that we will be working with? When we did the analysis across what the opportunities for UK businesses looked like, there were two sectors that jumped out in relation to what you might call a digital opportunity. One of those is the creative industries, which are very strong in the UK, but the other one that jumped out was manufacturing. When you look at that sector as a whole, and you think about what the digital multiplier would add up to, it comes out much higher than anybody else. I think we are possibly the only organisation that has decided that the creative industries and manufacturing should sit side by side as bedfellows in some respects, because there are actually all sorts of interesting crossovers between them. So that's one way that we think about the world."
The other process the Catapult has gone through is to think in terms of the technologies themselves and focus on three key areas. These are: artificial intelligence and machine learning; future networks; and immersive technology such as VR and AR.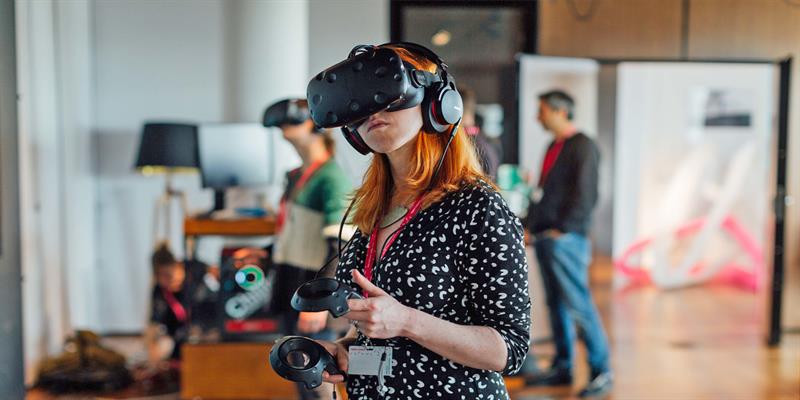 Silver adds: "Obviously, digital means everything and nothing these days. But for us, the focus is on the more advanced and digital technologies, which are also the most hyped and the most susceptible to the Gartner hype cycle. At the same time, they're also potentially the ones that need more testing and more proving."
Naturally, some of this is in association with academia. "In artificial intelligence and machine learning, the UK's strength is its deep tech sector, with people coming not just from Imperial and Cambridge, but also from centres like Newcastle and Edinburgh as well," says Silver.
Again, when it comes to immersive technologies, the UK's strength lies in the application of these technologies. "We have a focus, too, on immersive technologies like virtual reality," says Silver. "Here the UK's strength is not in the hardware, or the headsets or controllers, it's in the content and in the applications that can be brought to bear and all sorts of interesting opportunities. In industry, they're not just in entertainment. And we're already seeing in the advanced automotive sector the use of augmented reality for design purposes and product design. This is really changing the proposition for designers and speeding up the process, allowing people to be more flexible because they can envisage things very quickly and visualise things very quickly to make very rapid changes in a way that was previously much more difficult to achieve."
So how does this collaboration actually take place? "What we do with the way that we work, is really to spend a lot of time engaging with a whole range of stakeholders," says Silver. "We have a very privileged place in the landscape because we sit between universities and academia. We're close to government, but we're not of government. We're a private company and we're able to work in a more commercial way."
The Catapult works with traditional industries and spends a lot of time engaging with the ecosystem of startup and early-stage businesses in those specialist technology areas. Says Silver: "When we talked to them all on a regular basis, we're really trying to figure out with them, what are the things that are holding them back. And what are the things that we could build – what kinds of environments can be created – that would allow them to move forward more quickly and overcome some of those barriers and find ways of collaborating better?"
The creation of environments – be they digital spaces, physical spaces, test beds and networks in which people can both experiment and try applications of technology out – is key to the Catapult's role. This is in part because it allows participants to collaborate with people that they wouldn't otherwise get to meet with. "That might be small companies working with traditional players; it may be academics coming to play with startups; or it may just be people from entirely different disciplines in technology, especially service coming together around projects. So, we run and create facilities of that kind," says Silver.
But building facilities on their own isn't enough, according to Silver. "What you do need to do is to build programmes and create innovation environments. And that's the other place where we've developed some expertise and I think are different from some of the other accelerators and incubators, because we're so very specific, both in the physical environment and the digital environment that we offer to work in. But also, there is a real focus on particular areas of technology and applications," he says.
The results speak for themselves. Says Silver: "We're very fortunate in that we've been able to work with around 300 or 400 early-stage companies a year in really close proximity to our programmes. In the last 12 months, we've had about 90 companies raise over £100 million between them. And that's a real measure of success for us. So, when we think about how do we know whether we're making a difference or not, it's whether the companies that we're working with are growing and adding employees? Are they bringing new products to market? Are they making long term contracts with traditional businesses? And are they getting private investment?
"Everything we're trying to do with them is to find ways of demonstrating a great way of making this technology work and here's an application area that you can develop and deploy in other contexts."
In the longer term, Silver sees the Digital Catapult as playing a crucial role in the long-term success of the UK's engineering sector. "There's no question that the way we attract people to the UK is by bringing together that combination of academic strength, but of capability of the kind that we're really trying to develop, which is how to take that expertise that comes out the research base, and really make it real in a commercial environment."
On a personal level, he says: "The thing that I find the most exciting is can we get the kind of the energy and the innovation that you find in start-up businesses, and make sure that they're really sustainable and can grow in the longer term and then infect and contaminate traditional businesses in a way that allows them to develop and change rapidly as well. If we can bring those two kind of forces together, then there's enormous opportunity there. And that's what we're all about."