By 1967, however, running an F1 team and developing a competitive car was becoming an unworkable expense. It marked a new era of sponsorship in the sport that began with the Lotus 49, the first Grand Prix car to not only feature logos, but also a title sponsor that dictated the colour of the car. Gold Leaf – a tobacco company – signed the lucrative deal, which stipulated the car adopt its colour scheme of red, cream and gold rather than British racing green.
Since then technology development and running costs have skyrocketed, and sponsorship has become a de facto part of modern F1. Top teams need a budget of around €450 million to be competitive, with up to 75% coming from sponsors. Less competitive teams operate with a much lower budget, around €150 million with 50% coming from third parties.
So, apart from the marketing collateral of sponsorship deals getting valuable air-time on TV screens around the world, what do sponsors get from the deal? The first thing to note is that most F1 teams have sponsors and also partners. For the most part, sponsorship gives access to drivers for adverts, branding on the car and drivers' overalls, and perhaps access to hospitality tents and the pits on race weekends. In short, it allows corporations to associate themselves with the F1 limelight.
For many smaller technology firms in UK industry, however, F1 partnerships offer a much lower cost to entry and companies can get their technology pushed to the limit by some of the world's fastest moving and most capable engineers, mechanics, designers and drivers. It's far from one way traffic though, as teams rely on their partners' technologies to give them the tools that will make a car more competitive. Teams are constantly on the lookout for small innovations that could have an impact and can regularly be seen around the floors of UK engineering shows.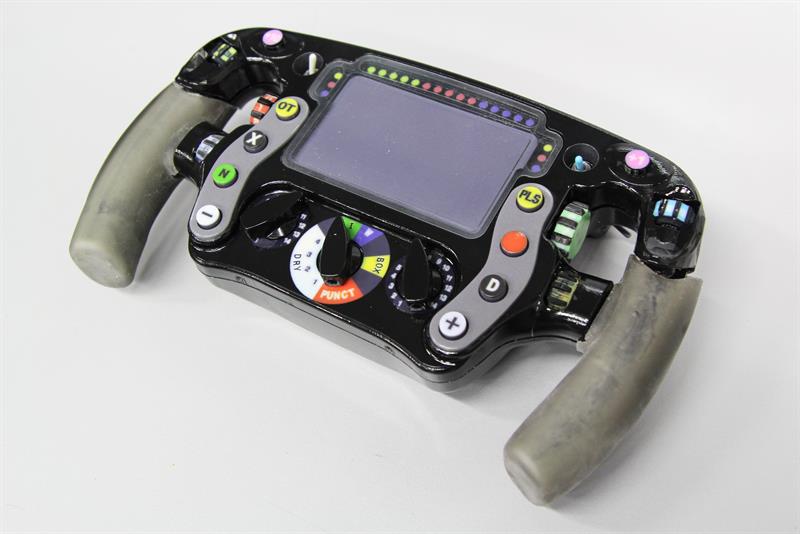 Stratasys is in the first of a four-year technical partnership with McLaren Honda after the team bought its first Stratasys machine in September 2016. McLaren now has nine machines installed from the Fortus 900, Stratasys' largest FDM machine, to the more portable uPrint that the team takes to each race in case it needs parts printed straight away.
The benefit for Stratasys is that McLaren needs very specific properties from the materials that it uses to make the components on its cars. High stiffness to weight ratios are required for structural components, for example, and suspension materials must be fine-tuned to find a balance of flexibility and toughness. To this end, McLaren constantly 'beta-tests' a range of materials that can have uses far from the pit lanes of the world's racetracks.
Amos Breyfogle, lead technical consultant at Stratasys, says: "Having people like McLaren explain to us what they need, and solving that problem, means they're really driving our technology roadmap.
"They use carbon fibre filled nylon for a hydraulic bracket. That is an incredibly stiff material for the weight, and it's something we can reliably produce for other industries as well, like orthopaedic inserts, prosthetics or end of arm grippers for manufacturing equipment. The data we get from the F1 side feeds into countless other industries. So, for us, the partnership is much bigger than just F1."
Rapid development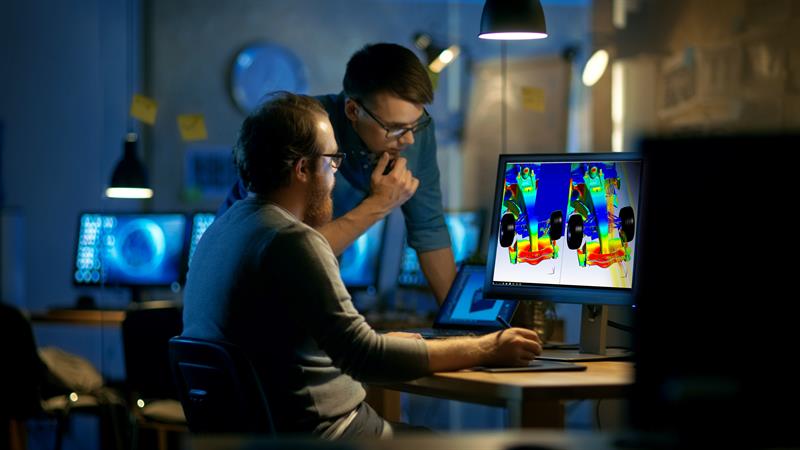 The Red Bull Racing Formula One Team uses software from ANSYS and Siemens for simulation, design and communications. Siemens' Teamcenter and NX PLM software are used to design everything from the individual components that make up the chassis of the cars right down to the crates used to transport tools, parts and sub-assemblies from track to track around the world.
"Red Bull has an extremely fast paced design cycle between races and seasons, with a very large number of design iterations," explains Jan Larsson, senior marketing director EMEA at Siemens PLM Software. "As such, they can influence what our final products are going to look like because we're always working to optimise the way in which engineers interact with our software from a workflow point of view to cut down on unnecessary work."
Larsson says Red Bull has early visibility of Siemens' beta-code, typically about 10 months before a product is released.As such, Red Bull engineers and designers flag up any bugs that surface in the code so they can be fixed before the software makes it to general release.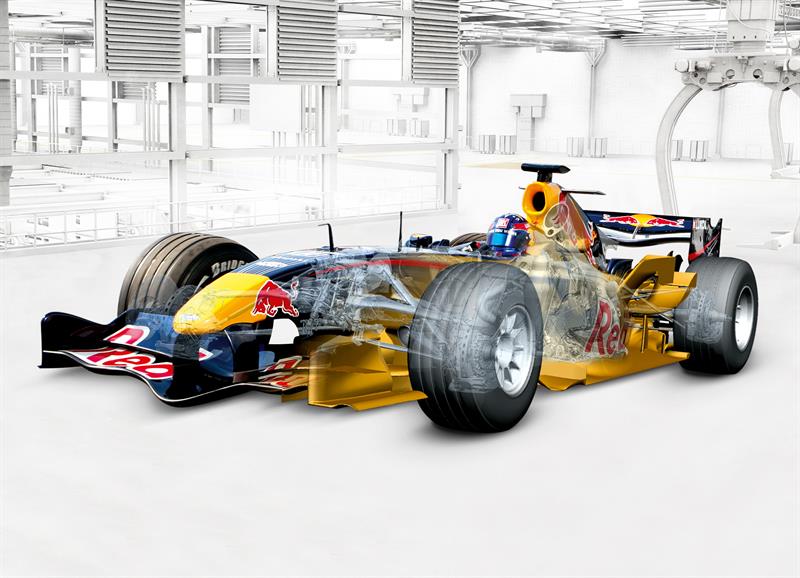 He adds that Formula One isn't the only industry that requires up to the second data analysis. Increasingly, traditional industries are demanding rapid design and change management capabilities as companies shorten product development cycles and look to offer more product variants.
ANSYS also provides Red Bull Racing with beta-versions of its Fluent CFD software to help with the aerodynamic design of its cars but also to push the software to the limits of its capabilities and often beyond.
"Working with a Formula One team comes with big challenges," says Andy Wade, lead application engineer at ANSYS. "It's tricky because their use case is massive."
Part of the problem for ANSYS and Red Bull Racing is that the simulations are so large and complex they can't be run on a single computer. It means a cluster of computers needs to be used, which essentially means multiple computers connected and working together to solve the problem. The sheer size, computation and datasets needed for these advanced simulations often push both the software and hardware to the limit.
"A lot of their design challenges don't tend to scale down to workstation sized cases," says Wade. "It means you really need to be on a cluster to overcome the issues they're facing.
"I've been working with F1 teams for more than 10 years and they're always well ahead of us in terms of hardware and capability. Sometimes they can send you cases and you just think 'Oh my god, what are we going to do with this?'"
Additionally, due to restrictions by the FIA on how much data a team is allowed to crunch through during a season, as well as the fact that current designs are highly sensitive, Red Bull Racing can't send ANSYS current design problems. Generally, the use case geometries they can share are around 30 months old – which, in F1 terms, is ancient history – upon which ANSYS would reproduce the issues and combat them.
Again, the relationship between ANSYS and Red Bull Racing is a partnership, meaning that Red Bull Racing engineers are meticulous in reporting bugs in the code of the software before it reaches wider industry.
Developers from both companies share information and best practice, meaning some of Red Bull Racing's IP finds its way into the alpha code of Fluent.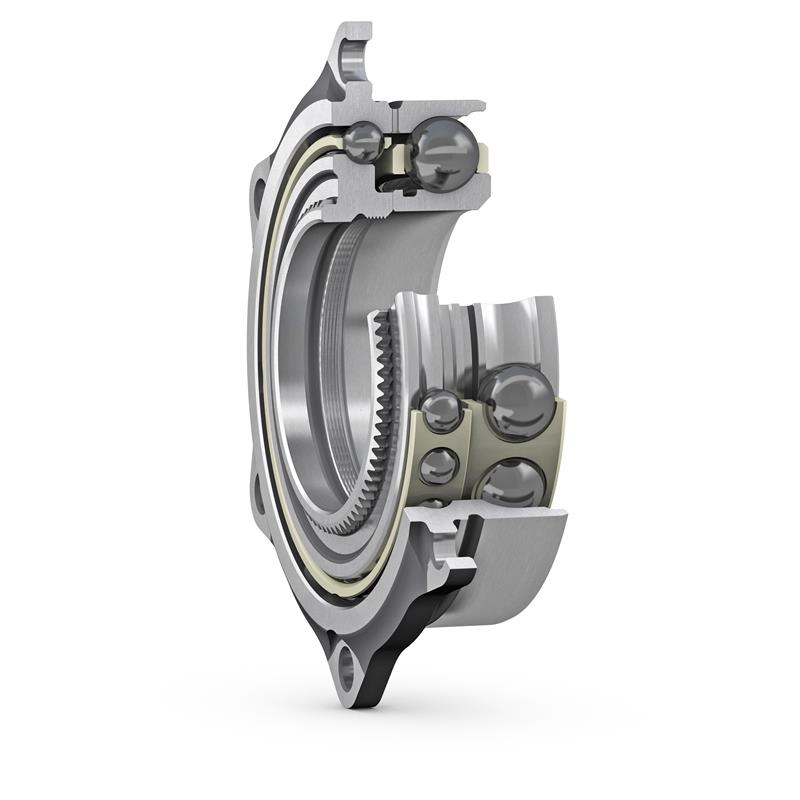 Bespoke design
SKF has been involved with F1 for 70 years and supports most, if not all, of the teams on the grid with a multitude of bearings and condition monitoring equipment.
One of the biggest challenges for SKF's dedicated Racing Unit is the speed at which the teams want to design, develop and test its products. Almost every bearing the company supplies into Formula One is 100% bespoke for the team and the application. The standard lead time for a fully-bespoke bearing is a couple of months, however if a bearing needs to be replaced after it has failed at a race weekend, SKF normally has a maximum of two weeks to create a replacement.
"It's quite different to any other industry in that respect," says Guy Miller, a key account manager at SKF's Racing Unit. "In Formula One we're generally asked for things that we might think from the outset are impossible to achieve, particularly with things like short lead times.
"But, when factories have done it once for F1, they realise that they really can make something that quickly. So, when another customer outside of racing asks to do the same thing we already know it's possible. Without that experience with Formula One we'd have written it off from the outset and said, 'it can't be done'."
The most recent area in which racing technology has trickled out into other industries is ceramic rolling elements. Racing was the first industry to develop ceramics with SKF around 10 years ago but now ceramic bearings are used in buses, trains and trams with significant interest being shown by the aerospace industry.
"Our ceramic rolling element production is going from 300,000 to 3 million," says Miller. "If you look a couple of years in the future that technology will be out and in use by all kinds of industrial applications."
High speed work ethic
The pace at which Formula One engineers work, develop and apply technology reflects the breakneck 'right on the limit' performance that drivers exhibit during a race. It is by far the most aggressive in the automotive sector and just about anywhere in industry. This, it seems, is the biggest challenge and reward for the various partnering technology companies involved.
The partner names and logos emblazoned on the chassis of F1 cars are a badge of honour for engineers, proving they met the stringent time demands placed upon them. In such a high-profile sport, this is a massive validation of technical ability. It means that all-important television airtime provides not just brand awareness to keep the marketing department happy, but also acts as a ringing endorsement for the engineers involved on a huge platform from which to shout about it.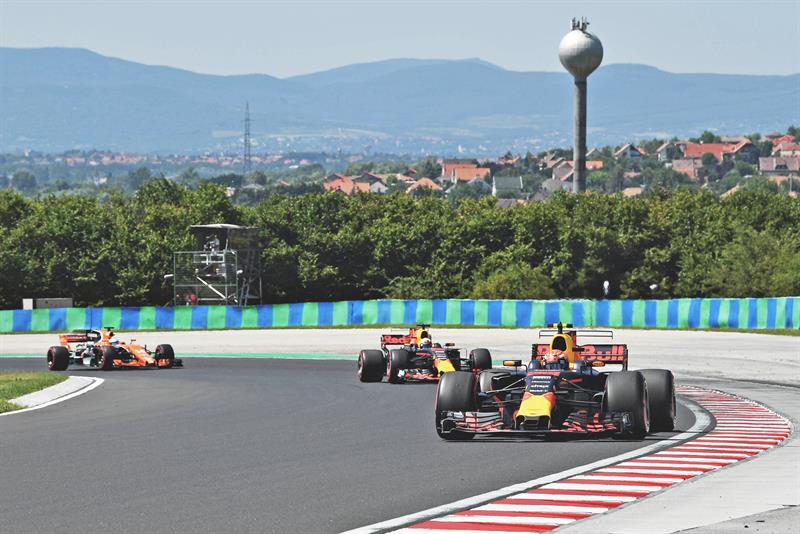 F1 materials used in the medical industry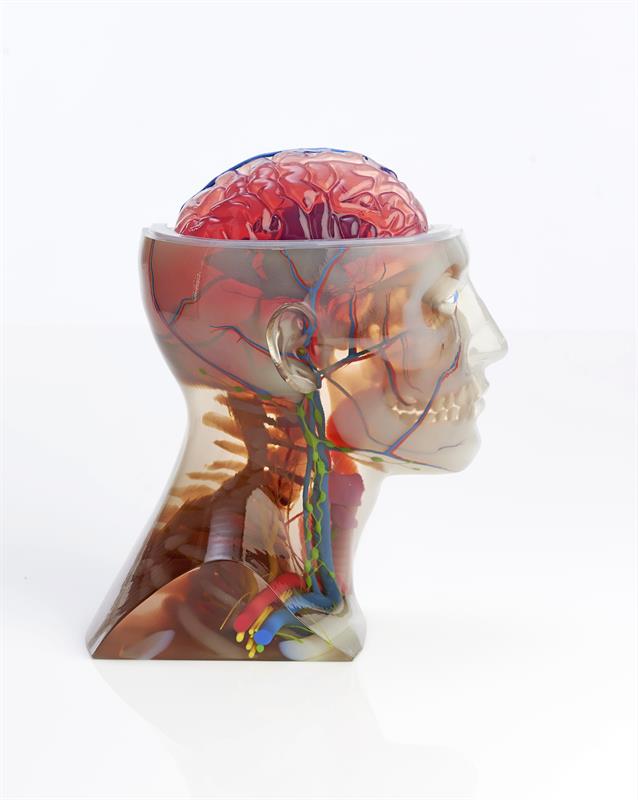 Stratasys' Agilus30 is a flexible, rubber-like material that McLaren has validated for use in parts around the suspension of its Formula One cars. However, the very same material has also been put to profound use in the healthcare industry.
Patients suffering from brain tumours can have their head scanned to produce a multi-material, 3D printed model, complete with hard bone, soft skin and blood vessels. This model can then be used by surgeons to practice the removal procedure so they can assess any difficulties they may face before performing surgery on the patient.
Amos Breyfogle, lead technical consultant at Stratasys, says: "It's completely different to what McLaren use it for, but they've helped us test and validate it, allowing us to bring it to a wider audience. And if this works for the surgeons around the world that are using it, it creates bigger value for us."