Brothers Amir and Ohad Hever founded UVeye in August 2016 after Amir had witnessed the manual inspection of vehicles for security threats. The traditional approach is for a security guard to circle a vehicle with a mirror on the end of a long pole to try and spot weapons or explosives. Besides the fact that this test is outdated and unreliable, most importantly, it is life-threatening.
UVeye, which stands for under vehicle eye, originally developed both a fixed and a mobile inspection system, called Helios, that automatically detects visual anomalies on the undercarriage of any vehicle. The fixed unit version is most suitable for facilities with permanent entrances where moving of the system is not required. The mobile version is designed especially for law enforcement agencies, security firms and intelligence organisations that need to scan passing vehicles easily and conveniently.
In less than 5 seconds Helios' inbuilt, hi-res, super-fast cameras scan the vehicle's underside capturing sharp, clear colour images from numerous angles and alerts operators immediately if it detects concealed items — be it threats, concealed weapons, or a human being.
The camera also enables the system to match each vehicle undercarriage footprint and store the information in a secure database for later inquiry. This could be highly valuable information for border control where different border locations can share the data scanned by the system of a specific vehicle.
From the very first scan, it can automatically recognise and identify dubious objects without having any previous record of a vehicle. It can even compare between scans of the same vehicle model and detect whether any changes have been made.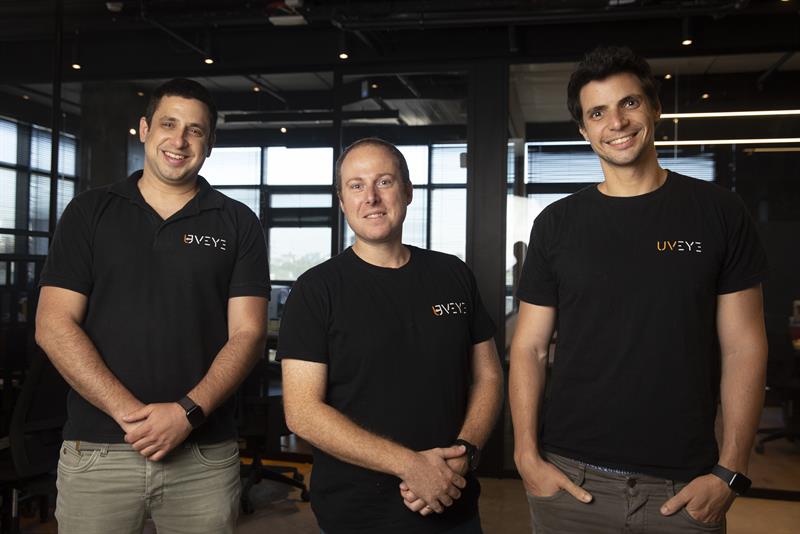 Ohad Hever, David Oren and Amir Hever

David Oren, chief strategy officer at UVeye, says: "The technology we had to develop to do that was very advanced. We built our own AI engine, deep learning, machine learning and computer vision into that.
"Once we started deploying those systems, very quickly we realised that almost the same technology, with just a small adjustment, could be able to detect various problems on vehicles in general, such as oil leakages; rust; corrosion; damage to the undercarriage."
Early in 2017, UVeye started working with automotive companies to check the viability of its product in this bigger, more lucrative market. Since working with automotive OEMs, new applications have arisen. One of the big ones was that they wanted to be able to detect damage to or anomalies on the exterior surfaces of the vehicle, not just the undercarriage.
"It grew tremendously," Oren states. "we were able to take the same technology from the software point of view and build hardware for the exterior of the vehicle to detect anomalies. These could include damage like dents, scratches, hail damage, alignment problems. Then we started working with OEMs, and big fleets until we reached the point today where UVeye is working with a few OEMs around the world for assembly line inspection, end-of-line inspection, some in-line inspection for parts, and we provide systems for the aftermarket."
This necessitated the development of Atlas, UVeye's 360° exterior inspection system. More recently the company announced, Artemis, a tyre inspection system. This is able to detect under-inflation and any other anomalies that can become a serious safety concern, especially as tyre failure is the leading cause of car crashes worldwide. Artemis can compare the same tyre within 10,000km, 20,000km or 100,000km and predict maintenance issues.
"Our technology is based on a few layers," explains Oren. "The bottom layer is the proprietary hardware which is not something that we develop ourselves in the sense that we do not develop new sensors, or new cameras, or new lighting models. We take these off the shelf. On top of that, we have a few layers of data processing that takes a huge amount of data and separates it into chunks that the deep learning engine can work with.
"On top of that, this is the most important part of what UVeye does, deep learning, or the AI engine, a set of algorithms that we use from computer vision, machine learning, classic image processing, and of course, deep learning to be able to provide visual anomaly detection on different levels on different accuracy and resolution.
"This all sits on our cloud architecture that allows the collaboration of the data between the different inspection points."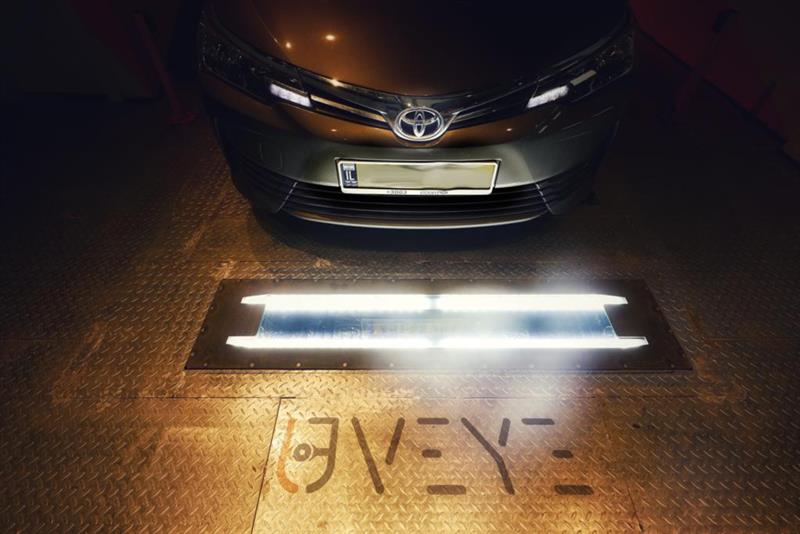 The move to the cloud has been a necessity because of the massive increase needed in computing power, going from security applications where resolution wasn't an issue as the anomalies that need locating are large and bulky, to the consumer market where it's looking for tiny scratches and part discrepancies.
In future, Oren says that the system could be used in all areas of mobility, such as trains, subways and aviation. However, the short-term goal for the company is to concentrate on growth and R&D in the automotive market.
To this end, the company raised $31 million (£25m) in July, led by Toyota Tsusho, Volvo Cars W.R. Berkley Corporation and other partners. Amir Hever, UVeye's CEO says: "This is an important signal that we believe paves the way for UVeye to become the standard of automotive inspection and safety. We are delighted to have world-class companies in their respective sectors endorse our game-changing auto scanning solution."
UVEYE Applications
There are a vast number of industries that require Under Vehicle Inspection Systems (UVIS).For example:
The entrance to prisons – to prevent smuggling and other unlawful activities
Border control – news headlines are filled with stories of the shocking lengths smugglers are prepared to go to in order to sneak people across borders
Special occasions – such as diplomatic visits where checking vehicles for suspicious objects is crucial
The entrance to airports, diplomatic embassies, seaports, power plants, military bases and even shopping mall or hotel car parks