Where does a design start? Is it a scribbled concept on a piece of paper, the more considered drawings in CAD, or perhaps an existing component that will evolve into your new design?
There is a growing body of design engineers, particularly those in the automotive sector, who believe that the design process should start with the defining the function and the space it has to operate in. If this is done accurately, and by then using design optimisation techniques, the engineer's starting point becomes a model that is already equipped to cope the forces that it will be subjected to.
Such design optimisation tools have been around for several decades but a number of factors have driven its rise in popularity. As with all software tools it has simply got better over the years, and more recently it has been easier to integrate into an engineer's CAD environment. 3D printing also lends itself to this technology and finally, environmental legislation has had a considerable effect on automotive emissions and the consequent need for cars to be lighter.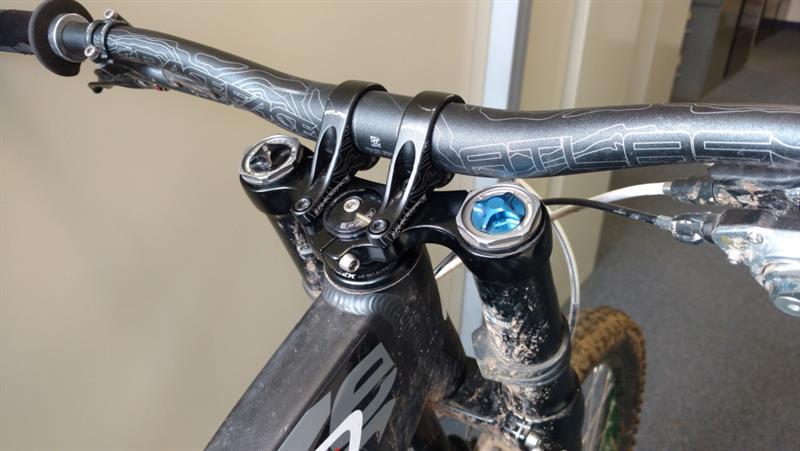 The crown for the BCIT mountain bike is a high stress part so design optimisation was used to design a component that was light and would survive the forces put on it
Put simply, if an engineer can define the maximum allowable shape that a part can fill, and then define the loads that are going to act on it, the structural optimisation software can erode away what is not needed. It may well end up with Gaudi-esque curves and arches that are not typical of the parallels and perpendiculars in traditional design, but it will leave the lightest framework for the part that will fulfil the required function. It will not be a finished design, but it gives the engineer a technically solid base to start on.
Martin Gambling, managing director of GRM Consulting commented: "Rather than designing a thin, slender frame by iterating time and again to get it as light as you can without exceeding all the requirements for stiffness or stress limits, you just go into the program, set the weight, run the optimisation and then you have a part you can bring in."
Although ideal for single components, it is not confined to that, as Gambling explained: "You can take a bigger picture and can apply it to the entire chassis of a car as well. It tells you exactly where the most efficient paths are for all the loads, for the fact is that the car's chassis has to fulfil many, many different requirements - crash performance, stiffness, vibration and so on. A good designer can identify the right load path for one load case, but if you've got 50 or 100 load cases and you need a compromise of all of them…. that is where optimisation can really allow you to stretch your legs."
GRM's solution is based on design optimisation software from American company Vanderplaats Research & Development, and beyond reselling and supporting the package GRM's software development team are delivering bespoke solutions in the UK.
Traditional adopters of the technology have been automotive and motorsport, and that is where the bulk of applications remain, but medical, rail and aerospace sectors are also now regular users and, according to Gambling, it is a useful starting point for any design process.
Fans of Hitchhikers Guide to the Galaxy will remember the answer to the question about life, the universe and everything, was 42. The problem being the lack of definition in the original question. The same is true here – defining the initial parameters for a design may not be instinctive if that is not an engineer's mindset, but asking the right questions will get the best answer. What will undoubtedly help is that GRM is making the technology available to mainstream CAD users.
In particular, GRM has developed TruForm SW which is an integrated simulation solution for Solidworks, available as an add-on through Solid Solutions. Engineers in the comfort zone of the Solidworks ecosystem will be able to seamlessly use the programme, pulling on materials databases and resulting in a model in Solidworks ready for the engineer to cut loose on. The tools also feature in Abaqus and ANSYS simulation offerings.
Creo users can look forward to having their own version this autumn and SolidEdge early next year. It allows a useful and effective introduction to the technology, while the more powerful version (called Genesis) waits in the wings for those who want to take it to the next step.
Additive manufacturing has also turned into an ally as the geometry of a part makes little difference to the printing process. The shapes produced by the topography optimisation process might be the best technical solution, but they could also be either awkward or impossible to make if they are to be cast or machined, without further work on the model. A 3D printing process has no such restrictions, as long as the designer is happy that the necessary transition from prototype to volume production will not throw up problems.
There may be engineers thinking that this technology goes a step too far in automating their role. Gambling has reassuring words: "It's not.It's an extra tool in the toolkit of good engineers. A good engineer with optimisation will develop a better product than a good engineer without.But equally, if you give optimisation to a bad engineer, he can still create rubbish quite happily.It's not going to solve the fact that a good brain will get you there."
Ferrari optimise next generation
Altair has collaborated with Ferrari to design and engineer the company's 'Next Generation' vehicle platform which will be the basis of several new flagship vehicle derivatives. To develop this platform, Altair supplied a specialised group of designers and engineers working on-site at Ferrari's vehicle development centre in Italy. The team worked alongside Ferrari's own design, engineering and manufacturing teams.
Maximilian Szwaj, Ferrari's Director of Innovation and BIW Development, stated, "It was important for Altair to supply both CAD and CAE expertise to facilitate tight integration particularly when packaging ideas and manufacturing process are so fluid.The speed of the optimisation processes deployed were able to control the weight whilst achieving the demanding structural targets as new packaging changes were introduced."
Ferrari and Altair's team successfully utilised innovative design optimisation methods (e.g. Altair's Concept Optimization Driven Process C123), driven by the HyperWorks suite of simulation technologies.The Next Generation platform is 15% lighter, while enhancing the performance of crash, NVH and other critical attributes by over 20%.Altair's solver and optimisation technologies, RADIOSS and OptiStruct for crash and NVH respectively were key tools in achieving the weight and performance characteristics.
Dr Royston Jones, Global CTO, Altair ProductDesign, commented: "I love the Next Generation architecture, it has an organic nature, with the structure flowing smoothly from sections to joints.It's an outcome of a massive deployment of structural optimisation defining optimum material layout resulting in outstanding weight / performance characteristics. I believe it truly warrants the title of Next Generation and importantly, repays Ferrari's trust".
Using optimisation techniques
Reduces time/cost by 20% when 3D CAD used
Reduces time/cost by 75% when 3D CAD not used