There is a parallel here with the CAD platforms that engineers do their designs on. Autodesk's Inventor and AutoCAD, being the relevant example, go through incremental updates, constantly improving the CAD environment by making the tools easier to use or more powerful. And, once in a while, completely new tools emerge, changing the design process, that are more revolution than evolution. Autodesk's route to revolution is similar to Skunk Works in as much as it is spawned from a concentration of flexible and innovative minds at OCTO – the Office of the Chief Technology Officer. The fundamental difference is that it is completely open. Industry participation is not only welcome, it is an essential part of the process. Ongoing projects are there for all to see.
Azam Khan, director of Complex Systems Research at Autodesk, explained the philosophy. "We're surprisingly open with all of our research. In some ways we're more open than the product development teams - they are always a little secretive before release. We [OCTO] openly partner with both commercial partners and universities and students and we try to publish all of our outcomes. We're involved with a number of different communities who are interested in the same things, including both academic and commercial partnerships. But we don't have specific commitments to deliver specific things to the product teams, or to customers directly."
This freedom allows the OCTO team to explore completely new avenues with the intention of allowing Autodesk to provide new options and capabilities to customers in its three core markets - product design, entertainment and AEC (Architecture, Engineering and Construction). While these three are separate entities within Autodesk, there is scope within OCTO for cross-pollination of ideas.
A prime example is Dreamcatcher (see box), which will soon be OCTO's poster child when it is launched this spring. This package will bring generative design to the product design process, but a parallel project called Project Discover is looking at how generative design can be used by architects. Project Discover is not ready for general release yet but it has been used for the interior design of Autodesk new office in the MaRS Discovery District of Toronto – a location that claims to be one of the world's largest innovation hubs. Project Discover developed a new piece of software that took all the input from the occupants of the existing office and used an algorithm to output a design that best meets the needs of all the occupants.
While Project Discover currently lacks some of the structural controls that its final version will require, Dreamcatcher is 'engineer ready'. In short, the designer outlines the purpose and parameters for a project and Dreamcatcher will calculate numerous different ways that this could be achieved using various materials and styles. This then gives the engineer a good, structurally sound starting model on which to develop final designs.
It is an example of a project that would not have been resulted from ordinary product development, it took the blue skies approach of OCTO not only to develop into a workable product, but also to be able to have the vision for it in the first place.
OCTO origins
OCTO is led by Autodesk's CTO Jeff Kowalski who set it up in 2006. There are about 120 staff split 60:40 between research and strategy. Most of the Strategy group are based in San Francisco, the research team are mainly in Toronto and there are other satellite offices including one in London. The multidisciplinary team is made up of specialists from varied domains such as mathematical optimisation, geometry, machine learning, mechanical engineering, material science, structural mechanics, user experience research, software design and development.
Ideas can come from anywhere – customer, academia, Autodesk or from within OCTO itself. "Typically a project will start with a research paper," said Khan. "We do real academic research to explore what's already been done in the area and who are the experts involved in these kinds of domains. The advantage of doing that is that we can publish these research papers in the same academic journals and conferences that our research peers at universities publish at.It's a way to develop relationships with these professors to find the interns that they recommend as well."
These interns have been a valuable resource for OCTO, several having been hired following successful projects. Particularly on the research side, Khan describes the staff as a bunch of PhDs who are trained as investigators in different technologies. "I like to think the researchers and the thought leaders at Autodesk really have the dual perspective – both the perspective of their particular domain and the deep expertise in that area, but also tie it in with deep knowledge about computer science and how that could impact our products."
Successful projects to come through OCTO include ViewCube – a navigation tool for 3D CAD; SketchBook and then SketchBook motion - animation tools that won Apple's iPad app of the year in 2016; and Meshmixer which is designed to help with 3D printing.
Project Dreamcatcher
Claiming to be the next generation of CAD, Dreamcatcher is a generative design system that enables designers to craft a definition of their design problem through goals and constraints. This information is used to synthesise alternative design solutions that meet the objectives.
The Dreamcatcher system allows designers to input specific design objectives, including functional requirements, material type, manufacturing method, performance criteria, and cost restrictions. Loaded with design requirements, the system then searches a procedurally synthesised design space to evaluate a vast number of generated designs for satisfying the design requirements.
The resulting design alternatives are then presented back to the user, along with the performance data of each solution, in the context of the entire design solution space. Designers are able to evaluate the generated solutions in real time, returning at any point to the problem definition to adjust goals and constraints to generate new results that fit the refined definition of success.
Once the design space has been explored to satisfaction, the designer is able to output the design to fabrication tools or export the resulting geometry for use in other software tools.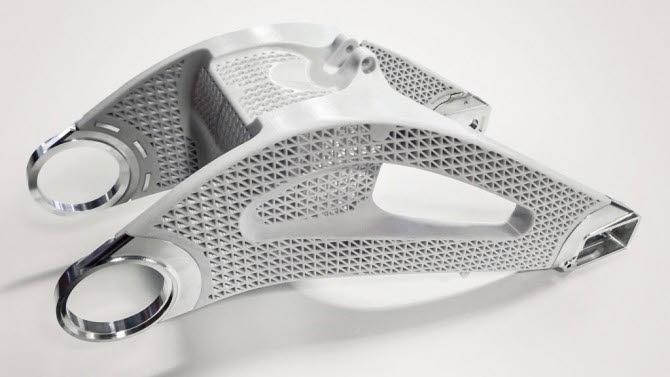 Motorcycle swing arm designed with Dreamcatcher