It was a category packed with impressive material innovations. Surrey NanoSystems brought along the world's blackest material. Diamond Hard Surfaces an amorphous diamond coating. But, for the second year running, Nylacast was able to narrowly beat the competition with an impressive application of its staple material and process, cast nylon.
The Leicester based firm has been able to compete against the likes of DuPont, Solvay and Covestro (formerly Bayer) by forming close relationships with customers, acting essentially as consults, and not just a material supplier. It's become known for innovation in application as much as it has for the materials its produces.
"We want to be a solutions provider," said Junaid Makda, marketing manager at the firm. "We don't just want to sell plastic materials, and we don't have to sell a certain tonnage to be successful. We are able to offer the engineering expertise to engineer a better solution."
An example is its 2014 British Engineering Excellence Awards entry, a worm-wheel gear used in automotive power steering assemblies. The part is created using a co-polymer attached to an inner steel hub. The worm-wheel offers weight reduction, reduces NVH, and resists corrosion.
It's made from a combination of polymer and steel. The steel inner hub provides dimensional stability and strength, while the outer ring is made from a custom formulated grade of Nylon 6.12 developed in Nylacast's R&D department. Like many of its parts, surface friction can be engineered depending on need, in this case the worm-wheel is self-lubricating.
In short, it is a much better solution for its customers, backed up by the fact it has sold more than 11 million of the parts, on 45 vehicle models. The team even trawl junkyards to see how the gears fare after a lifetime of use. Some look almost as good as the day they left the factory.
Why cast nylon?
The company casts, rather than extrudes or injection moulds nylon for a number of reasons. After casting parts the material undergoes annealing, which relieves internal stresses. It means the material ends up much stronger as a result, which also improves dimensional stability. This is particularly useful during machining operations, post processing and throughout the life of a part as the material provides a significant amount of creep resistance.
This has also meant that Nylacast's materials have been particularly successful at replacing metals in parts normally made of bronze, steel and iron. Other manufacturing methods such as injection moulding or extrusion, can result in more brittle and weaker material.
Pipe-in-pipe spacers
The ability to engineer the plastic for a given application and work towards a better solution has seen Nylacast work on a number of offshore components for the oil and gas industry. Polymers are being increasingly sourced by the sector as mechanical properties have been improved and cost reduced.
Polymers can offer low wear, high impact strength, corrosion and chemical resistance as well as being lightweight; typically one seventh the weight of a like-for-like steel component. Polymer components can also be self-lubricating, eliminating the need for routine and costly maintenance and machine downtime, a massive advantage for those operating on a rig.
One of the big wins for the company was to engineer a pipe-in-pipe spacer (PIPS), traditionally made from metal. The pipe-in-pipe spacer is a component that sits in-between oil transporting pipes. These use a smaller diameter inner pipe sleeved within a larger outer pipe. This configuration is commonplace in the oil and gas industry as it keeps water out, enabling the contents to be maintained at a temperature which allows it to easily flow, as well as acting as an environmental shield. The outer pipe withstands environmental challenges such as corrosion and hydrostatic pressure.
To properly seal and centralise the pipes and ensure there is no movement requires a precise fit. And getting the spacers in place required Nylacast to engineer some very different surface properties within the single component.
"We've been able to utilise a combination of materials derived from in-depth understanding and knowledge of material science," said Makda.
The company created a custom formulated grade of cast Nylon 6 on its PIPS, which is first attached to the inner pipe. The inner surface of the PIPS uses a patented ferrous metal coating to provide high friction to allow the product to exert an immense grip on the inner pipe.
Once attached, the inner pipe (with PIPS) needs to be slid inside the larger outer pipe. To help with this process, the PIPS has a low friction, self lubricated, top surface to allow the outer pipe to easily slide over the inner pipe.
"The high friction under layer allows the spacer to exert an immensely strong grip on the inner pipe," said Makda. "It can withstand significant shear force during installation and operation to avoid the spacers moving and possibly bundling up at one end, which can unbalance the inner pipeline and potentially result in damage.
"The combination of ferrous and non ferrous materials eliminates the disadvantages of each material, with the polymer excelling where the metal would not be suitable, and vice versa. It's led to faster installations, better performance and improved costs within the industry."
Nylacast PIPS are utilised on projects with service lives ranging from five to more than 25 years. To date, hundreds of thousands of spacers have been deployed within thousands of miles of pipeline around the world, with no reported failures, defects or other issues.
It was this clever application of material innovation, providing two very different frictional properties on the same part, which saw the company awarded its second BEEAs, and back-to-back awards. On announcing Nylacast as the award winner, the judges commented: "Nylacast's Pipe-in-Pipe Spacer clearly met and solved real world application demands. It is used extensively in the oil and gas sector, the system uses the company's custom polymers, with low friction on one surface and a patented ferrous metal underside where high grip was required. This clever application demonstrated a real understanding of an industry's needs."
The design and manufacture of Nylacast Pipe-in-Pipe spacers takes place at Nylacast's headquarters and main manufacturing facility in Leicester, UK, alongside its Houston sales office with deployment to key locations worldwide including Angola, the Gulf of Mexico, the Norwegian Continental Shelf and the UK North Sea.
Do you have what it takes?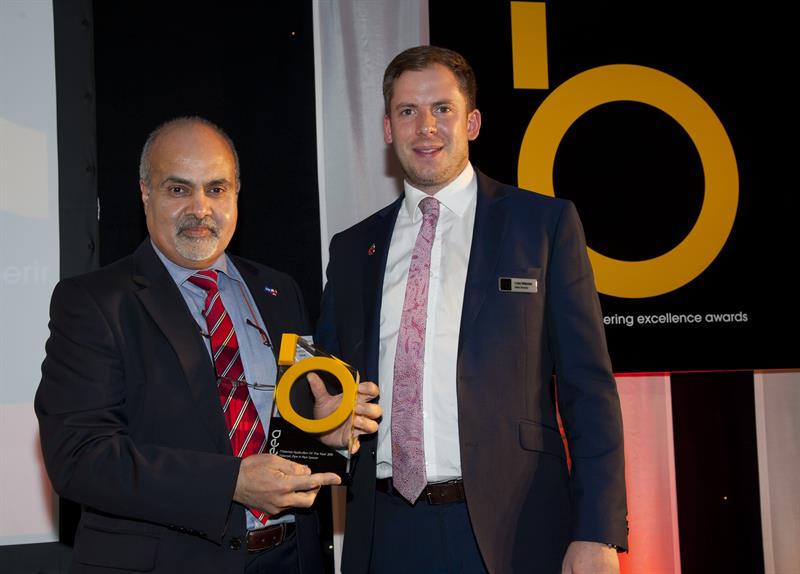 If you think you have what it takes, then why not enter? The British Engineering Excellence Awards (BEEAs) remains true to its original remit: to recognise and award the achievements of British engineers and companies.
Now in its eighth year, the awards celebrate those that have demonstrated the skills, invention and dedication to compete on an international stage.
Event organiser, Ed Tranter, said: "Every year the judges are blown away by the innovation, technical ability and imagination presented to them, and now is the time when you can impress them with your designs. Ask yourself whether your company has a success story to tell. And if you do, then enter this year's BEEAs."
Entries close on 15 July 2016.